If you've plowed through all of this year's Oscar-nominated films, but still crave more Academy-exalted movies to occupy the time spent on your couch, Netflix has you covered. 
Well, somewhat covered. While the streaming platform's priorities have clearly shifted from film history to "Netflix originals," the catalog sports enough films with Best Picture, Best Actor, Best Actress, and Best Director Oscars to satisfy you until next year's crop starts hitting theaters.
Recommended Video
Thrillist's Best (and the Rest): The Truth Behind the Saddest Cookbook Ever
Spotlight (2015)
An artful biopic about The Boston Globe's investigative "Spotlight" reporting team and their Pulitzer Prize-winning pursuit to uncover the sex abuse scandal in the Catholic Church, Tom McCarthy's Spotlight is a film with a message -- about institutional rot, abuse of power, and the importance of investigative reporting -- that still manages to be damn good entertainment.
The ensemble (Michael Keaton, Rachel McAdams, Liev Schreiber, Mark Ruffalo, John Slattery, Stanley Tucci, and Brian d'Arcy James) brings its A-game, while McCarthy succeeds in decisively erasing 2014's flop The Cobbler from filmgoers' memories.
Milk (2008)
Sean Penn won a Best Actor Oscar for his portrayal of Harvey Milk, the openly gay public official who galvanized San Francisco's activist movement. Directed by Gus Van Sant (Good Will Hunting), Milk is a traditional, yet elegant biopic that keeps two fingers firmly placed on the pulse of 1970s Castro St while mirroring debates and actions we're still (still!) witnessing today.
No Country for Old Men (2007)
Like a blast from Anton Chigurh's cattle gun, No Country for Old Men came out of nowhere. In 2007, it seemed like the Coen brothers had lost a step, sinking into an era of gentle self-parody. This Josh Brolin-starring neo-Western changed all that. Adapting Cormac McCarthy's brutal, uncompromising thriller, the filmmakers crafted their most purely suspenseful and terrifying film to date. The coin flip, the car crash, and Javier Bardem's haircut have all become parodied pop-cultural fixtures at this point. But the sense of dread the film evokes, amplified by Roger Deakins' shadowy photography, is impossible to shake. It's real. It's scary. And it's coming for you.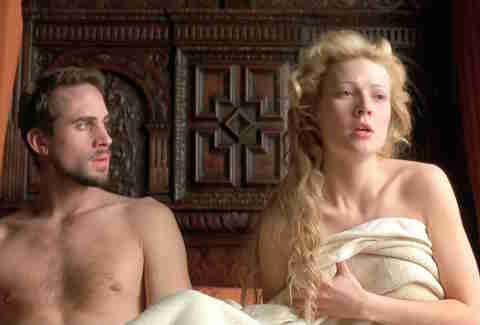 Shakespeare in Love (1998)
While many dads still hold a grudge against this backstage comedy for beating Steven Spielberg's Saving Private Ryan in 1998's hotly contested Best Picture race, there's no reason you can't enjoy both. WWII was hell, but Shakespeare's London had plenty of horrors: writer's block, secret romances, and Judi Dench's tart-tongued Queen Elizabeth I. With the aide of a clever script co-written by playwright Tom Stoppard, Shakespeare in Love's two leads -- Joseph Fiennes and the Goop-lord herself Gwyneth Paltrow -- will charm your britches. Even if you still think Tom Hanks was robbed.
Braveheart (1995)
Netflix may take away your life with weekend binge-watches, but it'll never take your freeeeeedom... to take in Mel Gibson's Oscar-winning historical drama at your leisure. Gibson wrote, directed, and starred in this biopic of 13th-century badass William Wallace, who led his fellow Scots to kilt-wearing victory against King Edward I of England. True to the style of Passion of the Christ and Hacksaw Ridge, Braveheart is sweeping, softcore, and fittingly gruesome in the heat of battle. An epic worthy of the Best Picture Oscar.
Amadeus (1984)
Peter Shaffer's acclaimed play received the adaptation treatment from One Flew Over the Cuckoo's Nest director Milos Forman, and it might be the greatest biopic of all time. Starring Tom Hulce as the giggling composer and F. Murray Abraham as his struggling contemporary Antonio Salieri, Amadeus extrapolates creative pursuits through bitter rivalry, discovering how masterpieces and failures, disasters and sophisticates, can bang together into history as one invisible, harmonic chord.  
On Golden Pond (1981)
Surely you've watched On Golden Pond dozens of times, or perhaps you've even seen the stage version that inspired the film. What, you haven't? On Golden Pond earned Henry Fonda a Best Actor Oscar in his last role, and Katharine Hepburn racked up her fourth Best Actress win in a family drama about an aging couple grappling with the realities of death and the complex, often tense, relationships present in all families. Sound a bit cheesy? The New York Times described it as "American cheese" upon its release. 
Patton (1970)
For most movie lovers, George C. Scott is Patton: the costume, the walk, and the giant flag hanging behind him. Years after playing deranged General Buck Turgidson in Stanley Kubrick's 1964 Cold War satire Dr. Strangelove, the gravel-voiced actor brought to life America's legendary military leader with a hint of mischief, playfulness, and rich ambiguity. Was Patton simply a brilliant commander? Or was he a lonely, disturbed man? Over nearly three hours, the movie's Oscar-winning script written by Francis Ford Coppola and Edmund H. North plays chicken with these questions, never providing definitive answers.
The Graduate (1967)
Dustin Hoffman's iconic performance as Benjamin Braddock launched a career that's lasted more than half a century, but it was director Mike Nichols who nabbed the film's only Oscar. Replace the word "plastics" with "computers," and this story of post-collegiate uncertainty and sexual exploration/transgression feels as fresh and relevant today as it did in the late '60s. If you haven't seen it, get on it while you can.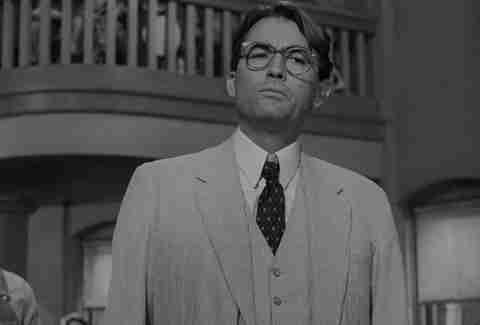 To Kill a Mockingbird (1962)
Gregory Peck doesn't mess around. Whether he's dispensing fatherly wisdom to young Scout, taking off his glasses to shoot a mad dog, or delivering a rousing closing statement in the courtroom, the understated actor never oversells any aspect of this effective adaptation of Harper Lee's classic novel. He doesn't yell. He doesn't gesticulate wildly. He rarely loosens his tie. Beating out Peter O'Toole in the Best Actor race for his equally iconic turn in Lawrence of Arabia, Peck's masterclass in actorly restraint wasn't just a victory for him. It was a win for nerdy lawyers everywhere. 
The African Queen (1951)
The legendary John Huston directs Humphrey Bogart and Katharine Hepburn in this shaggy adventure about British missionaries warding off German World War I gunboats in East Africa.
Gentleman's Agreement (1947)
Sure, it may be one of the worst Best Picture winners in history, but you can still stream it on Netflix! Gregory Peck goes "undercover" as a Jew in 1947 and somehow Nazism and the Holocaust never get mentioned. For its day, though, this was a progressive film of sorts, hence the nod.
Sign up here for our daily Thrillist email, and get your fix of the best in food/drink/fun.