The 18 Most Outrageous Oscar Moments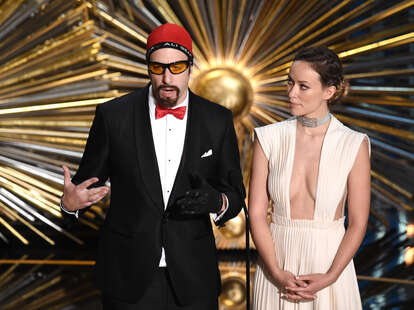 Kevin Winter/Getty Images Entertainment/Getty Images
Kevin Winter/Getty Images Entertainment/Getty Images
As expected, Leonardo DiCaprio finally put years of Oscar-losing faces behind him by winning the Best Actor award at last night's Academy Awards. But the ceremony did sneak in a few surprises: Chris Rock brought the heat in a lively hosting gig, Spotlight thwarted The Revenant's quest to win Best Picture, and everyone had to google Dionne from Clueless. Here's a look at some of the weird, hilarious, and outright baffling moments from Hollywood's biggest night.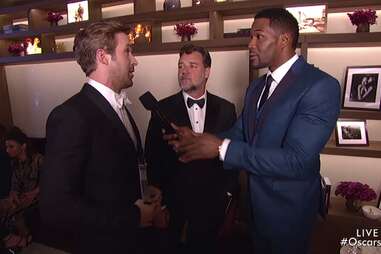 Russell Crowe and Ryan Gosling: high on happiness
Through a half-baked haze, Crowe and Gosling pontificated on the thrill of Oscar-winning to backstage microphone-holder Michael Strahan. Most of it was jumbled poetics, but one word caught our ears: "bugalugs." Crowe slipped in the Australian term of endearment and, hey, we learned something at the Oscars!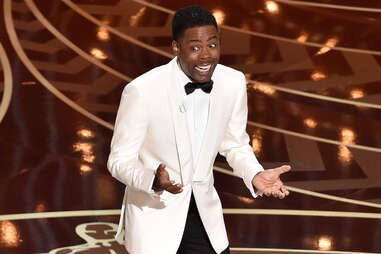 Chris Rock's brilliant monologue
We were really excited about Chris Rock's opening monologue, but he really blew us away. Let's bring him back every year.
The irritating "Would like to thank" ticker
This year, the Oscars attempted to streamline acceptance speeches and avoid gaffes by introducing a "thank you" ticker at the bottom of the screen. While some winners put this to good use (like The Revenant cinematographer Emmanuel Lubezki, who thanked "Mexico!!!," "The Beatles," and "Happy Birthday Dani!!!"), this was mostly just a distracting eyesore. Plus, we like our gaffes! Bloggers gotta blog.
What if the Oscar nominees were diverse?
Taking a page out of the MTV Movie Awards' playbook, Chris Rock hijacked the nominated movies and added his own color commentary. Literally -- riffing on the show's diversity theme, Whoopi Goldberg snuck behind Jennifer Lawrence in Joy, Saturday Night Live star Leslie Jones took the place of the bear in The Revenant, Tracy Morgan proffered danishes in The Danish Girl, and Rock himself appeared in a spoof of The Martian. The message was bleak -- why couldn't these actors have been in these movies? -- but the bit was worth a few chuckles.
Stacey Dash's bizarre cameo
Cher Horowitz would never stand for a stunt like this.
The great bear suit joke
Who could resist a joke at the expense of the ferocious bro favorite, The Revenant. The movie's big bear attack scene has been the talk of award season, and the animal got its moment in the sun through well-timed cutaway. The joke killed... unless you were Leonardo DiCaprio. In which case, it elicited a half-smile, easily interpreted as "GIVE ME MY DAMN OSCAR ALREADY."

Alejandro González Iñárritu will not clap for you
If his movies are any indication, Alejandro González Iñárritu is a serious dude. But that still doesn't explain his stone-faced, arms-crossed expression when Mad Max: Fury Road costume designer Jenny Beavan made her way to the stage to collect her trophy for Best Costume Design. Maybe Iñárritu was mad that the pellet-heavy garb for The Revenant didn't win? Or maybe he wasn't a fan of Beavan's fantastic casual Friday outfit? Come on, man. And, what was with everyone else sitting near him? As Jeb Bush would say, please clap.
(Jack) Black History Month
In a sly spoof of the ponderous video clips that fill these awards shows, Chris Rock introduced Angela Bassett in a short segment celebrating "Black History Month" as she spoke about a beloved actor and musician featured in Enemy of the State and Shark Tale. Just when everyone thought she would say Will Smith, she revealed that she was actually talking about Jack Black. Jack "Black," get it? While it wasn't quite as scathing as his opening monologue, it was exactly the type of bizarre, absurd bit that's always been Rock's secret weapon as a writer and performer, all the way back to his days on Saturday Night Live.

Chris Rock and Kevin Hart turn a sour note sweet
"And welcome next year's Oscar host... Kevin Hart!" Rock found an accomplice in Hart, the black comedian currently dominating box-office charts in movies like Ride Along and Think Like a Man. But Hart stood out in a crowd of nominees plagued by #OscarsSoWhite syndrome. Both men jabbed the crowd for their forced underdog status, then promptly roasted one another. "Kev makes movies fast," Rock went on in his monologue. "Every. Month. Porno stars don't make movies that fast."

The guy Chris Rock interviewed who named Super Fly as his favorite film
During the man-on-the-street segment recorded in Compton (above), we finally got a long overdue Oscars mention for Super Fly, which should absolutely have won Best Original Song at the 1972 Oscars.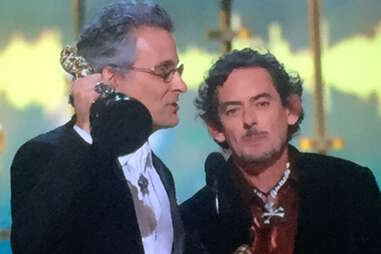 All the drunk, crazy Aussies in their skull gear
The masterminds behind a post-apocalyptic blockbuster or a motorcycle gang that guzzles tequila together on Sunday nights? Or both? Mad Max won a handful of Oscars at this year's show, and earned the added laurel of having the most badass crew accepting the awards. One of the sound editors screamed the ceremony's only "fuck yeah!" bleeped because it was just too cool.

Sly losing
Mark Rylance is a talented performer and seems like a lovely man. He may have gone toe-to-toe with the Russians in Bridge of Spies, but did he ever defeat the living embodiment of evil Ivan Drago? Yeah, I know that was in Rocky IV, but this award felt like the culmination of something for Rocky, the ultimate underdog, and Creed was a superb piece of filmmaking. This should've been Stallone's award.

Lady Gaga losing
C'mon, that Sam Smith song from Spectre? He's just yodeling nonsense words!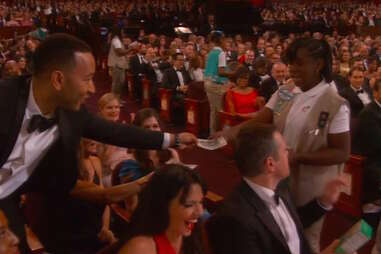 The Girl Scouts take over the Oscars
Movie stars: they love Tagalongs, too. In step with the relatively new tradition of jumping stage for an in-crowd bit, Rock led a parade of Girl Scouts into the audience to -- what else? -- sell cookies. Christian Bale was all over the Thin Mints. So was Matt Damon. Same with John Legend. Really, everyone headed to post-ceremony parties was destined to have choco-minty breath. And get this: Rock and the troop raised $65,243 for the Girl Scouts of America. We understand the craving.
Ali G is back
Sacha Baron Cohen resurrected his long-dead HBO sketch character Ali G to confront the systematic homogeneity plaguing the Academy. For some reason. "How come there's no Oscar for the very hard-working little yellow people with tiny dongs?" he asked. "You know, the Minions!" Cohen has a new movie coming out, the goofy super-spy comedy The Brothers Grimsby, but this bit was 1) shocking and 2) a non-sequitur blast from the past. Is Grimsby playing horribly in the UK and Cohen's in need of some pre-release goodwill? Whatever. This had even Louis C.K. in stitches.

Leo's big speech
Our boy finally got his Oscar, and the noted environmental activist/bear wrestler capped off his long-awaited victory with an eloquent (and presumably very well-rehearsed!) speech where he called for action on climate change, calling it "the most urgent threat affecting our entire species," and devoted more words to global warming than all the current presidential candidates combined. DiCaprio for POTUS 2020? We'd back it!
Michael Keaton's face when Spotlight won
As far as Keaton Oscar faces go, we like Michael Keaton's "fuck yeah, Spotlight!" face way more than last year's sad losing face.
Sign up here for our daily Thrillist email, and get your fix of the best in food/drink/fun.
Follow the Thrillist Entertainment editors on Twitter: @ThrillistEnt.