The 14 Most Outrageous Moments from the 2017 Oscars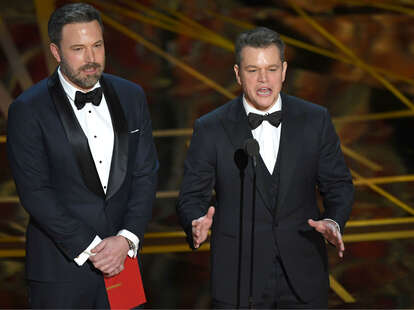 Mark Ralston/Getty Images
As expected, this year's Oscars was for the dreamers -- specifically, anyone who dreamed of La La Land winning Best Picture, only to realize it was an Inception-style dream-within-a-dream, and Moonlight actually won.
But there was more to the 89th Academy Awards than singing, dancing, old-fashioned Hollywood glamour, and host Jimmy Kimmel roasting his longtime enemy Matt Damon. Here's a look at some of the oddest, funniest, and totally bizarre moments from Hollywood's biggest night.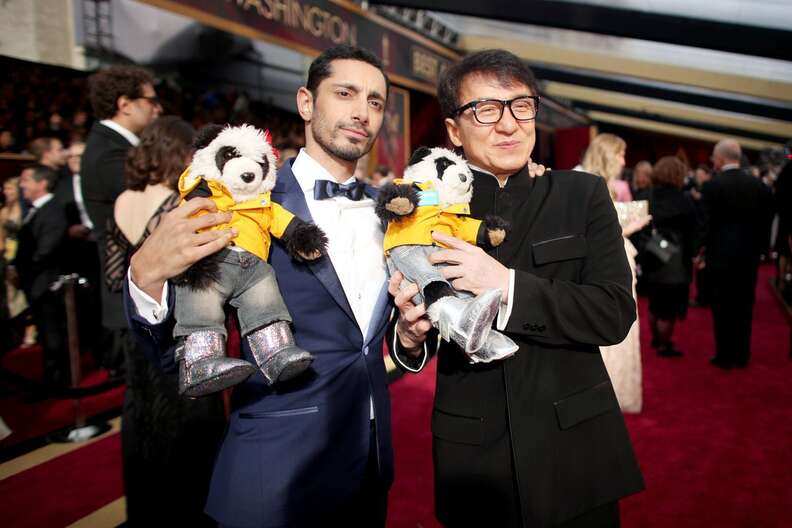 Jackie Chan brought his panda friends to the ceremony
The red carpet has a history of fantastic accessories, but Jackie Chan, the winner of an honorary Oscar at this year's Governor's Awards, had the cutest sidekicks: two yellow-jacket-sporting stuffed pandas. Why was he touting these two mini-animals? "I'm the ambassador of the panda," he told Ryan Seacrest. "After earthquakes, they get hurt and I raise them. I have two pandas in China -- my own. They go wherever I go. They meet all the famous people." Someone get these guys in an action movie together.
Justin Timberlake photobombed Emma Stone...
ABC was just trying to interview the soon-to-be-Oscar-winning actress , but then Timberlake decided to jump in and do his Pac-Man impersonation. If we said he performed "Can't Stop the Feeling" five minutes later, would you believe us?
… then inspired celebs to dance and clap awkwardly
He did! Timberlake ended up performing the popular Trolls anthem, nominated for best original song, and made all the A-list celebrities want to... move their bodies in ways that resemble dancing and clapping? Michael Shannon swayed. Denzel Washington seemed excited. And, best of all, Jeff Bridges did some quality golf claps.
Mel Gibson smiled his way through a scorching opening monologue
Kimmel's dis-filled monologue paid special attention to a smiling Mel Gibson, on hand as the best director nominee for Hacksaw Ridge. "There's only one 'Braveheart' in the room, and he's not going to unite us," Kimmel said, before adding, "You look great. I think the Scientology is working."
Meryl Streep soaked up the applause
Remember that time Donald Trump called Meryl Streep an overrated actress? Kimmel did. The host revisited the President's inaccurate burn, citing Streep's 20 Oscar nominations and her 50-odd roles as a backhanded slap of realness. What do you even do when that happens? Oh, yeah, laugh behind your plus-one.
Flag dancers whacked a singer in the face
Auli'i Carvalho, the 16-year-old voice behind Disney's princess Moana, went onstage at the Oscars to perform a song from her movie. Then something that looked like a giant blue tablecloth hit her in the face. YEP. Did she start over? NOPE.
The Oscars had a Willy Wonka moment
Kimmel, master food sorcerer, thought it was a good idea to start feeding his attendees something other than jokes. In surreal fashion, Red Vines and Junior Mints rained down from the ceiling. Ryan Gosling acted like it was the first time he'd ever seen snow. Taraji P. Henson celebrated. Andrew Garfield became king.
Viola Davis referenced exhuming bodies in her speech
After winning her first Oscar, Davis made sure to give a deep speech -- like, graveyard deep. "You know, there's one place that all the people with the greatest potential are gathered. One place and that's the graveyard," she said. "People ask me all the time, What kind of stories do you want to tell, Viola? And I say, exhume those bodies. Exhume those stories. The stories of the people who dreamed big and never saw those dreams to fruition. People who fell in love and lost. I became an artist -- and thank God I did -- because we are the only profession that celebrates what it means to live a life."

Lion's breakout star became the Lion King
Sunny Pawar has been a bright spot in this year's long, occasionally arduous awards season. Just look at his bow tie: the dude has style. So it only made sense that Jimmy Kimmel tried to steal some of his star power by recruiting the 8-year-old actor for a bit where he lifted above his head like he was in the Lion King. Move over, Donald Glover. There's a new Simba in town.
Mahershala decided to share his Academy Award
Mahershala Ali made history by becoming the first Muslim to win an acting Oscar, earning a statuette for his supporting role in Moonlight. Then, Gary from Chicago became the first tourist to crash the Oscars and hold the first Muslim winner's statue. Life, man.
Jimmy Kimmel trolled the President
In addition to taking a few one-liner jabs at President Trump in his monologue, Kimmel pulled out his phone halfway through the ceremony and sent a few messages to our nation's Tweeter-in-Chief. "U up?" Kimmel asked, before sending another one with the hashtag #MerylSaysHi. As of publication, the President hasn't responded… yet.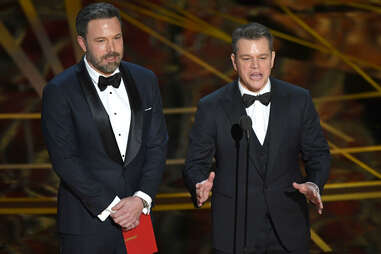 Matt and Ben returned to the Oscars
Back in 1998, Matt Damon and Ben Affleck won a Best Original Screenplay Oscar for Good Will Hunting, bringing a touch of youthful, Boston-bro energy to the show. In 2017, they're both older and grayer now, but they've still got that same goofy charm. After Matt Damon tried to defend his work in the movie We Bought a Zoo, which host Jimmy Kimmel mocked earlier in the show, Affleck was quick to deflate his friend's ego. "Really?" asked Batman. That's what friends are for.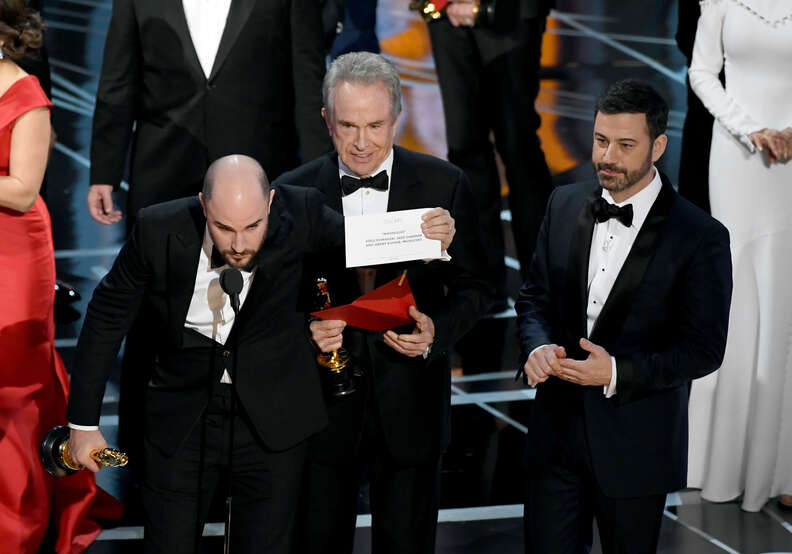 Faye Dunaway and Warren Beatty read the wrong envelope
Beatty got kinda confused when he saw the winner for Best Picture; the envelope read "Emma Stone, La La Land," after all. Afterward -- once the La La Land crew had to give their statuettes to the real winners, Moonlight -- he said he wasn't trying to be funny. But he kinda was. That, and insane. As Kimmel appropriately said, "Personally, I blame Steve Harvey."
Sign up here for our daily Thrillist email, and get your fix of the best in food/drink/fun.
Follow the Thrillist Entertainment staff on Twitter @ThrillistEnt.