The 18 Most Outrageous Moments From the 2018 Oscars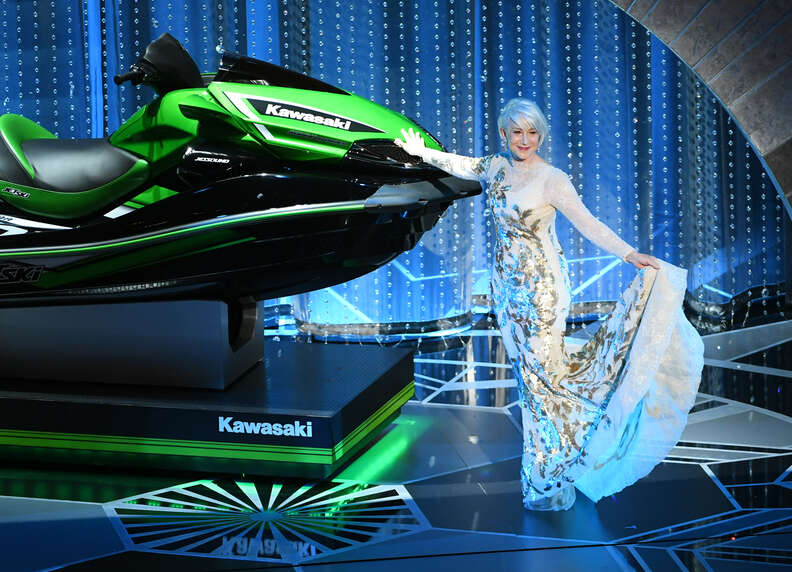 Kevin Winter/Getty Images
Heading into the 90th Academy Awards, we felt we were prepared for anything: Was Envelopegate going to rear its ugly head again? Was Hollywood going to fully embrace Guillermo del Toro's fishy love story? Was host Jimmy Kimmel going to have another Willy Wonka moment? If any of those things happened, we wouldn't have batted an eye. It's Hollywood's biggest night, after all -- things are bound to get weird. But... "Helen Mirren giving away a jet ski" weird? Yes, that weird.
Read on for our look at the night's oddest, shocking, and funniest, moments.
Taraji P. Henson got in Ryan Seacrest's head
Before the broadcast, news broke that the E! Network was considering using a 30 second delay during the red carpet show to cut away in case the channel's host Ryan Seacrest, who was recently accused of sexual harassment by a former personal stylist. (Seacrest has denied the allegations; E! denied they were using an extended delay.)
While some celebrities simply chose to avoid Seacrest on the red carpet, Taraji P. Henson held his feet to the fire when he asked her a question about Mudbound nominee Mary J. Blige. "You know what, the universe has a way of taking care of good people," she said. "You know what I mean?"
Adam Rippon owned the red carpet with a leather harness
Olympic figure skater and America's favorite quote machine Adam Rippon hit the red carpet in a head-turning leather harness from Moschino. "Not only is Adam an amazing athlete, he is an inspiration to me for his unfailing determination to speak his truth and combat bigotry and hate with love and intelligence," Moschino's creative director, Jeremy Scott, told The Hollywood Reporter. "His tux is a nod to Old Hollywood with a twist." The tux was also, easily, the most-talked-about look of the night.
Jimmy Kimmel was worried if Hollywood can still trust agents
For his opening monologue, Oscars host Jimmy Kimmel balanced earnestness with hilarity. At one point, he leaned into Hollywood's pay-disparity problem, citing the All the Money in the World incident in which Mark Wahlberg earned much, much more for doing reshoots than his co-star Michelle Williams. The nuttiest part of that fiasco? The two actors were repped by the same agency, CAA. "This story really shook me," Kimmel quipped, "because if we can't trust agents, who can we trust?"
Jimmy Kimmel promised a jet ski to the shortest speech
Even if you enjoy them, you have to admit the Oscars are often painfully long. Jimmy Kimmel found an original way of mocking the show's girth by offering to up a jet ski, and later a trip to Beautiful Lake Havasu, Arizona, to the winner who made the shortest speech of the night. (Sam Rockwell later referenced the gag in his motor-mouthed acceptance speech for Best Supporting Actor.) To add a surreal touch, the prize was presented by Oscar winner Helen Mirren. Sure, why not?
Get Out's Lakeith Stanfield made the perfect cameo appearance
The free jet ski wasn't the only trick up Kimmel's sleeve. To ensure winners would speed up their speeches, the host noted that the Academy was going to scrap play-off music in favor of something more explosive: Lakeith Stanfield sprinting on stage, yelling, "GET OUT!" It was an effective and jarring surprise, like your one roommate who doesn't know to knock. And then, as the actor lingered for a bit, mumbling, looking at the audience kind of shell-shocked, channeling his Get Out character Andre Logan King, it got... perfectly weird.
Jimmy Kimmel asked Steven Spielberg if he had pot
Not all of Jimmy Kimmel's audience participation bits totally worked, but he did ask Steven Spielberg for pot. The Post director looked a little befuddled at first then played along with the joke by reaching into the pocket of his jacket. He did direct Close Encounters of the Third Kind, so you never know!
Allison Janney did it all by herself
"I did it all by myself," quipped Allison Janney as she took the stage when she won Best Supporting Actress for her role in I, Tonya. If she had just walked away after that, she would've had the best speech of the night -- and won a jet ski. The rest of her speech was good, but this felt like a real opportunity to make Oscar history.
Mark Hamill made the best La La Land joke of the night
To present the award for Best Animated Short, the Academy got The Last Jedi's Kelly Marie Tran, Oscar Isaac, Mark Hamill, and BB-8 to reunite. We were thrilled at the prospect of seeing the group together again, but things got weird fast with a handful of lame droid jokes. Fortunately, Hamill saved the day, when, upon opening the envelope, he recalled last year's painful Envelopegate, muttering as a last-minute reminder, "Don't say La La Land. Don't say La La Land."
BB-8 gave Kobe Bryant an Oscar
How weird did the show get? Kobe Bryant picked up the Animated Short award for a film called Dear Basketball, which you probably didn't see. But if you watched the Oscars, you did see BB-8 give him an Oscar. Yep, weird show.
Gina Rodriguez was like, "YEEAAAHHHH!"
Presenting the award for best achievement in visual effects, Gina Rodriguez teamed up with Tom Holland for what became a very cute moment. "Effects artist working in concert with virtually every department apply their expertise to serve the story and to make the audience believe that even an ordinary man can climb walls, spin webs, and swing through the air," said Holland. "YEA-UH," the ever-endearing Rodriguez said, giving him an elbow nudge and mugging for the camera, as if to say, Nice job not messin' up those lines, or, I see what you did there, Spidey!
Guillermo del Toro carried a giant party sub into a movie theater
Last year Jimmy Kimmel brought a group of movie fans to the Dolby Theater for one of his elaborate stunts -- you might remember "Gary from Chicago" going viral -- but this year he brought the movie stars to the people. The host assembled a team of celebrities including Gal Gadot, Lupita Nyong'o, Margot Robbie, Armie Hammer, Ansel Elgort, and more -- and then took them to a nearby theater to surprise some unsuspecting moviegoers.
After the surprise, the celebrities distributed snacks to the crowd -- which, amazingly, included Hammer wielding a giant hot dog gun -- but the best moment of the prank was definitely The Shape of Water director Guillermo del Toro carrying a party sub. It was a vivid, strange image, like something you might see in a Guillermo del Toro movie.
Tiffany Haddish asked Meryl Streep to be her mama
On the red carpet, before the Oscars even began, Tiffany Haddish told ABC's Michael Strahan that all she wanted to do tonight was find Meryl Streep and have a conversation with her. Her first, and best, opportunity came during her presentation with Maya Rudolph. Spotting Streep in the front row, Haddish pounced, saying from the stage, "I want you to be my mama one day!" (Same.) Your move, Meryl.
Dave Chappelle photobombed Margot Robbie, Chadwick Boseman, and Nicole Kidman
Yeah, it was just really good.
Jimmy Kimmel dissed Matt Damon. Twice.
Following a montage of war movies, Kimmel took a quick second to revive his long-running faux beef with pal Matt Damon. "On behalf of the Academy, I want to apologize to our great U.S. Military, the men and women, here and overseas, for including Matt Damon in that montage," he said. "You deserve better than that. You really do." Heh. He did it again at the very end of the show, because there's never enough time for Matt Damon.
Emma Stone called out the Academy's gender disparity
Introducing the best director nominees, Stone pointed out how painfully lop-sided the category was: "It is the director whose indelible touch is reflected on every frame. It is the director who, shot by shot, scene by scene, day by day, works with every member of the crew to further the story. And it is the vision of the director that takes an ordinary movie and turns it into a work of art," she said. "These four men and Greta Gerwig created their own masterpieces this year." Boom.
Jodie Foster blamed Meryl Streep for her injury
When she walked onstage to present the Best Actor award with Jennifer Lawrence, Jodie Foster was using a crutch to make her way to the microphone. Who was responsible for hobbling Clarice Starling? It was Meryl Streep, joked Foster. Apparently, that's how you get 21 Oscar nominations: kneecap your opponents.
All the female nominees stood with Frances McDormand
After thanking her loved ones, the enthusiastic best actress winner quickly turned her speech into a powerful celebration of women and diversity. "I have two words for you: inclusion rider," she said, referencing a contract addendum that ensures gender and racial equality on sets. She delivered the mic drop after asking all the female nominees at Dolby to join her in standing, a symbolic eye-opener meant to show those seated that "we all have stories to tell and projects we need financed."
The fish-sex movie won Best Picture
The favorite to win Best Picture did, in fact, win Best Picture. Guillermo del Toro's Shape of Water was the monster movie Hollywood craved, despite more timely candidates like Get Out or Lady Bird gathering steam in recent weeks. It's a relatively simple parable -- albeit one with a fish-man -- that promotes a message of understanding. In the end, it was the kind of inoffensive movie that a film industry still trying to work its way through endless scandals wanted to celebrate.
Sign up here for our daily Thrillist email and subscribe here for our YouTube channel to get your fix of the best in food/drink/fun.

Follow the Thrillist Entertainment staff on Twitter @ThrillistEnt.