Every 2018 Oscar Best Picture Nominee, Ranked
The Shape of Water

| Fox Searchlight
The Shape of Water

| Fox Searchlight
Like it or not, we'll be talking about 2017 for years to come. But we'll specifically be talking about 2017 in movies until Sunday, March 4, 2018, when the 90th annual Academy Awards cements the best actors, behind-the-scenes artistry, and "pictures' of the year into the history books. Three-hundred and sixty-five days of the Trump era invigorated and imploded Hollywood, which began weeding out a strain of male power players (goodbye, Harvey Weinstein), ramped up the conversation on inclusivity in front of and behind the camera, and pulled back to understand why a movie like Get Out could do as well as a tentpole like Justice League. In 2017, the rules changed… which makes this one of the wildest awards seasons ever.
With more than a month to go before the Oscars, we wanted to make sure you found the time to watch the Best Picture nominees, and better yet, in what order -- there's only so much time in the day. Here's what you need to know.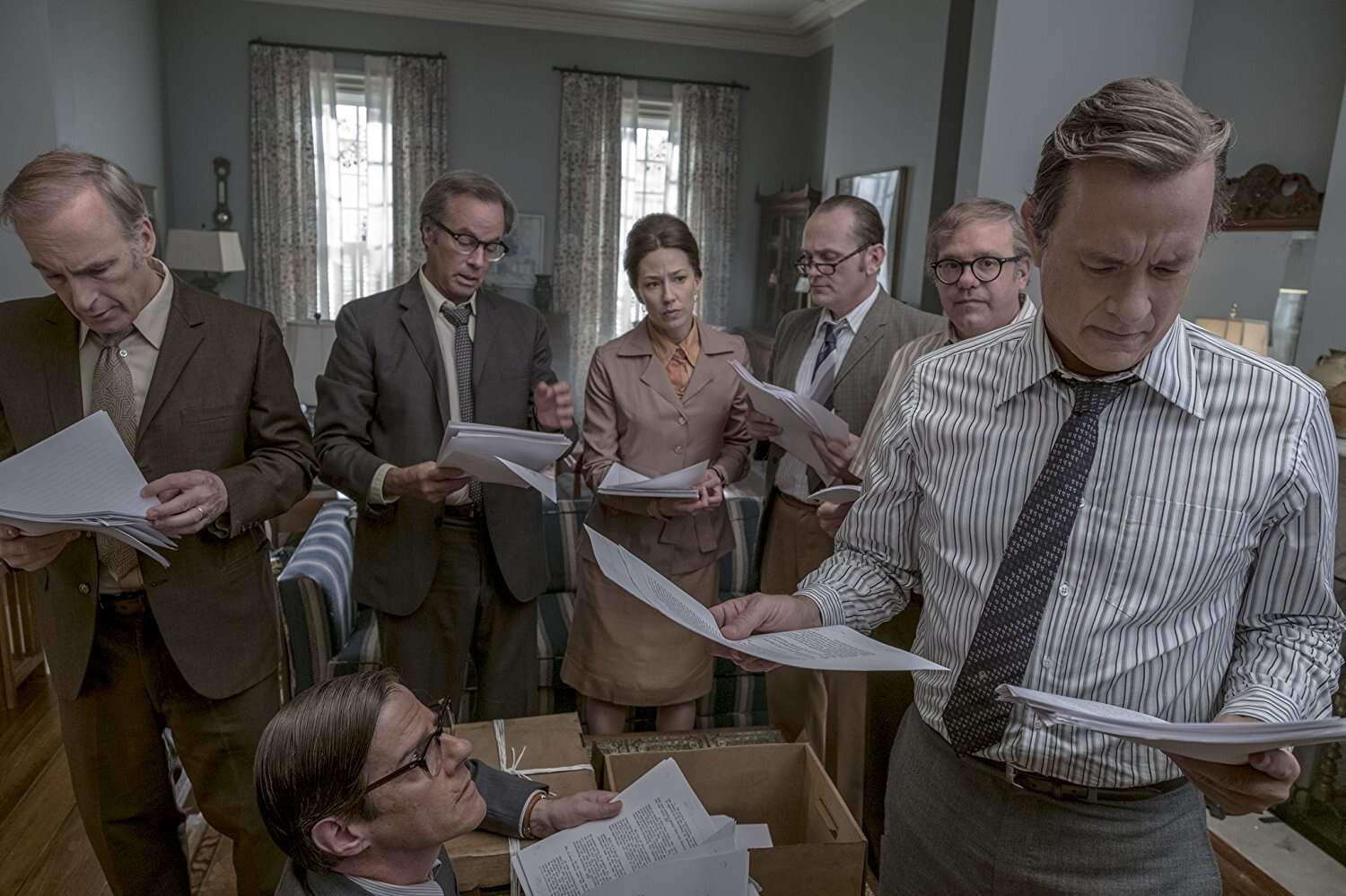 9. The Post
Cast: Meryl Streep, Tom Hanks, Bob Odenkirk, Bruce Greenwood
Director: Steven Spielberg (War Horse)
Our take: Reacting to the Trump administration's war on journalism, Steven Spielberg pumped out this reenactment about Washington Post executive editor Ben Bradlee's 1971 hunt for the Pentagon Papers, and publisher Kay Graham's unsung decision to take on President Nixon by approving the publication of the classified documents. On history-books paper, the act was an astounding achievement, one with clear relevance to today's media-vs-government tussles. In Spielberg's racing-to-the-finish-lines hands, it's a glossy, didactic, and dramatically mismanaged attempt to get the audience cheering for print journalism in 2017. Noble, but The Post rarely shows its work, scratching the surface of the Washington Post reporters' experiences and whirling the camera around like the newsroom is Barnum & Bailey's circus. While Meryl Streep as Graham can turn any will she/won't she phone call into a nailbiter, Hanks sketches Bradlee as a Bostonian version of Brad Pitt's Inglourious Basterds character, and the rest of the cast remains all but anonymous. The movie's message is loud and clear and comforting: fact-focused brains will always triumph over oppressive, political brawn. So determined to make 2017 connections, The Post is liberal catnip, catapulted into a ready audience at a time that demands nuance and calculus. Graham and Bradlee's decisions weren't superheroics, but the acts of strong-willed Americans.
Where to see it right now: In theaters (watch the trailer)
8. Darkest Hour
Cast: Gary Oldman, Kristin Scott Thomas, Lily James, Ben Mendelsohn
Director: Joe Wright (Atonement)
Our take: Gary Oldman earned a Best Actor nomination for his under-heavy-latex work as British Prime Minister Winston Churchill, and it's obvious why: every scene in this polished biopic feeds the actor material he can chomp like a Cuban cigar. Synced to Dario Marianelli's tick-tocking score, the gruff politician's World War II story swings from life-or-death decisions of war, the moments when Churchill bellowed his way into history books, to hushed encounters between the PM and his constituents, streaks of sentimentality that adds harmony to a single, thunderous note. Through movement and portraiture, Wright elevates Darkest Hour from Masterpiece Theater fodder to a worthy companion to Dunkirk.
Where to see it right now: In theaters (watch the trailer)
7. The Shape of Water
Cast: Sally Hawkins, Doug Jones, Michael Shannon, Richard Jenkins
Director: Guillermo del Toro (Pan's Labyrinth)
Our take: This Cold-War-era fairy tale rattles a G-rated romance between a human woman and an amphibian fish-man with splashes of R-rated reality. Elisa, a mute janitor at a hush-hush government research lab, doesn't just pine for the model man, she's sexually stifled, her pleasure scheduled each morning to the ring of an egg timer. Her soon-to-be-lover, the ripped, otherworldly "asset" fought over by American scientists and Russian spies, is a viable lover, but sheds blood like any other tortured creature. Del Toro doesn't flinch in any of the graphic details, but a classic Hollywood touch, lush color palette, and air of innocence make this horror-adjacent story of outsiders as sweet as any Disney flick.
Where to see it right now: In theaters (watch the trailer)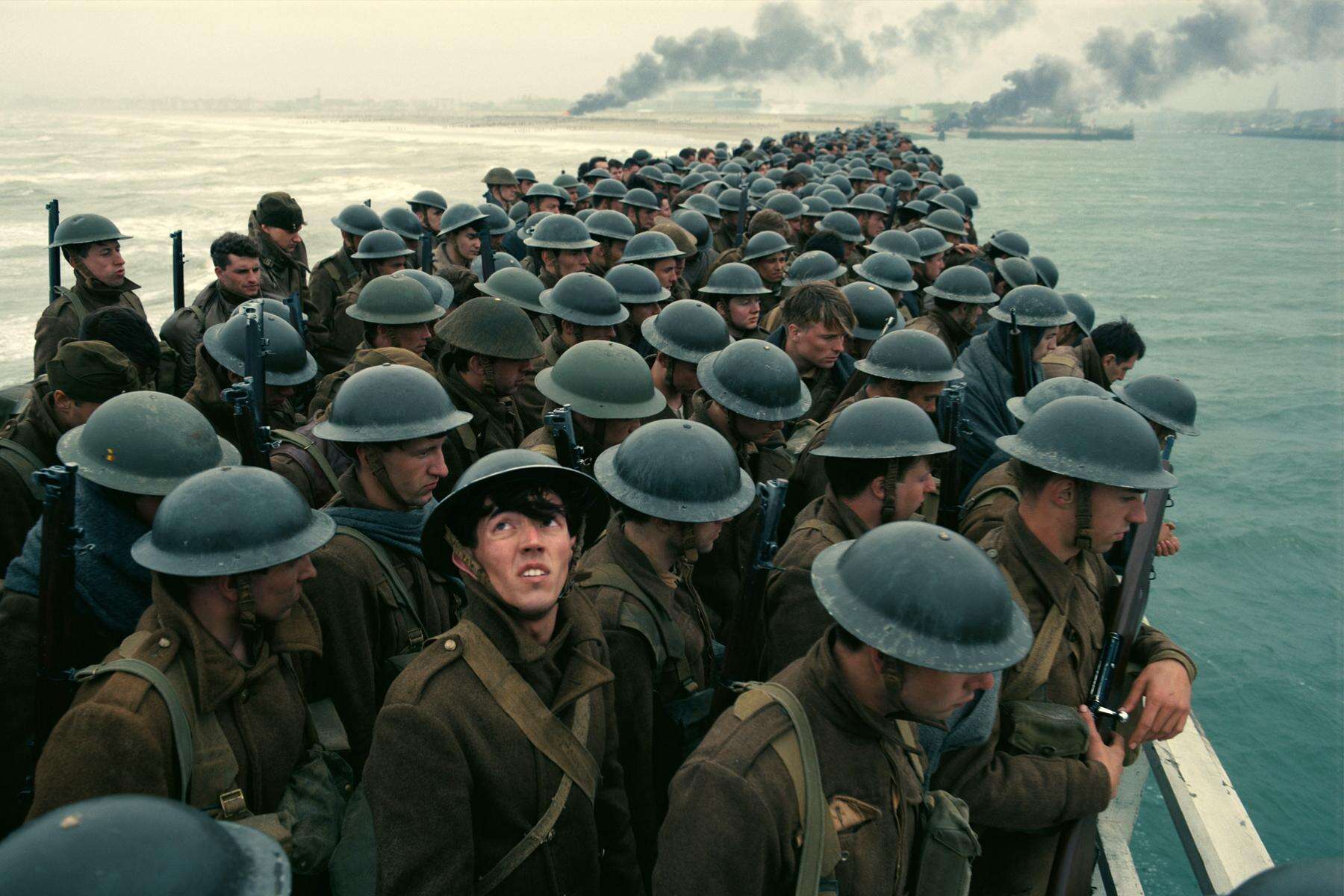 6. Dunkirk
Cast: Fionn Whitehead, Mark Rylance, Kenneth Branagh, Harry Styles
Director:Christopher Nolan (The Dark Knight)
Our take: The circumstances that left hundreds of thousands of Allied troops surrounded by Nazi troops and trapped on the beaches of Dunkirk in May 1940 are messy, convoluted, and marred by militaristic debate. Nolan's treatment of "Operation Dynamo," the effort to smuggle those men out through waves of air raids and U-boat torpedo attacks, is not. Intricate yet simplistic, like the pocket watch one hears tik-toking behind every bar of Hans Zimmer's propulsive score, Dunkirk is an elemental chronicle where each path of escape -- by land, by sea, by sky -- diverts back to the Hell on earth that was World War II. There aren't so much characters as there are factions of men, soldiers and British amateurs looking to lend a hand. There's no plot beyond "get the hell out." But in Nolan's hands, and through IMAX-sized frames, it's a mesmerizing, maddening, and often isolating experience -- this was real life.
Where to see it right now: Rent on iTunes, Amazon, VUDU (watch the trailer)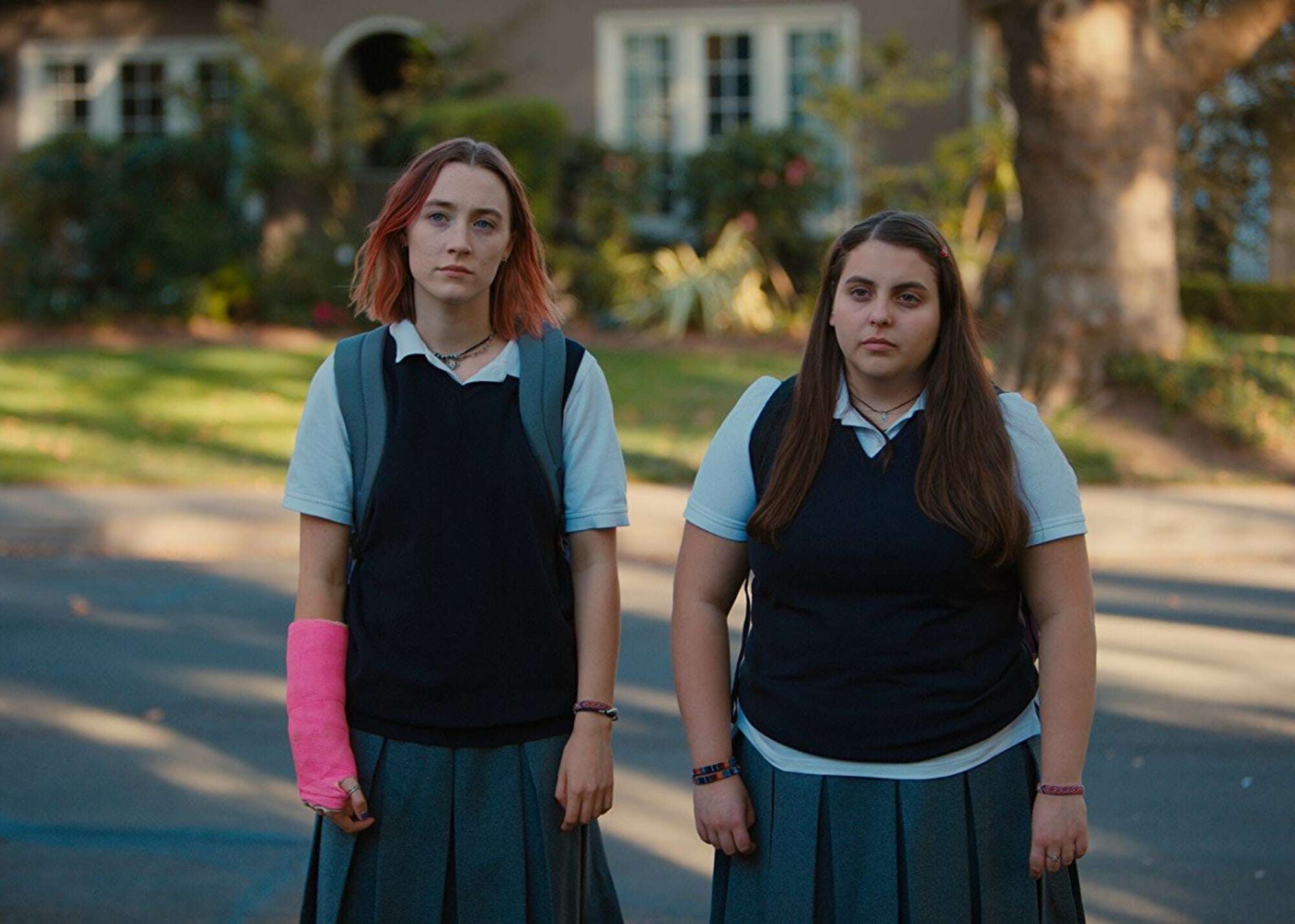 5. Lady Bird
Cast: Saoirse Ronan, Laurie Metcalf, Tracy Letts, Lucas Hedges
Director: Greta Gerwig
Our take: Senior year of high school is less like a roller coaster than a Tilt-a-Whirl, daily life wildly spinning in one direction as existence spins in another. This dizzying, frustrating, exhilarating right of passage is the focus of actress Greta Gerwig's first directorial effort, the story of girl named Lady Bird (her given name, in that "it's given to me, by me") who rebels against everyday Sacramento, California life to obtain whatever it is "freedom" turns out to be. Set in the early 2000s, a time when Dave Matthews' "Crash Into Me" regularly melts hearts, Lady Bird charts a year-in-the-life through precision recreation of shared moments: the arguments with parents, the math quiz meltdowns, the arguments with parents, the life-or-death musical tryouts, the arguments with parents, the fleeting first-time sexual encounters that mean everything, and of course, the arguments with parents. Laurie Metcalf is an understated powerhouse as Lady Bird's mother, a constant source of contention who reconciles with poverty through her daughter's success. It's a tragic note in total complement to Gerwig's hysterical love letter to home, high school, and the history of ourselves.
Where to see it right now: In theaters (watch the trailer)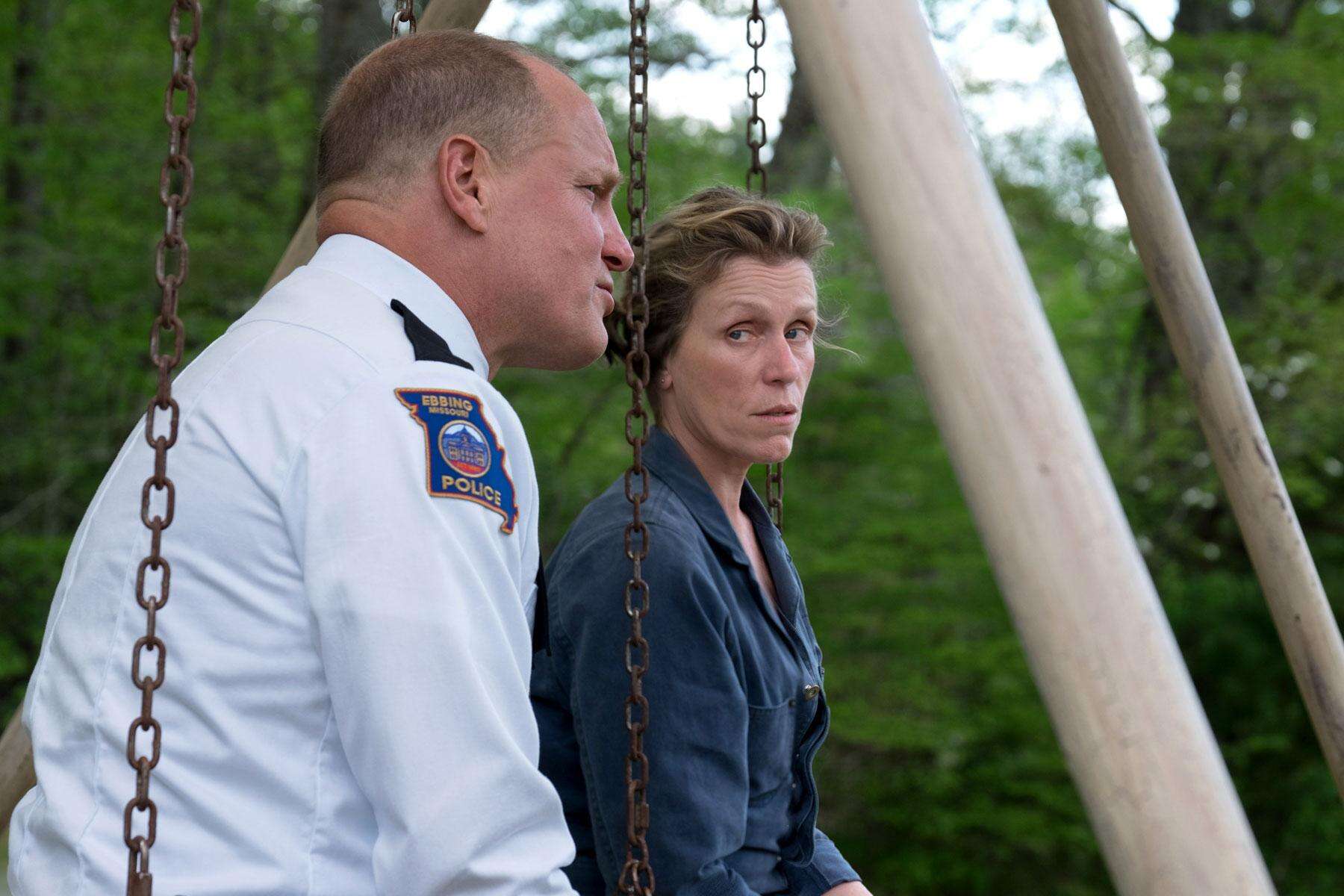 4. Three Billboards Outside Ebbing, Missouri
Cast: Frances McDormand, Woody Harrelson, Sam Rockwell, Peter Dinklage
Director: Martin McDonagh (In Bruges)
Our take: McDonagh, a British-Irish playwright known for bloody, profanity-laden parables, jumps the Atlantic to tell this story about small-town politics and the geyser-like power of anger. A year after her daughter was raped and murdered, and with no suspect in hand, Mildred (McDormand) kicks the police in the ass by buying up three billboards with a block letter reminder: "STILL NO ARRESTS." From the dying sheriff to the drunken, racist dimwit deputy to Mildred's own son, who just wants to forget his pain, Mildred's provacateurship gets under everyone's skin. McDonagh sinks his teeth into every meaty expression of hate, rage, and difficulty, and finds humor in the unlikeliest places, as he follows Mildred, hell-bent on answers. In a world where nothing makes sense, the raw nerves of Three Billboards are truly cathartic.
Where to see it right now: In theaters (watch the trailer)
3. Phantom Thread
Cast: Daniel Day-Lewis, Vicky Krieps, Lesley Manville
Director: Paul Thomas Anderson (There Will Be Blood)
Our take: Like a living Vermeer painting, Anderson's look at the entanglement of art and eroticism sits stoic as two forces of desire clash against opulent 1950s production design. Reynolds Woodcock (Day-Lewis) is the premiere fashion designer of the era, a genius playboy who detects the contours of women, dresses, and life itself like he's Neo inside The Matrix. And though his sister Cyril (Manville) manages every second of his every day, a new muse, Alma (Krieps), slips by the alarms and disrupts his understanding of success with a simple trick: love. In Phantom Thread, everything from Woodcock's mansion to the draping gowns to pans of sautéed mushrooms are fashion-shoot-worthy, but there's also a devilishly comedic streak to the movie, like a prestige version of Curb Your Enthusiasm, that asks the most of Johnny Greenwood's music and takes full advantage of Day-Lewis and Krieps's bravado. Early on, Woodcock reveals that he sews secret messages into his garments. Anderson does the same in Phantom Thread, a drama rich with details and personal admissions.
Where to see it right now: In theaters (watch the trailer)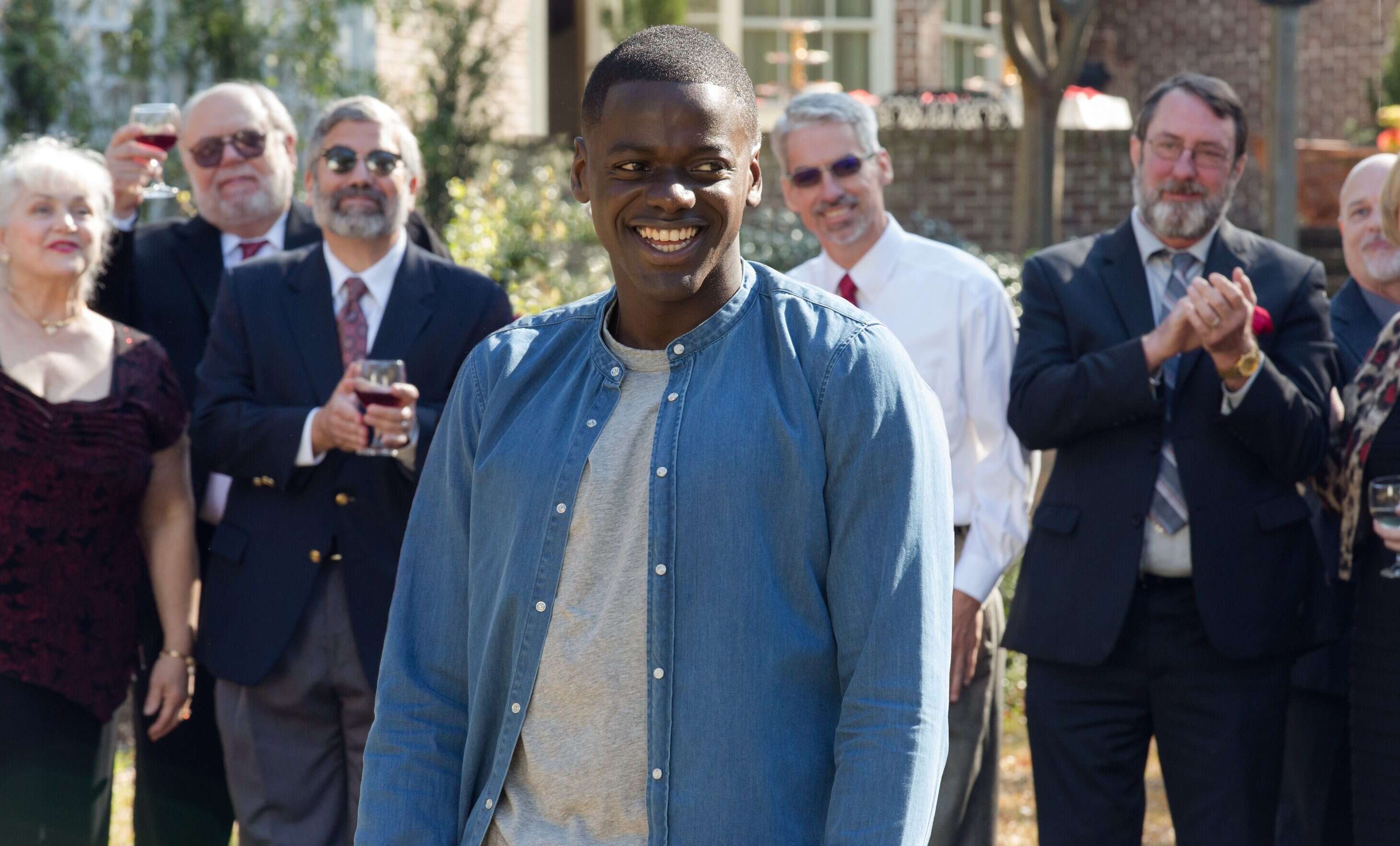 2. Get Out
Cast: Daniel Kaluuya, Allison Williams, Catherine Keener, Bradley Whitford
Director: Jordan Peele
Our take: It's a short leap from the socially conscious sketch comedy of Key & Peele to the psychological terror (and resulting laughs) of Get Out. Peele's directorial debut begins as like an update of Guess Who's Coming to Dinner?, Kaluuya's Chris harboring the appropriate amount of skepticism over meeting the upper-crust white parents of his girlfriend Rose (Williams). As the weekend hours pass, Chris stumbles into a racially charged conspiracy that only Peele, a student of Wes Craven and horror masters of yesteryears, could conjure up. Littered with one-liners and laced with tension, Get Out is a ravenous masterpiece tailor made for America's current climate.
Where to see it right now: Rent on iTunes, Amazon Video, YouTube, and VUDU (watch the trailer)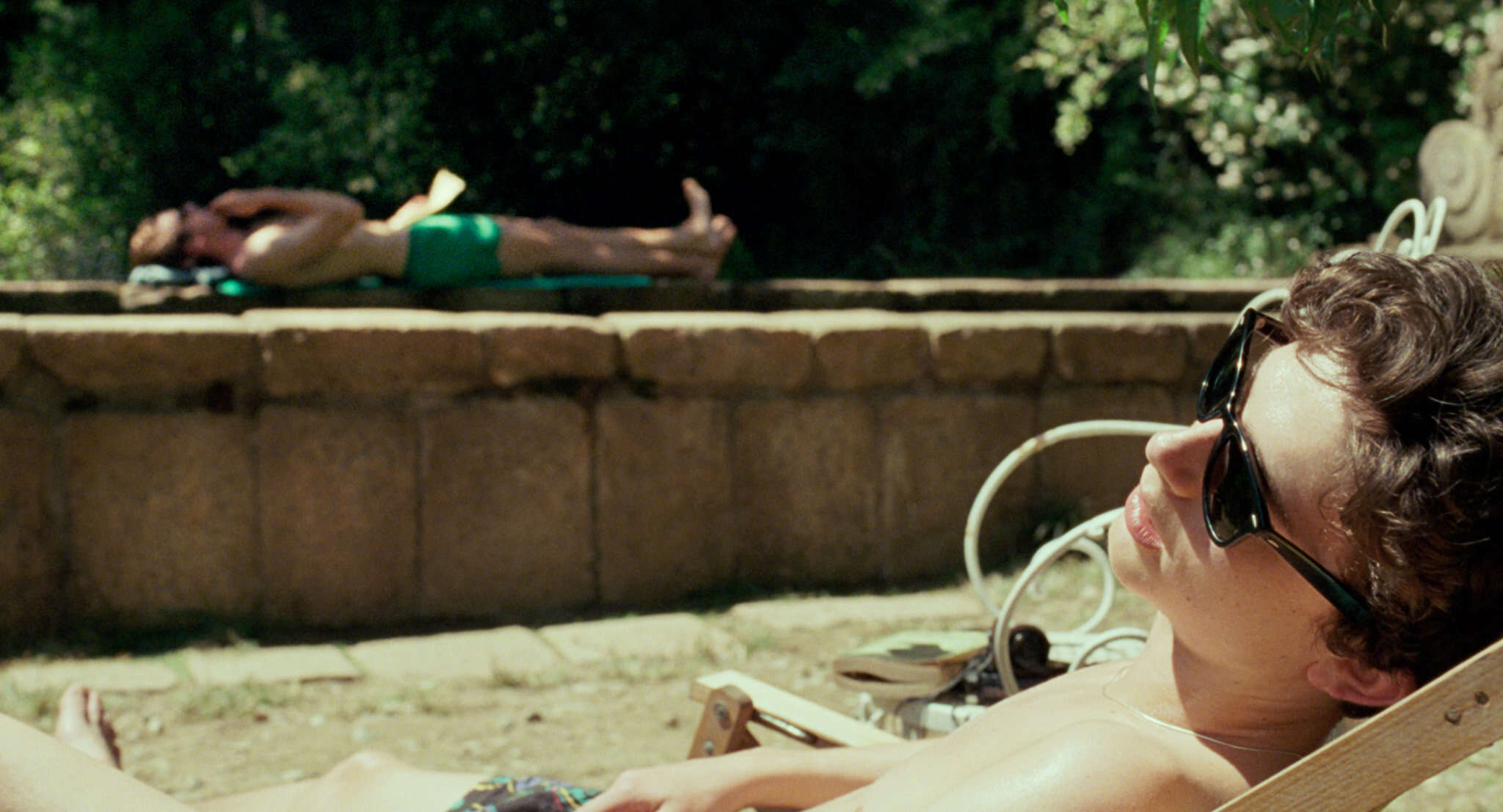 1. Call Me by Your Name
Cast: Timothée Chalamet, Armie Hammer, Michael Stuhlbarg, Amira Casar
Director: Luca Guadagnino (A Bigger Splash)
Our take: André Aciman's acclaimed 2007 romance blooms in an air of hormones, heavy petting, and apricot pulp. Guadagnino returns to a lavish setting, this time an Italian paradise where days consist of poolside lounging, feasting on cured meats, and the occasional archaeological excavation. But Call Me by Your Name is a more formal affair than last year's A Bigger Splash, steady and composed so that Chalamet, a revelation as the studious, sexually blossoming Elio, and Hammer, playing Elio's father's pupil Oliver and the young man's Adonis, can steam up the screen. Restraint doesn't inhibit Guadagnino, who still finds way to gift Stuhlbarg with a bring-you-to-tears monologue on love and two new Sufjan Stevens songs. What it does is concentrate the fire, ensuring that Call Me by Your Name burns hot from beginning to end.
Where you'll see it: In theaters (watch the trailer)
Sign up here for our daily Thrillist email and subscribe here for our YouTube channel to get your fix of the best in food/drink/fun.
Matt Patches is the Executive Entertainment Editor of Thrillist. He previously wrote for Grantland, Esquire.com, and Vulture. Find him on Twitter @misterpatches.