Jimmy Kimmel Took on Sexual Assault, Mike Pence, and More in Hilarious Oscars Monologue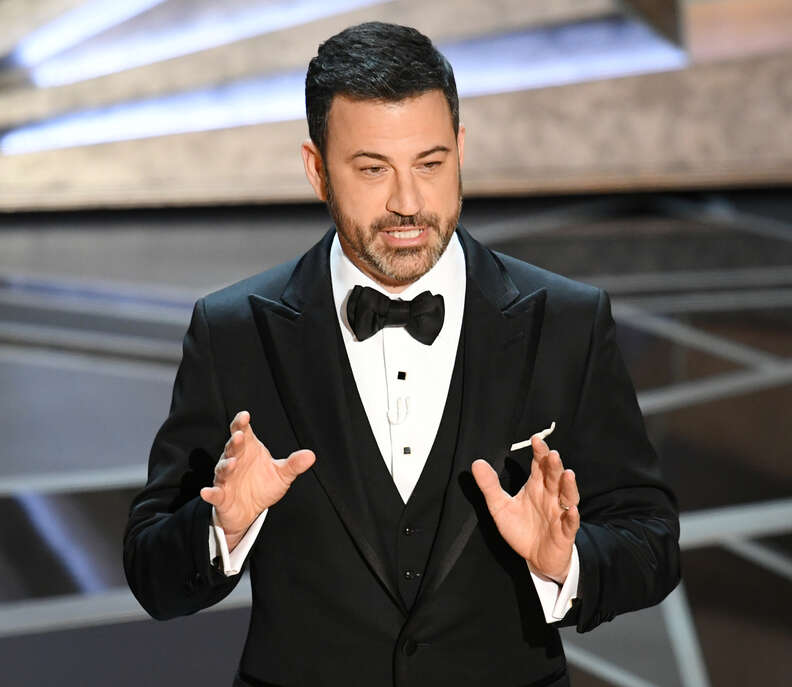 Kevin Winter/Getty Images
For the second year in a row, Jimmy Kimmel hosted the Academy Awards, but the gap between the two gigs feels like a generation, given the sea change that's taken place in Hollywood in the past several months. After news of the Harvey Weinstein allegations broke in the fall, an avalanche of similar stories revealed a rampant culture of toxicity throughout the entertainment industry. It inspired the #MeToo hashtag, the Time's Up movement, and generated an avalanche of awareness about just how much discrimination and casual bias exists in every workplace. Envelope mixups now seem like such a silly thing to get worked up about.
But that didn't stop Kimmel from leading with last year's debacle, which he described as the accountants going ahead and doing comedy without his input. It WAS pretty funny. From there, though, the focus was squarely on the #MeToo movement and the increased awareness it's spawned of rampant inequality and harassment in all industries. Kimmel joked that the Oscar statue was the best man in Hollywood, because he keeps his hands where you can see them, and he, uh, lacks some of the anatomy of your average Hollywood man.
"He is literally a statue of limitations," Kimmel joked.
Kimmel mostly stuck to the old Oscar tradition of PG entertainment, with limited rancor directed at the film industry itself; in fact, he said that this is a time of positive change, so everyone should focus on the various firsts achieved by films like Get Out, Lady Bird, Call Me by Your Name, and more. The power of positive thinking! If there's one thing Hollywood hates more than a reckoning, it's sick burns at its expense. Instead, the Jimmy Kimmel Live! host saved most of his vitriol for Vice President Mike Pence: "We don't make films like Call Me by Your Name to make money. We make them to upset Mike Pence."
As a bonus, Kimmel offered a Jet Ski to the winner with the shortest speech. Watch the full monologue below, good luck to all the winners, and check out the full list of Oscar winners here.
Sign up here for our daily Thrillist email and subscribe here for our YouTube channel to get your fix of the best in food/drink/fun.
Wes Rendar is a writer and big-time Oscars fan.