How Many Oscars Did 'Phantom Thread' Win?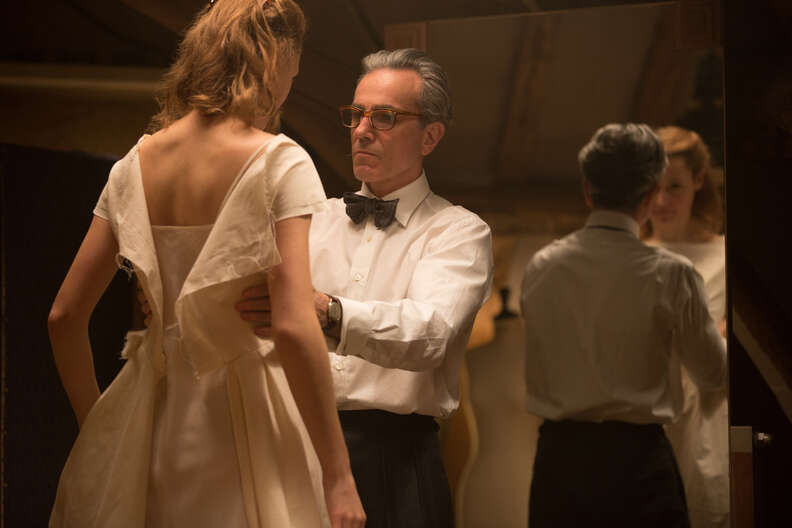 In many ways, Phantom Thread is the ideal Oscar bait. It's a moody, meditative piece about relationships and dedication to craft, starring a lifelong Academy favorite (Daniel Day-Lewis); it's directed by a proven auteur (Paul Thomas Anderson); it features beautiful cinematography and costume design (it's about dresses, folks!); and feels, generally, about as anti-blockbuster and awards-friendly as a movie can get.
But in 2018, it also feels like an anachronism, an awards season casualty of socially conscious filmmaking and an increased awareness of the need for diverse representation in the industry. That's not a bad thing, unless you bet on Phantom Thread in your Oscars pool. The film was up for a total of six Academy Awards: Best Picture, Director (Anderson), Actor in a Leading Role (Day-Lewis), Actress in a Supporting Role (Lesley Manville), Costume Design, and Original Score. It walked away with the Oscar for Costume Design, and nothing more except the satisfaction of knowing it tried its very best.
Here's the full list of Oscars Phantom Thread won:
Phantom Thread won the Academy Award for Costume Design
Mark Bridges, the Costume Designer on Phantom Thread, accepted the Oscar for Costume Design. Those dresses were very pretty! To paraphrase E!'s red carpet coverage, such elegance, such beauty. As mentioned earlier, movies about craft are to the the Oscars what bug zappers are to mosquitoes, just drawing them in, only to electrocute them to death when they get too close. This analogy might not work, but it's a long night. In any case, part of Phantom Thread's appeal was the sharp attention to detail in all of the dresses, which is essential when the movie is about an exacting dressmaker.
Sadly, Phantom Thread did not pick up any other Oscars -- sorry to DDL fans and THread-heads out there. But, in a twist to one of host Jimmy Kimmel's gags of the night, Bridges won a jet ski for the shortest acceptance speech. Post-war fashion design + water sports = match made in heaven. Be sure to take a look at the full list of winners here.
Sign up here for our daily Thrillist email and subscribe here for our YouTube channel to get your fix of the best in food/drink/fun.
Anthony Schneck is an entertainment editor at Thrillist. Follow him @AnthonySchneck.