All 8 Best Picture Nominees, Ranked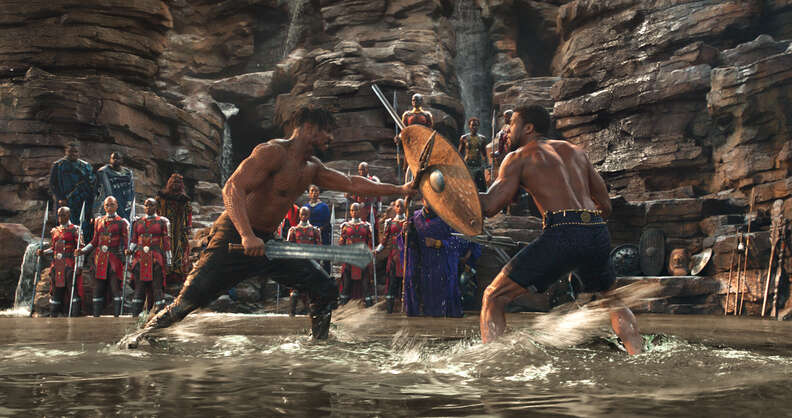 After months of prognosticating and speculation, the Academy Awards finally handed out their top prize on Sunday night, bringing an end to a particularly feverish awards season. The ceremony, which stretched over three hours and included an entire Queen performance, did not have an official host this year, but at least it delivered a modicum of tension and mystery, particularly around the question of what movie would actually win the highly coveted Best Picture trophy. While in some years, there was a film that was considered a virtual lock in the category, this year's field was more open and ever-changing than usual.
Then, Green Book won. Was it actually the Best Picture of the year or were there more deserving contenders up for the award? If you're an obsessive, you probably already saw all eight nominated films -- and you likely checked out all the movies we included on our "Best of 2018" list last year and nominated for our own awards -- but if you're playing catch up after watching the show, we've gone ahead and ranked each Best Picture nominee below. We used a highly scientific method of watching all of them and arguing over which one was the best.
8. Bohemian Rhapsody
Cast: Rami Malek, Lucy Boynton, Gwilym Lee, Ben Hardy
Director: Bryan Singer (X-Men: Apocalypse)
Oscar Nominations: 5
Oscar Wins: 4 (Best Actor, Best Film Editing, Best Sound Editing, and Best Sound Mixing)
What we think: I'll be blunt: Bohemian Rhapsody is not just bad. It's one of the worst Oscar nominees in recent memory. Whereas "bad nominees" in past years have been staid period pieces or problematic in their messaging, this Freddie Mercury biopic is downright incompetent. The screenplay is not just inaccurate, but hacky. In one scene, an executive played by Mike Myers -- famous for head-banging in a car to the titular song in Wayne's World -- tells the members of Queen that no one will head-bang to the movie's titular song. It's a wink at the audience that lends itself to eye-rolling. The staging is embarrassing. A touring sequence that flashes the names of locations on screen seems out of a parody like Walk Hard or Popstar. Designed to make Mercury's bandmates look as innocuous as possible, it frames Freddie Mercury's attraction to men as his moral downfall. Rami Malek's performance is admirable, but it's hidden behind layers of makeup and a truly messy production. On top of all of that, the film was largely directed by Bryan Singer, a man who has been accused multiple times of sexual misconduct. He was fired from the project, but his name remains attached, and that in itself is shameful. -- Esther Zuckerman
7. Green Book
Cast: Viggo Mortensen, Mahershala Ali, Linda Cardellini, Dimitar Marinov
Director: Peter Farrelly (There's Something About Mary)
Oscar Nominations: 5
Oscar Wins: 3 (Best Picture, Best Supporting Actor, and Best Original Screenplay)
What we think: It's wild that Green Book, a movie where Viggo Mortensen folds a whole pizza in half and eats it like a sandwich, was ever a part of the Best Picture conversation. It's even wilder that it actually won! Peter Farrelly's road trip buddy movie, which follows white tough guy Frank "Tony Lip" Vallelonga (Mortensen) as he drives black pianist Don Shirley (Mahershala Ali) across the Deep South in the early 1960s, has the rhythms of a cheesy sitcom and the politics of a cartoon strip. Clearly, the movie's simplistic message about race and friendship, which reportedly has a thorny relationship to reality, resonated with some viewers and Academy voters, but there's a plasticity, an aroma of grating phoniness, to much of Green Book that keeps it from digging deep into the complex ideas and tricky dynamics it flirts with. Farrelly, who has directed genuinely risk-taking (and brilliantly funny) comedies in the past like Dumb and Dumber and Kingpin, takes his foot off the gas at crucial moments in this story. Instead, the whole movie is on cruise control. -- Dan Jackson
6. Vice
Cast: Christian Bale, Amy Adams, Sam Rockwell, Steve Carell
Director: Adam McKay (The Big Short)
Oscar Nominations: 8
Oscar Wins: 1 (Best Makeup and Hairstyling)
What we think: Vice is a real tough nut to crack, not unlike its subject, former Vice President Dick Cheney, played with a near-indescribable manic energy by an extra pudgy Christian Bale. Director Adam McKay wanted desperately to make another tongue-in-cheek docudrama like his Academy Award-winning housing crisis breakdown The Big Short, but that same kind of smug, snide talkiness that made the confusing concepts of his previous film so plain only obscures and warps Vice's central message and tone over the course of the film -- especially once you get to that one final take-no-prisoners ending gag that plays over the credits. What worked in a movie mostly about bad dudes using math and secrets to their advantage falls short when it comes to relaying the rise of a man who many believe singlehandedly cajoled America into joining the Iraq War, paving the road for what the political and social landscape looks like today. -- Emma Stefansky
5. BlacKkKlansman
Cast: John David Washington, Adam Driver, Laura Harrier, Topher Grace
Director: Spike Lee (Do the Right Thing)
Oscar Nominations: 6
Oscar Wins: 1 (Best Adapted Screenplay)
What we think: BlacKkKlansman, the story of black police officer Ron Stallworth (John David Washington) infiltrating the Klu Klux Klan by pretending to be a white racist over the phone with the local chapter and, eventually, David Duke (Topher Grace), is the first Spike Lee movie to ever be nominated for Best Picture. The movie didn't win -- and Lee lost the Best Director trophy to Roma's Alfonso Cuarón -- but Lee picked up a Best Adapted Screenplay Award, which was viewed by many commentators as the Oscar version of a vaguely apologetic, quasi-lifetime achievement award, similar to Martin Scorsese's win for The Departed in 2007, which came late in a long and historic career. That's not meant as a dig at BlacKkKlansman, which is an engrossing police procedural packed with Trump-era political resonance, but the movie doesn't quite stack up against Lee's greatest films that went under-recognized by the Academy, like Do the Right Thing and Malcolm X. Those movies had a fire to them that BlacKkKlansman, with its moving speeches and darkly comedic touches, occasionally channels with winning, invigorating results. -- DJ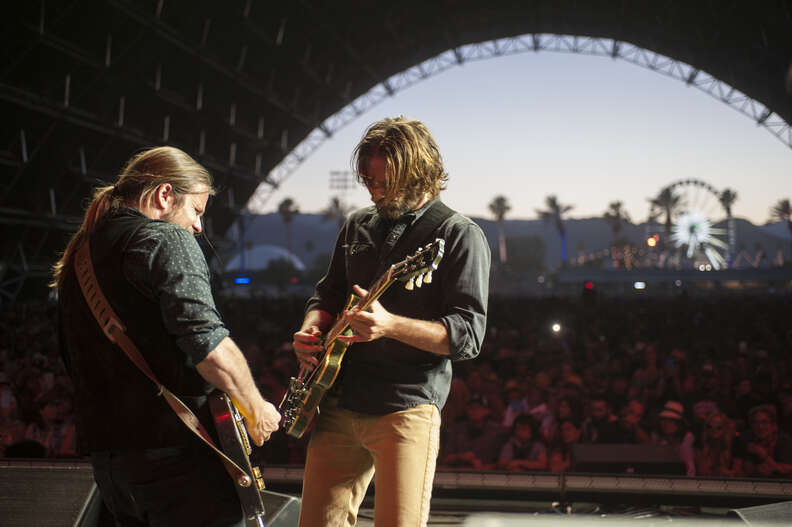 4. A Star Is Born
Cast: Lady Gaga, Bradley Cooper, Sam Elliott, Dave Chappelle
Director: Bradley Cooper
Oscar Nominations: 8
Oscar Wins: 1 (Best Original Song)
What we think: Way back in September, A Star Is Born's Oscar run seemed like it might be unstoppable. But awards season is long, and while Bradley Cooper's remake of the oft-remade romance only picked up a trophy for Best Original Song, that doesn't mean it's any less deserving of praise. In fact, at this point it may be close to being underrated -- or at least as underrated as a movie starring Lady Gaga can be. Cooper did the near impossible: Thanks to his entrancing leading lady, he made an old story resonate. A Star Is Born centers on Jackson Maine and Ally, two characters whose names are going to be in our lexicon for a very long time. He's a rock-country star with tinnitus and addiction issues. She's a waitress moonlighting as a cabaret singer in a drag bar. When he stumbles into said watering hole in need of booze, he falls deeply under her spell. The early days -- nay, hours -- of their courtship are intoxicating for both them and the audience. Never has a bag of frozen peas seemed more romantic. Of course, a crash comes. It's hard to maintain the highs of seeing Ally conquer "Shallow" for the first time. And while the second half of the movie isn't quite as euphoric as the first, it's still a compelling and (of course) devastating picture of two people crumbling. And then there's that soundtrack, produced by Cooper, Gaga, and Lukas Nelson, and filled to the brim with hits. Yes, even the one about butts. -- EZ
3. The Favourite
Cast: Olivia Colman, Emma Stone, Rachel Weisz, Nicholas Hoult
Director: Yorgos Lanthimos (The Lobster)
Oscar Nominations: 10
Oscar Wins: 1 (Best Actress)
What we think: On the surface, The Favourite looks like familiar Oscar fare. The Academy loves historical costume dramas about royalty, right? But that's not exactly what you're getting when you sit down to watch Yorgos Lanthimos' viciously funny movie set in the court of Queen Anne. Sure, there are miraculous Sandy Powell bodiced gowns and stately rooms, but this is mostly a tale of the backstabbing that unfolds in the love triangle between Anne (the insanely talented Olivia Colman, who won Best Actress for her performance), her longtime friend Sarah (Rachel Weisz), and her new maid Abigail (Emma Stone), a former noble woman looking to regain her status. It's not just the frank talk of sex that makes The Favourite radical, it's its portrait of women at their most ruthless, all filtered through Lanthimos' disconcerting fish eye. What other film this year made liberal use of the c-word and Horace, the fastest duck in the city? Colman, as a woman lost in her mania and disease, is as troubling as she is hilarious; Stone gives the best performance of her career; Weisz is maniacally delightful. It's a triumph all around. -- EZ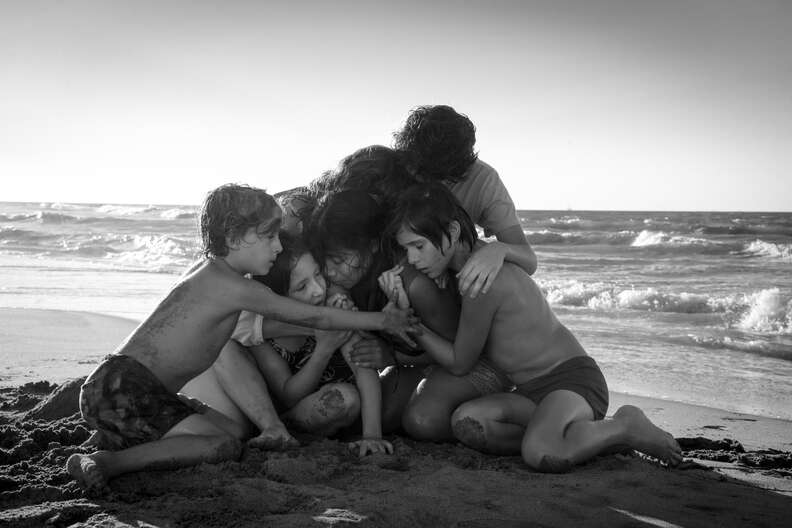 2. Roma
Cast: Yalitza Aparicio, Marina de Tavira, Fernando Grediaga, Jorge Antonio Guerrero
Director: Alfonso Cuarón (Gravity)
Oscar Nominations: 10
Oscar Wins: 3 (Best Director, Best Foreign Language Film, and Best Cinematography)
What we think: If Alfonso Cuarón's memoir-like recreation of his childhood memories Roma had won Best Picture at the Oscars, it would have been the first foreign language title to ever take home the top prize. It also would have been the first Best Picture win for a movie produced by Netflix, the controversial streaming giant looking to "disrupt" Hollywood. (They've already got Martin Scorsese's The Irishman on deck for next year.) That it didn't end up winning might be frustrating for some, but luckily those awards season narratives fall away when you actually watch the story unfold in Cuarón's artfully composed tableaus and painstakingly executed long-takes. Even when viewed on a television, a computer, or, sure, a phone, the emotionally wrenching tale of domestic worker Cleo, played with tenderness by newcomer Yalitza Aparicio, stuns with its almost overwhelming visual beauty. The movie's vision of life in 1970s Mexico City, constructed with such care and attention to detail, will linger long after the pageantry of the Oscars ends. -- DJ
1. Black Panther
Cast: Chadwick Boseman, Michael B. Jordan, Lupita Nyong'o, Danai Gurira
Director: Ryan Coogler (Creed)
Oscar Nominations: 7
Oscar Wins: 3 (Best Original Score, Best Costume Design, Best Production Design)
What we think: The Black Panther Oscar buzz began even before it was officially released in theaters, with many critics calling it the first Marvel movie that could be a major awards contender. It's not just a great superhero movie, it's a great movie, period -- not to mention the riskiest and most ambitious Marvel Studios has ever gotten. The nearly all-black cast, the utopian promise of Wakanda, and the fascinatingly thorny moral dilemma at the heart of its script immediately put Black Panther on another level from superhero movies we'd seen in the past. Watching Chadwick Boseman don his superhero suit alongside the tough warrior women of the Dora Milaje finally felt like watching a film that was made with a distinct consciousness of the context of the real world we live in. Black Panther is fun, complicated, and exhilarating to watch, and would have been a more than worthy Best Picture winner. -- ES
Follow the Thrillist Entertainment editors on Twitter: @ThrillistEnt.