Everything You Need to Know About the 2020 Oscars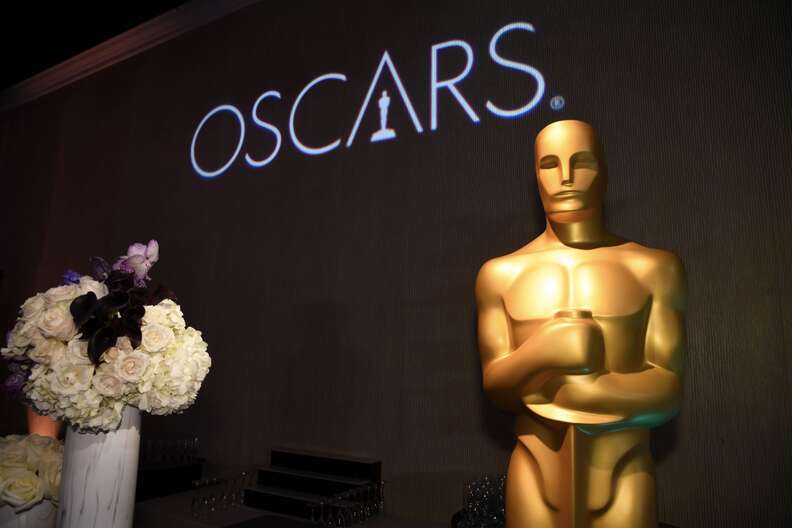 Robyn Beck/AFP via Getty Images
Robyn Beck/AFP via Getty Images
The Oscars are coming up, but there's no need to panic. If you sacrilegiously hit pause on The Irishman to see if Marty has a chance of winning Best Director, we here at Thrillist have you covered with everything you need to know about the ceremony and the key races. It's been an especially exciting awards season this year, with major works from filmmakers like Scorsese, Quentin Tarantino, Noah Baumbach, Greta Gerwig, Bong Joon Ho, and more. As the ceremony approaches, stick with us for updates on all the latest developments and Oscar predictions.
Who is hosting the Oscars?
Nobody. After last year's debacle involving Kevin Hart, the event's producers decided to go host-free, and, to everyone's surprise, it actually went pretty well. So they've decided to stick with that at least until it goes horribly wrong in some other way.
When are the Oscars?
Good question! They are early this year -- February 9 to be exact, with the Oscar nominations announced on January 13. The Academy's decision to move up the timeline caused a freakout in the entertainment industry about how little time there'd be for all the events that constitute awards seasons. The abbreviated calendar does mean there's less time for campaigning, so we'll see if that makes it easier for early frontrunners to maintain their leads. Anyway, the dates for 2021 and 2022 have been pushed back to later in February, thanks to the Super Bowl, federal holidays, and the Olympics.
Who will present and perform at the Oscars?
Without a host, we're going to have to rely on presenters and performers for entertainment value. Good thing producers Lynette Howell Taylor and Stephanie Allain have assembled an impressive lineup. Each original song nominee will be performed on the telecast, meaning you're going to hear music from Randy Newman, Elton John, Cynthia Erivo, and This Is Us star Chrissy Metz. (Metz sings "I'm Standing With You" from the movie Breakthrough, in which she starred.) Idina Menzel will do her Frozen II song, "Into the Unknown," with a bunch of other Elsa voices from around the world. Meanwhile, Billie Eilish, who cleaned up at the Grammys, will take the stage to do... something. Maybe unveil her upcoming Bond theme? We can dream. Janelle Monáe will also do a "special performance." As for the presenters, last year's winners -- Mahershala Ali, Olivia Colman, Regina King, and Rami Malek -- will all be there. Also: Zazie Beetz, Timothée Chalamet, Will Ferrell, Gal Gadot, Mindy Kaling, Julia Louis-Dreyfus, Lin-Manuel Miranda, Anthony Ramos, Mark Ruffalo, Kelly Marie Tran, Kristen Wiig, James Corden, Penélope Cruz, Beanie Feldstein, Zack Gottsagen, Diane Keaton, Shia LaBeouf, George MacKay, Steve Martin, Keanu Reeves, Maya Rudolph, Sigourney Weaver, Utkarsh Ambudkar, Salma Hayek, Brie Larson, Spike Lee, Ray Romano, Rebel Wilson, Jane Fonda, Josh Gad, Tom Hanks, Oscar Isaac, Sandra Oh, Natalie Portman, Chris Rock, and Taika Waititi.
THE 2020 OSCAR NOMINATIONS
Best Picture
This category is shaping up to be an even bigger battle royale than usual. Here are the nine Best Picture nominees, and read our more detailed analysis and predictions for what movie will take home the Oscar. We'll be bolding the winners on Oscars night.
Ford v Ferrari
The Irishman
Jojo Rabbit
Joker
Little Women
Marriage Story
1917
Once Upon a Time...in Hollywood
Parasite (WINNER)
Is Quentin out? Is it Sam Mendes or Bong Joon Ho now?
Best Director
The Irishman, Martin Scorsese
Joker, Todd Phillips
1917, Sam Mendes
Once Upon a Time... in Hollywood, Quentin Tarantino
Parasite, Bong Joon Ho (WINNER)
Can Joaquin Phoenix cackle his way to an Oscar?
Best Actor
Antonio Banderas, Pain and Glory
Leonardo DiCaprio, Once Upon a Time...in Hollywood
Adam Driver, Marriage Story
Joaquin Phoenix, Joker (WINNER)
Jonathan Pryce, The Two Popes
Is Renée Zellweger a lock?
Best Actress
Cynthia Erivo, Harriet
Scarlett Johansson, Marriage Story
Saoirse Ronan, Little Women
Charlize Theron, Bombshell
Renée Zellweger, Judy (WINNER)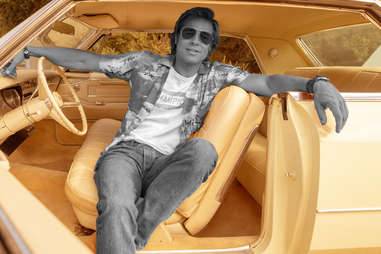 Brad Pitt is up against Al Pacino.
Best Supporting Actor
Tom Hanks, A Beautiful Day in the Neighborhood
Anthony Hopkins, The Two Popes
Al Pacino, The Irishman
Joe Pesci, The Irishman
Brad Pitt, Once Upon a Time...in Hollywood (WINNER)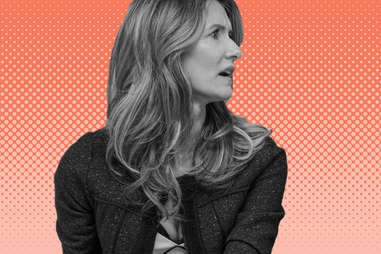 This belongs to Laura Dern.
Best Supporting Actress
Kathy Bates, Richard Jewell
Laura Dern, Marriage Story (WINNER)
Scarlett Johansson, Jojo Rabbit
Florence Pugh, Little Women
Margot Robbie, Bombshell
Best Adapted Screenplay
The Irishman, Steven Zaillian
Jojo Rabbit, Taika Waititi
Joker, Todd Phillips and Scott Silver
Little Women, Greta Gerwig
The Two Popes, Anthony McCarten
Best Original Screenplay
Knives Out, Rian Johnson
Marriage Story, Noah Baumbach
1917, Sam Mendes and Krysty Wilson-Cairns
Once Upon a Time...in Hollywood, Quentin Tarantino
Parasite, Bong Joon Ho and Han Jin Won
Best International Feature Film
Corpus Christi, Poland
Honeyland, North Macedonia
Les Misérables, France
Pain and Glory, Spain
Parasite, South Korea
Best Documentary Feature
American Factory
The Cave
The Edge of Democracy
For Sama
Honeyland
Best Animated Feature
How to Train Your Dragon: The Hidden World
I Lost My Body
Klaus
Missing Link
Toy Story 4
Best Documentary Short Subject
In the Absence
Learning to Skateboard in a Warzone (If You're a Girl)
Life Overtakes Me
St. Louis Superman
Walk Run Cha-Cha
Best Original Song
"I Can't Let You Throw Yourself Away," Toy Story 4
"(I'm Gonna) Love Me Again," Rocketman
"I'm Standing With You," Breakthrough
"Into The Unknown," Frozen II
"Stand Up," Harriet
Best Production Design
The Irishman
Jojo Rabbit
1917
Once Upon a Time...in Hollywood
Parasite
Best Cinematography
The Irishman
Joker
The Lighthouse
1917
Once Upon a Time...in Hollywood
Best Costume Design
The Irishman
Jojo Rabbit
Joker
Little Women
Once Upon a Time...in Hollywood
Best Sound Editing
Ford v Ferrari
Joker
1917
Once Upon a Time...in Hollywood
Star Wars: The Rise of Skywalker
Best Sound Mixing
Ad Astra
Ford v Ferrari
Joker
1917
Once Upon a Time...in Hollywood
Best Animated Short Film
Dcera (Daughter)
Hair Love
Kitbull
Memorable
Sister
Best Live Action Short Film
Brotherhood
Nefta Football Club
The Neighbor's Window
Saria
A Sister
Best Original Score
Joker
Little Women
Marriage Story
1917
Star Wars: The Rise of Skywalker
Best Visual Effects
Avengers: Endgame
The Irishman
The Lion King
1917
Star Wars: The Rise of Skywalker
Best Film Editing
Ford v Ferrari
The Irishman
Jojo Rabbit
Joker
Parasite
Best Makeup and Hairstyling
Bombshell
Joker
Judy
Maleficent: Mistress of Evil
1917
How Best Picture votes are tallied
The system is called "ranked choice," and it's described pretty simply by the New York Times: "If no candidate wins a majority of first-choice votes, the candidate with the fewest is eliminated, and the ballots cast for that person are redistributed to the other candidates based on those voters' second choices. The process repeats until someone wins a majority." In the Oscars' case, that means it's worth guessing which of the Best Picture nominees will rank in the second or third slots. That's where divisive movies like Bohemian Rhapsody tend to falter -- while they certainly have their fans, they also have a fair number of detractors, for reasons that could put them at the bottom of many ballots. Since we can only assume the number one slots will be spread about across nominees, movies that a lot of people like a lot can have an advantage under ranked choice.
Here's how it works: During the nomination phase, voters list their top five picks for Best Picture, and the final list of nominations is made up of a maximum of 10 films that have received the most total votes. When it comes to picking the winner, the Academy uses a "preferential" ballot, which means that voters rank the movies in the order they'd like to see them win. That's why movies that rank consistently in the top spots of a ballot but might not have as many number one votes can outperform divisive movies that might generate more number one votes but also more lower tier votes.
What are other key awards shows to know about?
The Golden Globes are theoretically meaningless, given that its voting body does not overlap with the Academy's at all. However, the ceremony front-ends the industry's annual parade of glitz and the Golden Globe results can change the course of the Oscars race. The 2020 Golden Globes ceremony happened on January 5, 2020, with Ricky Gervais back again to host, because apparently no one else wants that job. The SAG Awards will air on TNT and TBS on January 19, and those can be important indicators of how Oscar voting might shake out, since actors make up a large part of the Academy. True Oscar-watchers will also want to pay attention to who triumphs on the Directors Guild, Writers Guild, and Producers Guild ballots. As usual, the Independent Spirit Awards happen the day before the Oscars, on February 8.
The 2020 Golden Globe Winners and Nominations
The Golden Globes help set the tenor of the Oscar race to come, and it turns out 1917 and Once Upon a Time...in Hollywood are your frontrunners. Those two ended up splitting the big awards of the night with the WWI drama taking home Best Motion Picture, Drama and Quentin Tarantino's alternate history of 1969 getting the comedy equivalent. Meanwhile,1917 director Sam Mendes surprised with a best director win over the likes of Tarantino and Martin Scorsese. At least Tarantino got the prize for screenplay. Scorsese and his epic The Irishman ended up totally empty-handed. Now, the Oscars may very well diverge from this script. Hey, they might even nominate a woman for Best Director, which the Hollywood Foreign Press Association frustratingly failed to do. So, while we wait for the Oscar nominations to hit January 13, peruse the Globes outcome to get a sense of where things stand. Winners are in bold.
Best Motion Picture, Drama
1917
The Irishman
Joker
Marriage Story
The Two Popes
Best Motion Picture, Musical or Comedy
Dolemite Is My Name
Jojo Rabbit
Knives Out
Once Upon a Time...in Hollywood
Rocketman
Best Director, Motion Picture
Bong Joon Ho, Parasite
Sam Mendes, 1917
Todd Phillips, Joker
Martin Scorsese, The Irishman
Quentin Tarantino, Once Upon a Time...in Hollywood
Best Performance by an Actress in a Motion Picture, Drama
Cynthia Erivo, Harriet
Scarlett Johansson, Marriage Story
Saoirse Ronan, Little Women
Charlize Theron, Bombshell
Renée Zellweger, Judy
Best Performance by an Actor in a Motion Picture, Drama
Christian Bale, Ford v Ferrari
Antonio Banderas, Pain and Glory
Adam Driver, Marriage Story
Joaquin Phoenix, Joker
Jonathan Pryce, The Two Popes
Best Performance by an Actress in a Motion Picture, Musical or Comedy
Ana de Armas, Knives Out
Awkwafina, The Farewell
Cate Blanchett, Where'd You Go Bernadette
Beanie Feldstein, Booksmart
Emma Thompson, Late Night
Best Performance by an Actor in a Motion Picture, Musical or Comedy
Daniel Craig, Knives Out
Roman Griffin Davis, Jojo Rabbit
Leonardo DiCaprio, Once Upon a Time...in Hollywood
Taron Egerton, Rocketman
Eddie Murphy, Dolemite Is My Name
Best Performance by an Actor in a Supporting Role in Any Motion Picture
Tom Hanks, A Beautiful Day in the Neighborhood
Anthony Hopkins, The Two Popes
Al Pacino, The Irishman
Joe Pesci, The Irishman
Brad Pitt, Once Upon a Time...in Hollywood
Best Performance by an Actress in a Supporting Role in Any Motion Picture
Kathy Bates, Richard Jewell
Annette Bening, The Report
Laura Dern, Marriage Story
Jennifer Lopez, Hustlers
Margot Robbie, Bombshell
Best Motion Picture, Animated
Frozen II
How To Train Your Dragon: The Hidden World
The Lion King
Missing Link
Toy Story 4
Best Screenplay
Noah Baumbach, Marriage Story
Bong Joon Ho and Han Jin Won, Parasite
Anthony McCarten, The Two Popes
Quentin Tarantino, Once Upon a Time...in Hollywood
Steven Zaillian, The Irishman
Best Foreign Language Film
The Farewell
Pain and Glory
Parasite
Les Misérables
Portrait of a Lady on Fire
Best Original Score
Alexandre Desplat, Little Women
Hildur Guðnadóttir, Joker
Thomas Newman, 1917
Randy Newman, Marriage Story
Daniel Pemberton, Motherless Brooklyn
Best Original Song
"Beautiful Ghosts," Cats
"Into the Unknown, Frozen II
"Spirit," The Lion King
"Stand Up," Harriet
"(I'm Gonna) Love Me Again," Rocketman