Who Won Best Actress at the 2020 Oscars?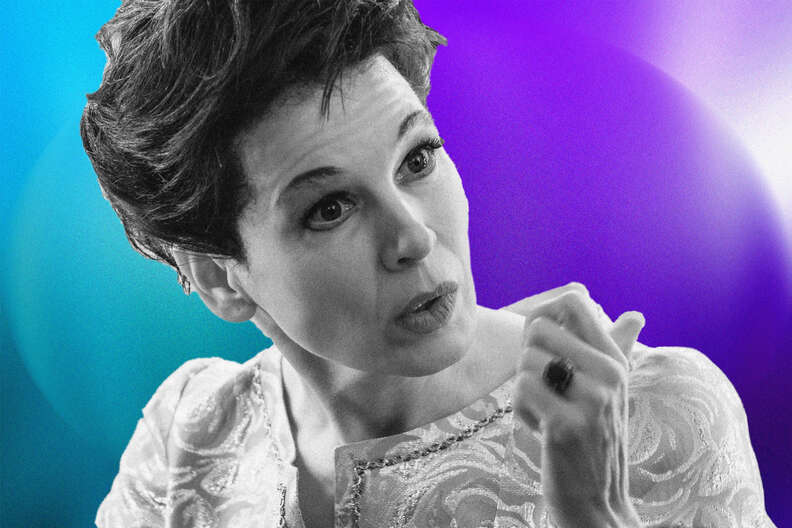 Throughout the 2020 awards season, we tracked the key races. In a night that held more than a few surprises, heavy favorite Renée Zellweger emerged as the winner for Best Actress. Read on to see how the race went down.
It's a fool's errand to crown an Oscar winner in the early fall, long before some of the films that will be in contention have yet to be released. But when the Toronto International Film Festival audience gave an effusive standing ovation to Renée Zellweger at the premiere of Judy, it felt like they had picked Best Actress, other movies be damned. Standing ovations are rarer for TIFF than they are for, say, Cannes, and the one for Zellweger felt like an affirmation not just of a great actress' return to form, but of her unstoppable awards narrative -- and it never wavered on her path to the podium.
The nominees
Cynthia Erivo, Harriet
Scarlett Johansson, Marriage Story
Saoirse Ronan, Little Women
Charlize Theron, Bombshell
Renée Zellweger, Judy
The winner
Renée Zellweger, Judy
My predicted nominees
I'm disappointed to see that Awkwafina's emotional Golden Globes win (and wonderful performance in The Farewell) could not propel her to a nomination. Ronan, however, is great in Little Women. (Personally, I think it's Theron in Bombshell that should not be here.)
Renée Zellweger, Judy
Scarlett Johansson, Marriage Story
Cynthia Erivo, Harriet
Awkwafina, The Farewell
Charlize Theron, Bombshell
My predicted winner
Renée Zellweger, Judy
The frontrunner: Renée Zellweger
No one can stop the Zellwegaissance; Zellweger's performance in Judy really is that striking. She plays Judy Garland at the end of the entertainer's life, hobbled by years of drug and alcohol abuse that was inflicted on her by the Hollywood studio system in her youth. Zellweger resists a full-on impression of Garland, honing in on her body's brokenness, but pinpoints the spark of her inherent talent. It's a physically demanding role. As Garland, Zellweger sings and performs musical numbers live, while at the same time contorting her gait to match Garland's recognizable stance.
There's also a meta narrative that's irresistible: Judy charts Garland's attempts to make a comeback while Zellweger mounts her own. For three years, spanning from 2002 to 2004, Zellweger was a repeat Oscar nominee, culminating in her Supporting Actress win for Cold Mountain. After she was victorious, she was in a string of underwhelming films like Miss Potter, and eventually took a six-year break from acting, starting in 2010. When she returned with Bridget Jones' Baby in 2016, she endured sexist coverage from tabloids and mainstream publications speculating about changes to her appearances. With Judy she does undeniably impressive work, reclaiming her place in the Hollywood stratosphere. The Academy will love it, and she already has the Golden Globe and the SAG Award.
Close behind: Scarlett Johansson
The buzz from the early fall festivals offered only one major competitor for Zellweger: Scarlett Johansson for Marriage Story. Johansson is wonderful as one half of a couple going through a painful divorce in Noah Baumbach's film. In an early scene, she gives an unbroken monologue in which she describes her disillusionment with her husband that is wrecking and unadorned. But there are a few things working against her: One is her co-star Adam Driver, who starts dominating the story in the latter half of the film. He currently seems like the Best Actor winner, though it's a much tighter race. The second is her history of controversial comments, including her recent statement that she loves Woody Allen: "I believe him, and I would work with him anytime," she told The Hollywood Reporter.
The other options: Charlize Theron
With the aid of some makeup and a new voice, Theron's transformation into Kelly is uncanny. Still, Bombshell doesn't quite know what to make of Kelly, acknowledging her personal racism, but also positioning her as a hero.
Saoirse Ronan
Oscar favorite Saoirse Ronan takes on Louisa May Alcott's heroine Jo March, a role that Winona Ryder earned a nomination for in 1995. Ronan makes the part her own though and added a fourth nomination to her haul. (FYI: She's only 25.) Ronan scored a Globe nod, but not one in SAG.
Cynthia Erivo
Erivo now has a chance to EGOT. The Tony, Grammy, and Emmy winner Erivo plays Harriet Tubman in the biopic Harriet and scored two Oscar nominations, one for her performance and another for her contribution to an original song for the movie.

Snubs
Awkwafina won the Musical or Comedy Golden Globe and has been awarded for her work in The Farewell all year, but the Academy did not nominate her. Meanwhile, the Academy's bias against genre movies must have contributed to the fact that Lupita Nyong'o didn't get a nomination for what is easily the most impressive performance of the year, playing a woman and her tethered doppelgänger in Us. By the time the nominations rolled around she seemed like a long shot, but Alfre Woodard's work in the prison drama Clemency was also overlooked.