Who Won the 2020 Oscar for Best Supporting Actor?
Throughout the 2020 awards season we tracked the key races. Brad Pitt emerged the winner in Supporting Actor, but read on to see how the race went down. 
Pitt. Pesci. Pacino. There are a lot of Ps vying for Best Supporting Actor, an Oscar race with heavy hitters and potentially some category fraud. What defines a "supporting" role, anyway? Brad Pitt is basically a co-lead in Once Upon a Time…in Hollywood, but his Cliff Booth actually does support Leonardo DiCaprio's Rick Dalton. The Irishman is the story of Robert De Niro's Frank Sheeran, but Joe Pesci and Al Pacino's characters have a lot of screen time. And can a movie about Mister Rogers starring Tom Hanks as Mister Rogers really run Tom Hanks as a supporting actor? (Yes, it can.) Let's look at who's most likely to take this interestingly competitive prize.
The nominees
Tom Hanks, A Beautiful Day in the Neighborhood
Anthony Hopkins, The Two Popes
Al Pacino, The Irishman
Joe Pesci, The Irishman
Brad Pitt, Once Upon a Time...in Hollywood
My prediction for who will win
Brad Pitt, Once Upon a Time...in Hollywood
My nomination predictions
Same as the nominees. I nailed this one. 
 
The frontrunner: Brad Pitt 
It's Pitt's. He's won the Golden Globe and the SAG, he just has to glide to Oscar night. The Last Major Movie Star has an Oscar for producing 12 Years a Slave, but has never gotten one for acting and the industry seems eager to give him his due. Cliff Booth is sort of the perfect Pitt role as well. The stunt/handyman, who may or may not have killed his wife, oozes a lackadaisical charisma tinged with menace. He's another avatar of masculinity, the kind Pitt has been playing with since his Tyler Durden days. It will only help his case that he's been on the charm offensive this entire season. His speeches have been full of jokes on topics ranging from Tinder to Quentin Tarantino's foot fetish, and he even offered the gossip mongers something to chew on given his cheery reunion with ex-wife Jennifer Aniston at the SAGs. (The only real question is who is writing his material?)
Close behind: Joe Pesci and Al Pacino
Pitt's biggest competition comes from The Irishman camp, where there are strong cases for both Joe Pesci and Al Pacino. Pesci returns for his first on-camera role in nearly a decade playing the sly Russell Bufalino, the mafioso that employs Robert De Niro's Frank Sheeran. Pacino, naturally, has the more showy part, but he harnesses his blustering loudness well as famed union boss Jimmy Hoffa. There's a lot of yelling, but it's good yelling.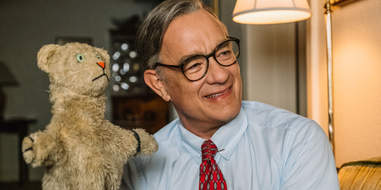 Sony Pictures
The other options: Tom Hanks 
The Academy, bizarrely, had been cool on Tom Hanks in recent years, ignoring his impressive work in, say, Captain Phillips. So cool that he hasn't been nominated since 2001! But the temperature turned, thanks to his performance as Fred Rogers in A Beautiful Day in the Neighborhood, which is, yes, very much a supporting role. (Matthew Rhys' journalist is the lead.)
Anthony Hopkins
Hopkins is surprisingly funny as Pope Benedict XVI, one of the two popes in The Two Popes.
Snubs 
Frankly, as evidenced by my success at predicting this category, the other contenders were long shots. I was pulling for Song Kang Ho to make it in for Parasite, but that hope was far fetched. Just Mercy has largely flown under the radar, but Jamie Foxx ended up with a SAG nomination.