The two women who are leading the race for Best Supporting Actress at the Oscars this year both stride into their movies wearing heels, ready to take absolutely no bullshit from any man. In Marriage Story, Laura Dern is Nora, a fearless, high-powered divorce lawyer who coaches Scarlett Johansson's Nicole through her separation from her husband (Adam Driver) with gusto. Meanwhile, in Hustlers, Jennifer Lopez is Ramona, an entrancing mother hen stripper who wrangles a group of women into a get-rich-quick scheme as the 2008 recession rages. Ramona and Nora would probably never meet in the real world, but on screen, they share the same "fuck men" energy that makes them exhilarating to watch. But who will win the Oscar? I have some thoughts. 
Recommended Video
Timothy DeLaGhetto & David So Consume Copious Amounts of Spam at Honolulu's Annual Waikiki Spam Jam
The frontrunners
Dern is a good bet. The two-time nominee (and Academy Board member) owns every scene she's in despite the fact that Nora is a true supporting role. At the Toronto International Film Festival premiere, one of her monologues had the audience bursting out in applause mid-film. Dern rewrites the possibly sexist role of the ball-busting attorney into something that's far more comfortable than a stereotype. She's impeccably dressed and fighting what is, for her, a good fight: It's the American legal system that's the villain here. One knock against her winning that I've heard floated is that Nora seems too similar to Dern's Emmy-winning turn on Big Little Lies as Renata Klein, in that they are both tough rich ladies in designer duds. But they are distinct characterizations who just happen to share some of the same taste in businesswear.
Right now, I'd wager Dern's closest competitor is Lopez, which would be a different kind of coronation. Lopez has been rarely given a script as meaty as Hustlers and an Oscar would be an affirmation of her movie star power. But old prejudices might seep in, and the Academy might scoff at the Gigli of it all. Or her 2020 Super Bowl performance could convince voters that she's one of the hardest-working women in show business who absolutely deserves this honor.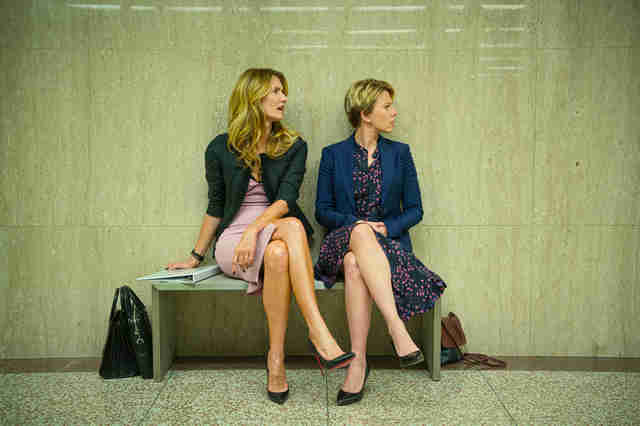 The other contenders
Never discount Meryl Streep. While I assume too many people are going to forget about Steven Soderbergh's The Laundromat by the time Oscar voting rolls around, she's also playing Aunt March in Little Women, a small but undoubtedly showy part.
Of course there are other Alcott heroines she'll be up against. Based purely on buzz, it appears that Florence Pugh makes a strong impression as Amy, the brattiest of the March sisters, who evolves into an elegant young artist. (Pugh's desperate, terrifying work in Midsommar is another reason to anoint her as the next thing.)
I'm hopeful that Chinese star Zhao Shuzhen will get in for her tender work in The Farewell, playing a grandmother with a cancer diagnosis of which she is unaware. Other potential nominees include two actresses playing actual people: Margot Robbie as Sharon Tate in Once Upon a Time...in Hollywood and Annette Bening as Dianne Feinstein in The Report. 
Long shots
You might want to keep Da'Vine Joy Randolph on your radar thanks to her exuberant work in Dolemite Is My Name. It would be great if love for Parasite extended to nominations for Jo Yeo Joeng and Park So Dam, both of whom are excellent. Also: Idina Menzel gets the best scene in Uncut Gems. Just saying. 
My way too early nominee predictions
Laura Dern, Marriage Story
Jennifer Lopez, Hustlers 
Zhao Shuzhen, The Farewell
Margot Robbie, Once Upon a Time...in Hollywood
Florence Pugh, Little Women
My way, way too early prediction for who'll win
Jennifer Lopez, Hustlers