The 18 Most Outrageous Moments from the 2020 Oscars
Handout/Getty Images Entertainment
Handout/Getty Images Entertainment
"Hooray for Hollywood!" is what we're singing now that the 2020 Oscars has finally come and gone and actually got it (mostly) right for once. The acting favorites (Renee, Joaquin, etc.) all won, but two major upsets -- Parasite over 1917 for Best Picture, and Bong Joon Ho over Sam Mendes for Best Director -- sent us home with a twinge of optimism in a year where zero women received director nominations and only one person of color received recognition in the acting categories.
The host-less ceremony provided us with a lot of wacky moments and at least one meme (thanks, Billie Eilish), which made the night not entirely a slog. But in a nutshell: Parasite rules and Bong Joon Ho rules, and this Oscars ceremony wasn't too bad based on those facts alone. Here's a slightly more in-depth recap of the night's biggest moments, in case you missed the festivities.
Rain plagued the carpet
No, it's not always sunny and 70 degrees in Los Angeles. Oscar afternoon was particularly rainy, meaning there was a mad scramble to shield the red carpet when the tent covering it sprung a leak. The Hollywood Reporter's Mia Galuppo chronicled the crew that came in to save the day, but they couldn't keep everything completely dry. According to the Los Angeles Times' Julia Wick, you could "hear the squish-squish of shoes" as people walked by. I'm sure it was very comfortable and not at all nerve-wracking for everyone in their very expensive outfits. -- Esther Zuckerman
Rian Johnson wore porg cufflinks
Janelle Monáe stepped out in 170,000 crystals. Spike Lee wore a suit in honor of Kobe Bryant. Costume designer Sandy Powell had her outfit adorned with signatures by fellow nominees. But Knives Out writer-director Rian Johnson, nominated for his screenplay, made a subtle statement on the red carpet, bringing along some of his space creature friends for the ride. His cufflinks had porgs on them. Yes, porgs, the adorable intergalactic puffins from Johnson's (much debated) Star Wars entry, The Last Jedi. Before hitting the event he tweeted, "Ehhhhhhhh yeah fuck it," along with a photo of his accessory. (He also had a funny exchange with fellow nominee Taika Waititi who replied in disbelief: "You're dressed?? I'm still in bed.") The porgs are both extremely cute and a bit of an "eff you" to the trolls who are still yelling at him. -- EZ
A banner plane flew a message demanding an Alita: Battle Angel sequel
The Alita: Battle Angel stans will not be silenced. Mere days after making the #AlitaSequel hashtag trend online AGAIN, they were back at it during the Oscars red carpet, when Hollywood's elite were treated to another desperate cry, and the Academy was reminded of one of their biggest snubs of the night. High, high up above the Dolby Theatre flew a plane trailing a banner that read "#ALITASEQUEL #ALITAARMY." Was it a request? A reminder? A threat? Honestly, we have nothing for respect for the Alita fans, who have been at this sequel thing for nearly a calendar year. -- Emma Stefansky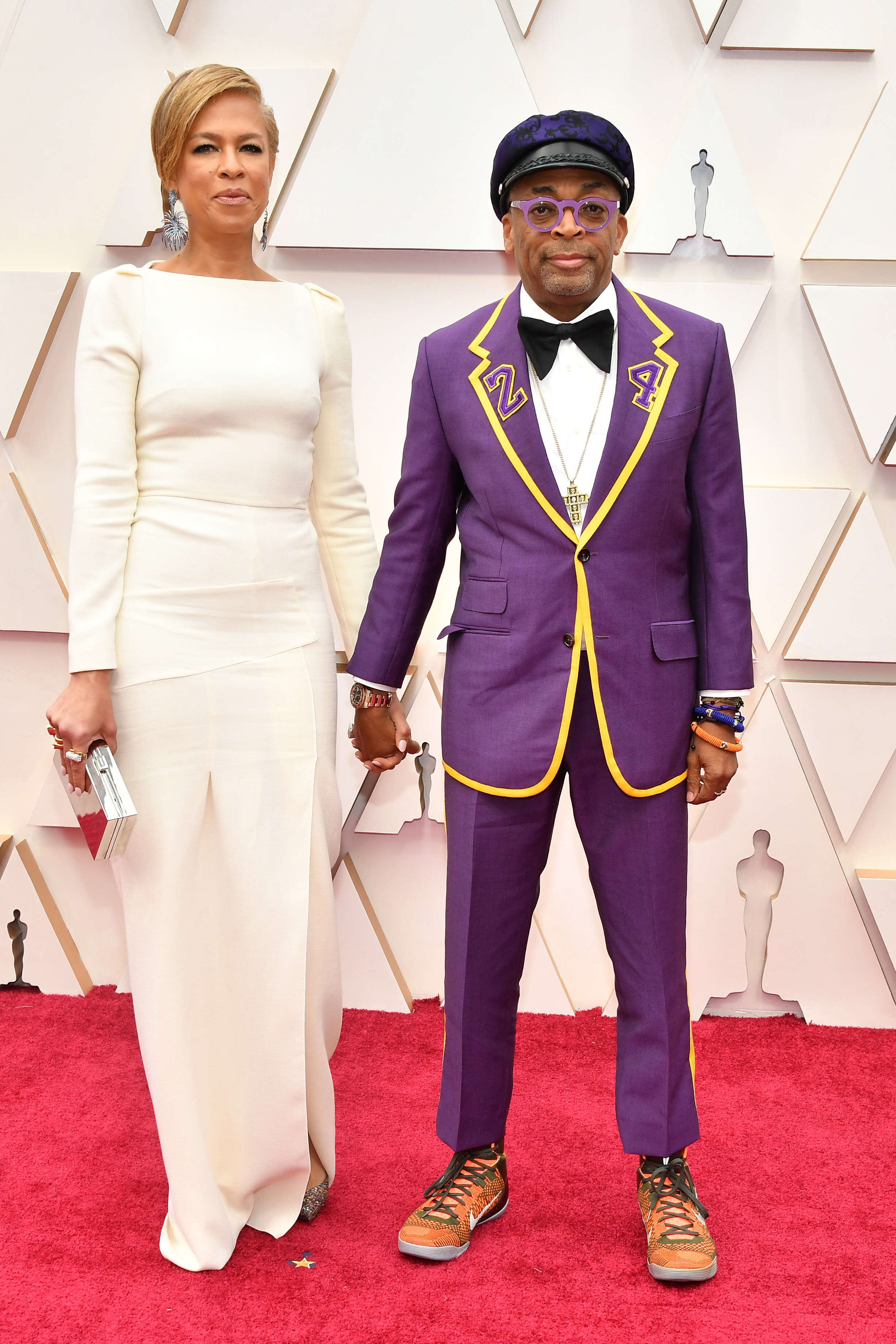 Spike Lee wore a purple suit in honor of Kobe Bryant
Spike Lee made his entire outfit a tribute to Kobe Bryant, who died in a helicopter crash in late January. The filmmaker, who made a 2009 documentary about the late basketball player, wore a purple and yellow suit emblazoned with "24," Bryant's Lakers number, on the epaulettes. Speaking to The Hollywood Reporter, Lee explained that he devised the custom Gucci outfit as a "tribute, honor, homage." Bryant himself was an Oscar winner, receiving a trophy at the 2018 ceremony for his animated short, Dear Basketball. Later in the night, during the in memoriam segment, Kobe was first to be honored. -- EZ
Julia Butters brought a turkey sandwich because she didn't like the food
The Oscars are notoriously long nights, and even longer considering there's no food for the stars until they get to the after parties. (It's the Golden Globes where they're served a meal and drinks upon drinks). So Julia Butters, the Once Upon a Time… in Hollywood 10-year-old actress who knew Brad Pitt as a "handsome guy" and didn't know who Leonardo DiCaprio was before working with him, came prepared. She shoved a Ziplocked turkey sandwich inside her relatively tiny purse for later because she "doesn't like some of the food here." Which, ouch: Wolfgang Puck has been cooking lavish meals for post-Oscars for forever. Guess Butters thinks the quality's gone down over the years. -- Sadie Bell
Natalie Portman wore a cape with names of snubbed female directors
At the 2018 Golden Globes, Natalie Portman made the now iconic statement, "And here are the all-male nominees..." when presenting the best director category. This year's slate of directors was also all male, so Portman made another bold statement about this problematic historical constant, this time sewn into her red carpet look. The actress' Dior cape was embroidered with the eight names of female directors who were snubbed, including Lorene Scafaria for Hustlers, Lulu Wang for The Farewell, Greta Gerwig for Little Women, Mati Diop for Atlantics, Marielle Heller for A Beautiful Day in the Neighborhood, Melina Matsoukas for Queen & Slim, and Alma Har'el for Honey Boy. -- SB
Janelle Monae opens the show by singing "Won't You Be My Neighbor?"
With no host again this year, it was up to Janelle Monáe to kick things off. Putting on a red sweater, she emulated Mister Rogers singing "Won't You Be My Neighbor?" in honor of A Beautiful Day in the Neighborhood. It was a bit of a head scratcher considering the film was only up for one Oscar -- Tom Hanks' supporting performance, which he lost to Brad Pitt -- but it was lovely nonetheless. Turns out, overlooked movies were the theme of her big opening: Monáe shouted out "all the women who directed phenomenal films," among them A Beautiful Day's not-nominated Marielle Heller. In the next song, Monáe was flanked by dancers dressed as characters from this year's movies, including Midsommar, Us, Dolemite Is My Name, and Queen & Slim, all of which were snubbed. That wasn't even the most awkward portion of her (excellently performed) song. It was when she tried to get the celebrities in the audience to belt out her chorus. Cynthia Erivo was naturally game, given her incredible voice. Brad wanted to join in, and Leo DiCaprio eked out a few notes. Brie Larson really belted. Audience participation is always a mixed bag at these things. -- EZ
Chris Rock takes aim at Jeff Bezos with Marriage Story joke
The Oscars followed up its big musical number with a shortened monologue from Chris Rock and Steve Martin, two of the best hosts of recent years. In the time they had, the two never really found a consistent rhythm, trading lines about the lack of diversity in the nominees and the length of The Irishman. (And Rock had to cooly correct Martin's mispronunciation of Cynthia Erivo's -- "Ervio" -- last name.) But Rock got in a couple of decent gags about Amazon founder Jeff Bezos, who was sitting (and looking very shiny) in the audience. "Jeff is so rich, he got divorced and he's still the richest man in the world," joked Rock, making light of the CEO's recent personal drama. "He saw Marriage Story and thought it was a comedy." -- Dan Jackson
Bong Joon Ho admired his Oscar on stage
Look, winning an Oscar… it's cool. After an entire awards campaign made up of being very polite about just wanting to go home and go to bed (relatable), Parasite director Bong Joon Ho stepped onstage alongside his co-writer Han Jin-won (and translator Sharon Choi) to accept the award for Best Original Screenplay. (Thankfully Diane Keaton didn't drop the whole envelope before she read the winner.) When he ceded some of his acceptance speech time to Han, Bong stepped back and admired his statuette for just a second, grinning giddily to himself. It was such a purely private, happy moment from one of today's most talented filmmakers, taking a second to just bask in the fun of winning an award. -- ES
Billie Eilish does NOT enjoy Kristen Wiig and Maya Rudolph's medley
Kristen Wiig and Maya Rudolph brought their trademark absurdism to their duties presenting Production Design and Costume Design, launching into an a cappella medley of songs relating to clothes. (Think: "Vogue," "These Boots are Made for Walkin,'" "Devil With a Blue Dress On," etc.) The crowd seemed to love it. Well, most of the crowd. The camera cut to the Dolby Theatre's resident member of Gen Z, pop star Billie Eilish, who appeared… perplexed. She was smiling, yes, but, as if on cue, raised her eyebrows in confusion or even disgust. Cynical Billie! Just go with it! They're having fun! -- EZ
Eminem breaks reality with a surprise "Lose Yourself" performance
After a montage of iconic music moments from the history of cinema, a rupture in the time-space continuum occured on the stage of the Dolby Theater. Through this pop cultural wormhole, rapper Eminem, sporting a beard and dressed in customary black attire, emerged and performed his hit song "Lose Yourself" from 2002's Oscar-winning film 8 Mile. Stunned to be witnessing a break in reality in the middle of an awards show, the audience attempted to process this wild, unprecedented event. Billie Eilish frowned, Idina Menzel looked confused, and Martin Scorsese possibly fell asleep or was just vibing. Either way, congratulations to Eminem on his scientific breakthrough and for writing "Lose Yourself," which still rules. Mom's spaghetti forever. -- DJ
Taika Waititi stuffs his Oscar under the seat in front of him
So you've won an Oscar early in the night. What do you do with the gold dude for the rest of the show? If you're Taika Waiti, you make like you would on an airplane and put it underneath the seat in front of you. Brie Larson caught him doing just that, filming it for her Instagram story. Waititi noticed her midway through his stealth act, but just kept going. Where else was he supposed to put it? -- EZ
James Corden and Rebel Wilson came out in their Cats costumes
At one point last year, a time which now feels like eons ago, we thought that perhaps Tom Hooper's adaptation of Andrew Lloyd Webber's Cats could be a potential Oscar player. What a time that was -- a time before "digital fur technology" entered our lexicon, a time before we had nightmares involving dancing cockroaches with human faces. Anyway, Cats came out and was a spectacular disaster destined for midnight screenings rather than awards glory. But, never fear, Cats was represented during Hollywood's big night by its stars James Corden and Rebel Wilson emerging as their characters Bustopher Jones and Jennyanydots. After some kitty gestures, they hit the punchline, "As cast members of the motion Cats, nobody more than us understands the importance of good. Visual. Effects." The bit was both incredibly rude and made us consider an alternate universe wherein the entirety of Cats was performed in costumes rather than… whatever happened. If only we had had a Hooper reaction shot. -- EZ
Bong Joon Ho: "I'm ready to drink tonight."
This was a big ceremony for Parasite filmmaker Bong Joon Ho, who picked up trophies for Best Original Screenplay, Best International Film, Best Director AND Best Picture. The beloved Korean director has given a lot of speeches and interviews, often with his trusted translator Sharon Choi at his side. While accepting his second award of the night, he thanked the crew, the cast, and the Academy for making Parasite the first Korean film to win in the category. How will he celebrate? "I'm ready to drink tonight," Bong said. Later, accepting the award for Best Director, he closed out his speech with "I will drink till next morning." He deserves it! -- DJ
Martin Scorsese gets a standing ovation after Bong Joon Ho quotes him
Awards show winners love mentioning how much of an honor it is to be nominated in the same category as all of their fellow nominees. While accepting his award for Best Director, Bong Joon Ho went one step further: "When I was young and studying cinema, there was a saying that I carved deep into my heart, which is that 'the most personal is the most creative,'" he said, quoting, "our great Martin Scorsese," who was also nominated for The Irishman, which was shut out. As soon as Marty's name was mentioned, the whole Dolby Theatre got up to give the veteran director a very emotional standing ovation. Bong finished off by also thanking his fellow nominee Quentin Tarantino for always championing his movies, and Sam Mendes and Todd Phillips for making some movies he totally, definitely saw. -- ES
Joaquin Phoenix was concerned about our dairy intake
As the night went on, the speeches got a little… loopier. After earning praise for criticizing systematic racism in the film industry at the BAFTAs earlier this year, Joaquin Phoenix grabbed another Best Actor trophy for his performance in Joker and again attempted to add a socio-political message to his acceptance speech. It was an occasionally eloquent and often rambling collection of self-aggrandizing observations and self-lacerating asides. He spoke of "the opportunity to use our voice for the voiceless" and the larger "fight against injustice," which included human and animal rights. He called himself a "scoundrel." He talked about cows and how we "inseminate" them and take away the calves for milk in our coffee and cereal. He also paid tribute to his late brother River Phoenix, ending on a more personal note. -- DJ
Parasite had the biggest, most exciting night
In an absolutely thrilling turn of events, Bong Joon Ho's Parasite picked up four awards in a whirlwind of an Oscars ceremony, honored for Best Original Screenplay, Best International Film, Best Director, and Best Picture. Everyone in the crowd was clearly loving it as Bong got up again and again, each time passing fellow nominee Noah Baumbach, who reached out to congratulate him as Bong walked to the stage. The whole cast and crew made it to Los Angeles to attend the ceremony, and it was absolutely hilarious to watch Song Kang Ho, a frequent Bong collaborator who played the driver Mr. Kim in Parasite, lose his mind every time the director stood up to accept another award. Parasite is the first South Korean film to receive Academy Award recognition, as well as the first ever foreign-language film to win Best Picture in the entire history of the Oscars. Not to mention all this happened after Bong Joon Ho snarkily called the Oscars "local" in an interview last year, and spent two of his acceptance speeches saying how much he was planning to drink tonight. Go off king. -- ES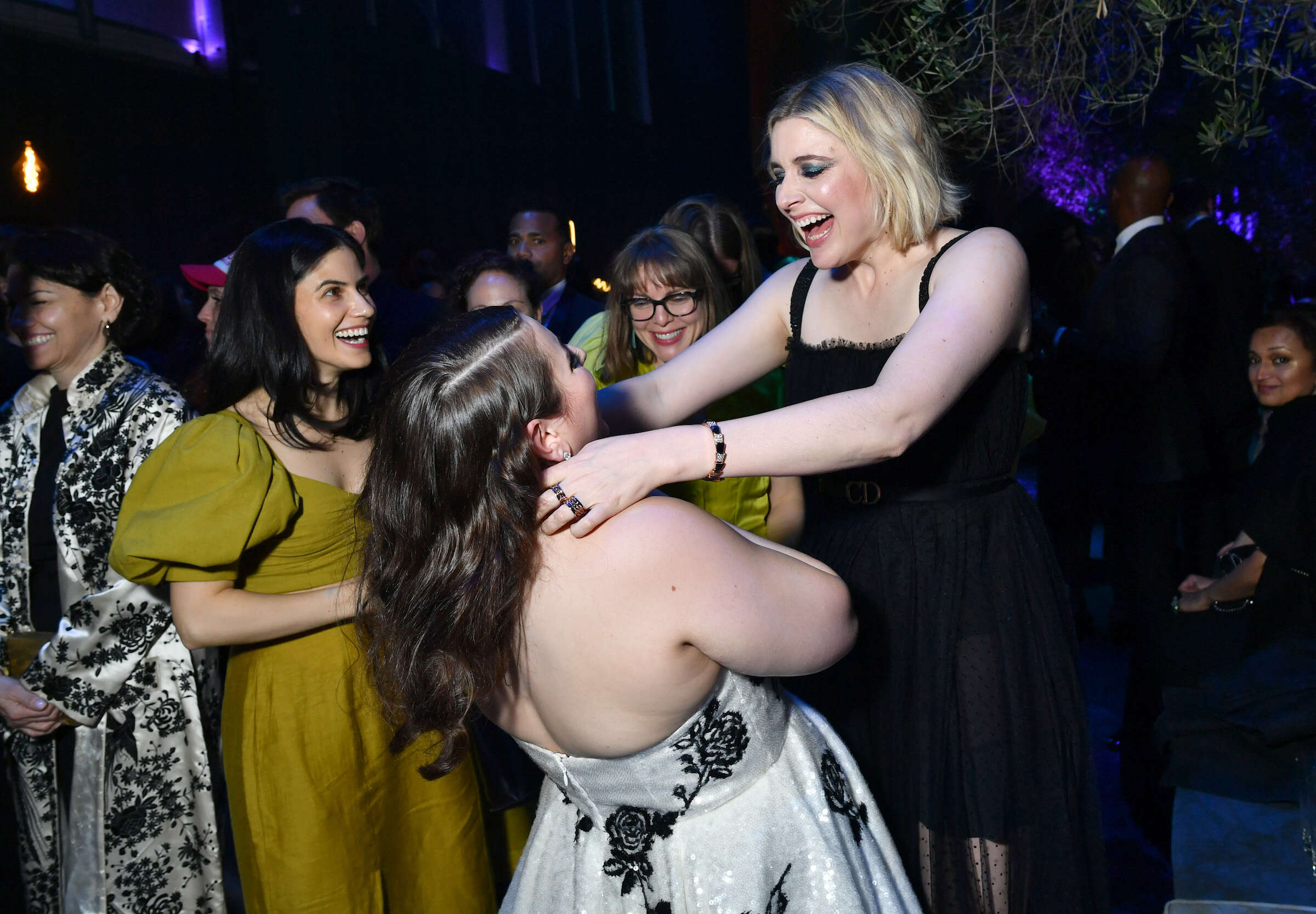 After the ceremony was over, and Bong made two of his Oscar statuettes kiss, of course it was time for some parties. The annual Vanity Fair bash was its usual scene with In-N-Out burgers and milling celebrities. Greta Gerwig got on the dance floor and goofed around with Beanie Feldstein, who co-starred in Gerwig's Lady Bird. Elsewhere, Marilyn Manson and Kelsey Grammer had... some sort of conversation. But obviously, the place to be was the Parasite party at the Soho House. K-Pop group A.C.E performed, and Bong finally made good on his wish to party.
Need help finding something to watch? Sign up here for our weekly Streamail newsletter to get streaming recommendations delivered straight to your inbox.