What's Going On With the 2021 Oscars?
While the movie business struggles amidst the coronavirus pandemic, the Academy is rethinking how it will handle the 2021 Oscars.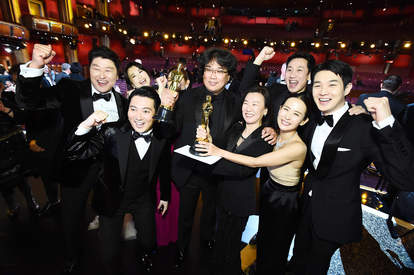 There are no new movies. OK, that's an exaggeration. But there are far fewer new movies than there would be if the coronavirus pandemic hadn't ripped through the world. Major releases have essentially been put on hold, leaving streaming services and VOD to pick up the slack. Right now, we should be heading into a packed summer movie season, but instead we're left wondering whether anyone will even want to go to a theater to see a new Christopher Nolan thriller. So if there aren't any new movies, what becomes of the Oscars? Let's investigate. 
The Oscars may be postponed
According to a new report in Variety, there's a chance that the ceremony honoring movies that came out in 2020 will be postponed. However, there aren't a lot of details to this plan. One source said: "It's likely they'll be postponed," while another countered by saying that they are still scheduled to air on February 28, 2021 on ABC. What does that mean? Unfortunately, we're still mired in uncertainty. 
But could the Oscars be canceled altogether? 
Probably not. The Oscars have actually never in their history been fully canceled. They've been delayed three times: In 1938 due to flooding in Los Angeles, in 1968 following Martin Luther King Jr.'s assassination, and in 1981 after the assassination attempt on Ronald Reagan. Of course, what's happening now is much different. None of these incidents actually stopped movies from coming out or large gatherings from taking place. 
What movies are even eligible? 
The Academy has already announced contingency plans to account for the fact that theaters are mostly shuttered. In normal times, to be eligible for an Oscar a film must play for at least seven consecutive days in a Los Angeles movie theater. Given that that's not actually possible, the organization is making an exception to that qualifying rule for this year only. Now, movies that had planned on a theatrical release but are now going direct to VOD or streaming can be considered for a trophy. Waiving the eligibility run will end on a to-be-determined date when theaters do get safely up and running, but for now it allows studios to be strategic when it comes to distribution. For instance, it's unlikely that Netflix would have decided to drop Da 5 Bloods, Spike Lee's upcoming Vietnam epic, in June had the Academy not made this decision. 
What's next? 
We wait! For now, it seems unlikely that a traditional "awards season" can go on like normal. Cannes -- where pundits usually get a sense of an Oscar field beginning to form -- should be underway, but was canceled. Other festivals like Venice and the Toronto International Film Festival have announced that they intend to go on in some form, but it's unclear what that looks like as it seems risky to host an event where people from all around the world gather to sit in enclosed spaces. Some films that could be in contention, like Steven Spielberg's West Side Story and Wes Anderson's The French Dispatch, are holding onto release dates in the fall, but no one really knows what the movie industry will look like by then. 
Need help finding something to watch? Sign up here for our weekly Streamail newsletter to get streaming recommendations delivered straight to your inbox.