Who Will Win Best Actor at the 2021 Oscars?
Will Chadwick Boseman win a posthumous prize?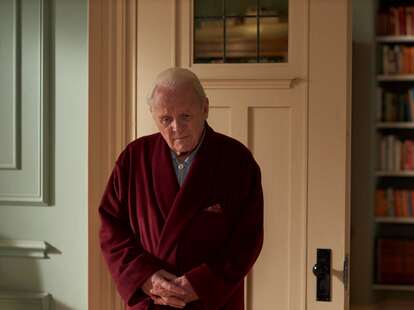 Now that the Oscars are over, we've updated our predictions with the winners.
Who will succeed the Joker? Last year, Joaquin Phoenix won the Best Actor Oscar as the Clown Prince of Crime. There are no famous comic-book villains in the Best Actor race this year, nor are there the kind of typical Oscar blockbusters in the Best Picture category, but there are plenty of men who have delivered astounding performances and are vying for the prize. But who's going to win? Let's break down the Best Actor race here. (Note: Our Best Actress predictions are this way.)

The 2021 Best Actor nominees
Riz Ahmed, Sound of Metal
Chadwick Boseman, Ma Rainey's Black Bottom
Anthony Hopkins, The Father
Gary Oldman, Mank
Steven Yeun, Minari

The frontrunner: Chadwick Boseman, Ma Rainey's Black Bottom
Ever since Ma Rainey's Black Bottom was first screened for critics, it seemed likely that Boseman would win a posthumous Oscar for the role of Levee, an ambitious, loquacious trumpeter with an Icarus quality. It's well deserved—the performance is incredible—but also a tribute to all the work he will never get to do after his untimely death from cancer last year. He won the Golden Globe for Best Actor in a drama, and his trophy was accepted by his wife who gave an emotional speech. He followed that up with a win at the Screen Actors Guild awards, all but solidifying that the Oscar is his.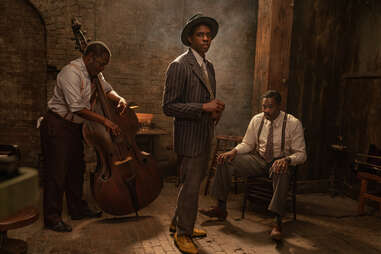 Ahmed, long hailed as one of the finest actors of his generation, gets a showcase in Sound of Metal, playing a heavy metal drummer and former addict who has to reevaluate his life after losing his hearing. He's won a number of critics awards and the Independent Spirit Award, while the Academy surprisingly showered a lot of love on this small, intense drama. He also is the first Muslim actor ever nominated in this category.

Coming back into the Oscar race after last year's supporting nomination for The Two Popes, Hopkins terrifyingly and tragically brings to life a man reeling from the effects of dementia. It's a role that couldn't be farther away from the one he won his trophy for nearly 30 years ago, Hannibal Lecter in The Silence of the Lambs. He also makes history as the oldest person nominated for Best Actor at 83 years old. Hopkins ended up winning the BAFTA, but it's still unlikely he will beat Boseman at the Oscars.

Oldman's probably too recent a winner, for Darkest Hour in 2018, to win again for Mank, and David Fincher's look at old Hollywood isn't the most exciting of contenders.

Yeun snagged the spot in this category that was arguably the most up for grabs, but it's a very well-deserved nod. He becomes the first Asian-American to ever be nominated for Best Actor, playing a Korean immigrant trying to start a farm in Arkansas in Lee Isaac Chung's beautiful, personal film. He also got a SAG nomination, which is a good sign for his chances at winning, and Academy voters were fans of Minari overall.

If you had talked to me before the Globe and the SAG nominations were released, I would have said Lindo is a frontrunner this year. But he was disgracefully snubbed by both those awards bodies for his turn as a Trump-loving Vietnam vet, and eventually the Oscars ignored his incredible work too.

Our prediction: Chadwick Boseman
At this point, it would be a true shocker if Boseman didn't win. The potential upset? Anthony Hopkins. The more people have seen The Father, the more are blown away by his work.
Winner: Anthony Hopkins