Who Will Win Best Actress at the 2021 Oscars?
The race is totally up for grabs.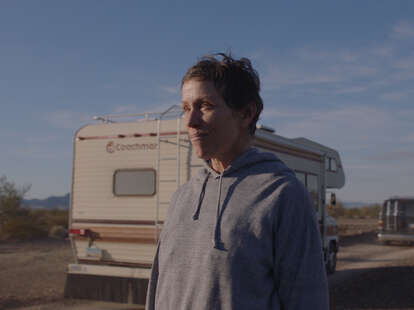 Frances McDormand in 'Nomadland'

| Searchlight Pictures
Frances McDormand in 'Nomadland'

| Searchlight Pictures
Now that the Oscars are over, we've updated our predictions with the winners.
The 2020 Oscars were more than a year ago, but the race for who will emerge victorious during the 2021 Oscars ceremony in April is just underway. Unlike last time around, when Renée Zellweger sailed breezily to a trophy for Judy, the Best Actress field is the most precarious it has been in years. After the Screen Actors Guild awards on April 4, the question of who will ultimately win at the Oscars is more confusing than ever. Here's who is in the running. (Our Best Actor predictions are this way.)

The nominees
Viola Davis, Ma Rainey's Black Bottom
Andra Day, The United States vs. Billie Holiday
Vanessa Kirby, Pieces of a Woman
Frances McDormand, Nomadland
Carey Mulligan, Promising Young Woman

The frontrunner: Honestly, who knows?
This is probably the most hotly contested Best Actress race in years, and while that's thrilling, it makes the business of predicting a winner very difficult. There's no one narrative that's dominating the race. Both Frances McDormand and Viola Davis have won trophies before, albeit Davis has only won in Supporting and McDormand has two for leading roles. Carey Mulligan is an oft-lauded performer and second-time nominee in a divisive movie. Oscar voters may think they may have time yet to honor her for something that's more their speed. Andra Day and Vanessa Kirby are both newcomers in films that weren't very well received.
Day took the Globe in a shocker, while Davis took the Screen Actors Guild award. The membership of SAG has overlap with the Academy, given how large the Acting Branch is, and the winners of their prizes in Actor and Actress frequently (but don't always) predict the Oscar winner. But Davis has been in this position before: She won the SAG Award in 2012 for The Help, only to ultimately lose the Oscar to Meryl Streep for The Iron Lady. Statistics would say that Davis is the frontrunner, but this is a strange, strange year where, on top of everything previously mentioned, McDormand took the BAFTA and Mulligan won the Critics' Choice and the Independent Spirit.
Davis, an Oscar winner for Fences, is in the running once again for a film based on the work of August Wilson. She's the legendary blues singer in the title of George C. Wolfe's adaptation, putting on prosthetics and heavy makeup while nonetheless oozing power and sex appeal. Her win at the SAG awards puts her in frontrunner territory, alongside her co-star Chadwick Boseman, who is all but a sure thing for Best Actor.

Andra Day, The United States vs. Billie Holiday
Day's surprise win at the Golden Globes catapulted her into serious Oscar contention. While there is no overlap between Oscar voters and the Hollywood Foreign Press Association, her victory will likely encourage more Academy members to take a look at her performance, which is the best thing about a rather messy film.

You only have to watch the opening scene of Pieces of a Woman to understand why Kirby is in contention. In an unbroken take, her character gives birth and Kirby embodies all the terror and pain of the experience. The rest of the movie, however, is not up to the same caliber, and the fact that her co-star, Shia LaBeouf, is being sued for domestic abuse won't help.

Frances McDormand won her last Oscar in 2018 for Three Billboards Outside Ebbing, Missouri, so to get another one within four years would be quite a feat. And yet, she could very well do so thanks to her work in Nomadland, Chloé Zhao's film about Americans living on the margins. Nomadland remains the film to beat in Best Picture and McDormand could very well ride that wave to another personal trophy, but she hasn't shown much interest in this year's awards hoopla. She didn't show up on Zoom for the Globes, the SAGs, or even the BAFTAs, where she ended up winning.

When I saw Promising Young Woman back during Sundance 2020 (a million years ago), I would have thought that the divisive movie was too spiky to be an Oscar favorite, but Mulligan is charging ahead with Cassie, a tormented avenger, a role that balks the period pieces for which the actress is best known. She won the Critics' Choice Award and the Independent Spirit, and if the Academy is going to give PYW a win anywhere, it could be here, a recognition of Mulligan's fearless work.

Our prediction: Viola Davis
Why Davis? I honestly don't have great reasoning beyond the SAG statistics. Mulligan could very well upset, as Oscar voters seem to like Promising Young Woman more than I would have previously expected.
Winner: Frances McDormand