Who Will Win Best Director at the 2022 Oscars?
Jane Campion is the one to beat, but can Steven Spielberg or Paul Thomas Anderson steal her thunder?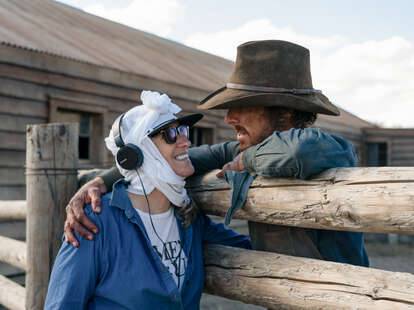 Jane Campion with Benedict Cumberbatch on the set of 'The Power of the Dog'

| Netflix
Jane Campion with Benedict Cumberbatch on the set of 'The Power of the Dog'

| Netflix
Last year, Chloé Zhao became the second woman in the history of the Oscars to win the prize for Best Director. This year, another woman could do the same. Even before the nominees were announced, Jane Campion has been the favorite to nab the award at the 2022 Oscars, but she's got a host of competition from other previous nominees, including Paul Thomas Anderson and Steven Spielberg. Who will take the race? Let's look at the field.
Read our predictions for the Best Picture, Best Actor, and Best Actress races, as well as where you can watch all of the Best International Feature and Best Documentary nominees.
The nominees
Kenneth Branagh, Belfast
Ryusuke Hamaguchi, Drive My Car
Paul Thomas Anderson, Licorice Pizza
Jane Campion, The Power of the Dog
Steven Spielberg, West Side Story
Final Prediction
I still think this is Jane Campion's year. Despite the Oscar success of The Piano, Campion has spent the past year reclaiming her place in the pantheon of modern auteurs. She did have a misstep on the campaign trail—an offhanded and ignorant comment about the Williams sisters at the Critics Choice Award that she has since apologized for—but I still don't think the brief controversy will be enough to derail her win. No other director has won a major trophy this year. Campion's taking it.
The front-runner: Jane Campion, The Power of the Dog
Back in 1994, Jane Campion won Best Original Screenplay for writing The Piano, her breakout film starring Holly Hunter and Anna Paquin. She was also nominated for director but lost to Steven Spielberg for Schindler's List. This year, they will go head-to-head again, and I would wager that Campion comes out on top. There's a magic to the way she approaches her adaptation of Thomas Savage's novel, creating tension that never conceals The Power of the Dog's plot but still allows the final moments to come as a complete surprise. An Oscar would be seen as an award for one of her best works, but also a coronation of her as one of modern cinema's greats. Meanwhile, two women winning back-to-back would be a major moment for the voting body.
The challengers:
Paul Thomas Anderson, Licorice Pizza
It's sort of crazy to think that Paul Thomas Anderson has not yet won a single Oscar despite his status as one of his generation's major auteurs. I don't think he'll win for Licorice Pizza. It's wonderful but a little too shaggy for the Academy's tastes. If the voters didn't go for one of his Daniel Day-Lewis collaborations like Phantom Thread or There Will Be Blood, I doubt they will get on board here. Still, the nomination is great.
Kenneth Branagh, Belfast
Belfast was an early front-runner thanks to a people's choice award at the Toronto International Film Festival, considered an early Oscar bellwether, but buzz on the film has quieted since then. Its reviews ranged from positive to mild to bad, and it didn't really seem to find any significant audience while in theaters. That said, the Academy is fond of the movie, rewarding with with seven nominations, and Branagh still has a chance.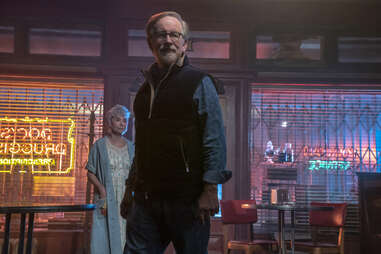 Steven Spielberg, West Side Story
Yes, a fellow named Steven Spielberg is in mix. Spielberg did what many thought couldn't be done: He remade what is already a classic into another brilliant film. Working with writer Tony Kushner—who was snubbed in the screenplay field—Spielberg restages and reinvents the musical, doing what he has always done best, finding ingenious shots that hone in on extraordinary performances.
Ryusuke Hamaguchi, Drive My Car
In a wonderful surprise, the last director slot went to Japanese director Ryusuke Hamaguchi for the stunning, three-hour adaptation of a Haruki Murakami story, Drive My Car. While I had predicted that Denis Villeneuve would get in for Dune, Hamaguchi's presence is more than welcome as Drive My Car is a masterpiece of form and pacing, a movie indebted to theatrics but a purely cinematic experience.