We Translated the Best-Picture Oscar Nominees Into Emojis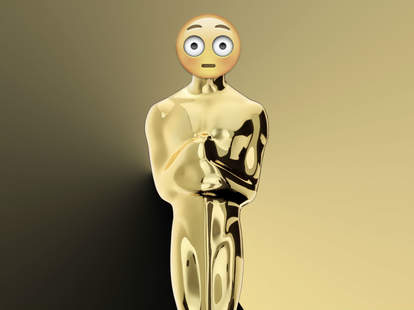 Academy of Motion Picture Arts and Sciences/Apple (EDITED)
Screenwriters and Snapchatters share the same mantra: "Show, don't tell." With that in mind, we're going to stop typing words about the eight Best Picture nominees, and instead offer the most visual means of previewing the category in advance of this Sunday's Academy Awards: emojis. Whether our stab at translating each film's plot into emojis makes you [face-of-joy emoji] or confused, they're essentially spoilers, so reader beware.
Apple (EDITED)
Mad Max: Fury Road
iOS' 9.3's emoji upgrade will carry you to the gates of Valhalla.
Apple (EDITED)
Bridge of Spies
Steven Spielberg's Cold War drama is a throwback to the days when Frank Capra used to draw his emojis by hand.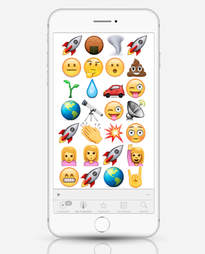 Apple (EDITED)
The Martian
The "Face With Stuck-Out Tongue and Winking Eye" emoji will henceforth be known as the "I just scienced the shit out of this" face. The poo emoji will continue to be known as the poo emoji, but with added respectability.
Apple (EDITED)
Apple (EDITED)
The Revenant
The bear emoji: adorable until it claws you to the ground and gnaws off your backside. And there isn't even an Oscar emoji to make it all better.
Apple (EDITED)
The Big Short
Life hack: when your friend says he lost his house in an apocalyptic mortgage crisis, don't respond with a sad-face emoji. Do send them the hugging snowman.
Apple (EDITED)
Room
Emojis are so inherently happy, you may think this survivor's tale is a walk in the park. Nope. It'll drain eight gallons of tear water from your ducts. Sorry.
Apple (EDITED)
Spotlight
We're 100% positive the Pulitzer Prize-winning Boston Globe journalists at the heart of this investigative drama would be proud to see their work commemorated in emoji form. One hundred percent.
Sign up here for our daily Thrillist email, and get your fix of the best in food/drink/fun.
Follow the Thrillist Entertainment editors on Twitter: @ThrillistEnt.