Someone Actually Won the Jet Ski For Giving the Shortest Oscars Speech
Kevin Winter/Getty Images
The Oscars are known for being very, very, long and very, very tedious, thanks to rambling montages about the Magic of Film and even more rambling speeches from the gobsmacked winners of various levels of speech preparedness. So to speed things up this year, Jimmy Kimmel offered a prize in his opening monologue to the Oscar winner who kept it the most brief. The shortest speech wins a brand new jet ski -- presented by elegant Helen Mirren -- and a trip to beautiful Lake Havasu, Arizona, and a stay at the fabulous Days Inn.
There were plenty of jokes throughout the night from speech-givers who knowingly were blowing their chances at winning, either because of audience enthusiasm or their own difficulty with speaking concisely due to a hearty crank of adrenaline. But ultimately, who got the jet ski? It was Mark Bridges, who won costume design for Phantom Thread with a speech clocking in at 30 seconds flat!
"First, I want to thank Paul Thomas Anderson for writing this amazing script and having me design it," Bridges said. "Thank you, Paul. To our wonderful actors: Daniel, Leslie, Vicky, the whole company of amazing actors who were such great collaborators on this film. My brilliant, brilliant crew in London who worked tirelessly to make beautiful dresses and get them on camera. Thank you. And of course, the Academy, thank you very much."
On the other end of the spectrum was Gary Oldman's Best Actor win speech, which was approximately 18 years long.
Just in case anyone thought Kimmel was joking about giving away the Kawasaki jet ski (valued at nearly $18,000), the host ended the night by parading Bridges, Helen Mirren, and the vehicle across the Oscar stage. After exiting the hall, Bridges was quoted by reporters with the line of the night: "What the fuck am I going to do with a jet ski?"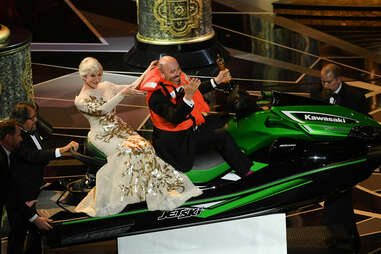 Congrats to Mark, and no thanks to everyone else for their long speeches.
Sign up here for our daily Thrillist email and subscribe here for our YouTube channel to get your fix of the best in food/drink/fun.