Our Writer's Favorite Music-Related Documentaries You Can Stream on Netflix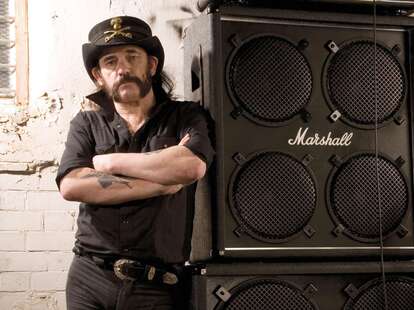 As the most memorable episodes of Behind the Music showed us, documentaries about bands and artists can be every bit as compelling as those about true crime and other topics. The best ones appeal not just to existing fans but to a wider audience as well -- you don't need to be a Bob Dylan fanatic, for example, to be riveted by Don't Look Back.
Unfortunately, that D. A. Pennebaker classic isn't on Netflix, so what's a music-obsessed subscriber to do (apart from reveling in the ridiculousness that is XOXO)? Here are 10 documentaries currently streaming on Netflix that you'll want to put on your playlist.
Backstreet Boys: Show 'Em What You're Made Of (2015)
Pop music operates in cycles: no one stays at the top forever. For boy bands, which make music specifically engineered for adolescents, the shelf life is even shorter. No one knows this quite like the Backstreet Boys, the five young men who ushered in a new generation of megastardom at the turn of the millennium. Show 'Em What You're Made Of explores that growth, from each singer's humble childhood to fame and fortune to complicated adulthood. What do you do when you're a full-grown man in a boy band? Watch and learn.
I'll Sleep When I'm Dead (2016)
Every generation gets its own musical moment, a genre or subgenre that serves to completely bewilder the one that preceded it. For today's youth, it's all about EDM and the few successful players who've become millionaires from the explosive popularity of DJs. I'll Sleep When I'm Dead follows Steve Aoki -- a man best known for throwing cakes onto the faces of his audience and being the son of the founder of Benihana -- on his rise to fame. It's surprisingly poignant, shedding strobe lights on the movement that dominates music today.
Janis: Little Girl Blue (2015)
By and large, rock 'n' roll was considered a boys club through the '60s and '70s, comprised of music for men, by men, where women were allowed to play the role of groupie if they wanted to play at all. Until Janis Joplin came along. Her scratchy, whiskey-bruised voice arrested a generation and, however accidentally, carved a place for those without a Y chromosome. Little Girl Blue tracks her rock takeover to the very end, up to her tragic death.
Lemmy (2010)
Lemmy was released half a decade before the iconic Mötörhead frontman died, so watching it now feels equal parts eerie and celebratory. The famous metal musician melded the genre with punk in a way that had never been done before, all the while staying true to his over-the-top personality. The result is a film that perfectly documents Lemmy the person and Lemmy the icon -- the surprise is that they're one and the same.
Marley (2012)
There's no shortage of films about Bob Marley. Or books, essays, and a bunch of student projects probably created by inventive stoners. But to get to the heart of the Rastafarian icon, you need to go to the source: his family. Marley was produced by the singer's kin and features a collection of intimate interviews and moments, making for a truly unique, grounded tribute.
Revenge of the Mekons (2014)
Unless you're a diehard '70s punk fan, you might never have heard of the Mekons, a band from Leeds, England. Revenge of the Mekons serves to rewrite the group into history (though they've been championed by everyone from comedian Fred Armisen to rock critic Greil Marcus over the years). In this doc, director Joe Angio documents the band's 2011 album Ancient and Modern while studying the journey that got them here. It's recommended viewing for those who like sounds from under the surface.
What Happened, Miss Simone? (2015)
Nina Simone, the High Priestess of Soul, is the rare kind of artist who used her talent for change. A revolutionary for both her sonic gifts and her fight for the civil rights movement, Simone gets a fitting tribute with this Netflix original, which highlights both aspects of her being, how they fueled her fiery personality and ultimately shaped her story.
Sign up here for our daily Thrillist email and subscribe here for our YouTube channel to get your fix of the best in food/drink/fun.