Everything We Know About 'Outer Banks' Season 2
Is the Netflix show coming back? Will they ever find that treasure?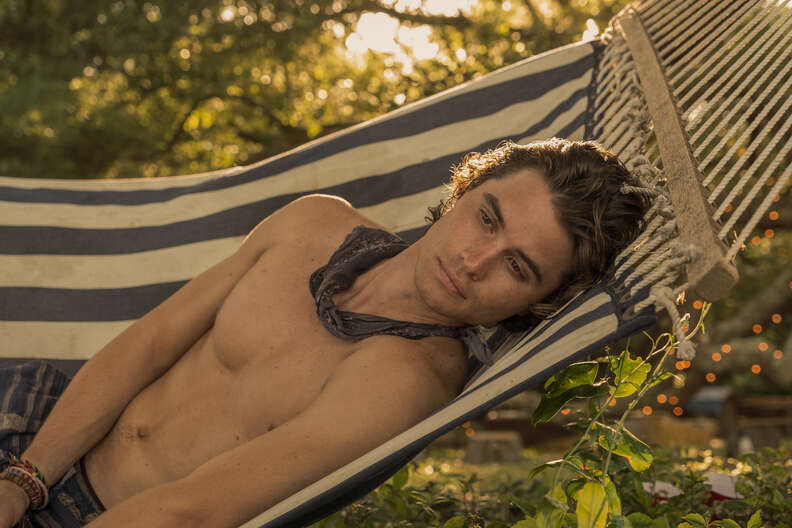 Netflix's Outer Banks was the summery escape of 2020 we were all desperate for when it became clear that we'd all be spending a lot more time indoors for the foreseeable future. And, at only 10 episodes, the treasure hunting first season is pretty short and sweet by Netflix standards. After ending on a huge, tempest-tossed cliffhanger, the fans need to know: Will there be more Outer Banks for us to bask in and pretend we're on an island vacation for a few hours a week? The state of the entertainment industry is more in flux than ever during this period, but we're pretty sure we have some good news for all of you.
Has Outer Banks been renewed?
Given the unexpected popularity of the show's first season, it was only a matter of time before Netflix announced further plans. At the end of July 2020, the fans got the good news: Outer Banks has been officially renewed for another season. Netflix followed up their announcement with a video of the show's stars showing their excitement about the renewal, jumping into pools, practicing lines in the mirror, and running down the street with a surfboard.
The good news is that series creator Jonas Pate told Entertainment Weekly that Netflix had told them, when they greenlit the show, to go ahead and start working on some Season 2 scripts as well.
"Ever since we started, we always viewed it as something that was probably like a four-season, maybe five-season show, but definitely four seasons," Pate said. "We've sort of long-arced it out pretty far. I'm just hoping that we get a chance to actually tell those stories."
When will Season 2 come out?
In June, Netflix officially announced (see above) that the new season of Outer Banks will wash up onto our Netflix accounts on July 30, 2021! Get those cocktail umbrellas ready.
Outer Banks is one of many productions that was able to restart after the quarantine put everything on hold all summer. The second season started production in Charleston, South Carolina at the beginning of September 2020 with COVID protocols in place, and wrapped there in January 2021, after which they headed down to Barbados (!!!) to film the rest of the series, which they finished up at the beginning of April 2021.
Who will be in the cast?
We can probably expect to see everyone who was alive by the end of the first season to return, especially the scrappy Pogues, John B. (Chase Stokes), J.J. (Rudy Pankow), Pope (Jonathan Daviss), and Kiara (Madison Bailey); Sarah Cameron (Madelyn Cline); her villainous father, Ward (Charles Esten); her brother, Rafe (Drew Starkey); Rose (Caroline Arapoglou); Topper (Austin North); and the rest.
Elizabeth Mitchell (otherwise known as Juliet from Lost!!!) is joining the cast for the second season, playing "Limbrey, a long-time Charleston native; a compelling woman with a level of toxicity and menace underneath her seemingly courteous ways." Sounds like Juliet all over again.
We can also expect plenty more new characters to sail ashore—especially since there will be at least one new location added to the next season.

Are they going to the Bahamas?
Yes. Pate said in the same EW interview that at least part of the show would follow John B. and Sarah cruising around Nassau in search for their lost treasure.
"We'll definitely have at least a part of Season 2 that'll take place in the Bahamas, but it'll all come back to the Outer Banks because that's our spiritual home," Pate said. "So we'll get back to the Outer Banks pretty quickly, I'm sure, but there'll be definitely an episode or two that has some Bahamas in it."

Will they actually film anything in the real Outer Banks this time?
Outer Banks got a little bit of flak before its first season premiered from actual Outer Banks residents, who were annoyed that Netflix didn't actually film the show in the real Outer Banks, or feature any Outer Banks landmarks. Netflix instead shot the show in Charleston, SC, in protest against North Carolina's controversial bathroom bill, which required people to use the bathroom corresponding to the gender they were assigned at birth, enacted in 2016 and partially repealed in 2017. Since then, the ACLU had been in a years-long legal battle, which ended with the courts ruling against the bill in summer 2019, shortly after production ended on Outer Banks. The clause officially expired at the end of 2020, so we might just see Outer Banks show up in the actual Outer Banks. Starting a petition to add a lengthy action scene in the middle of Duck Donuts.
Emma Stefansky is a staff entertainment writer at Thrillist. Follow her on Twitter @stefabsky.