Everything We Know About 'Outer Banks' Season 3
What misadventures will the Pogues get into next?
In just two years, Netflix's Outer Banks, the teen drama set on the North Carolinian island chain in which murder and betrayal is rampant and treasure troves are seemingly everywhere, has gone from sleeper success to runaway hit. The second season was firmly entrenched in the streaming service's Top 10 when it hit streaming in summer 2021, since apparently no one can get enough of John B. and his Pogues' hunt for legendary gold and all the danger and intrigue that goes along with it. Now that you've binged your way through Season 2, you're probably wondering when there will be more. Here's everything we know so far.
Has Netflix renewed Outer Banks for Season 3?
Yes! In early December 2021, the cast posted a fun video announcing the third season's official renewal. We're ALMOST as thrilled as they are!
Speaking with Decider, the show's co-creator Jonas Pate said that he and his team have enough material planned out for five full seasons, let alone three. "We have a lot of ideas. My answer is, as long as we can keep making it good and we're still excited. That's the number. Definitely more than three."
When will Outer Banks Season 3 come out?
Since this is a summer show, and the spring-summer drop window has worked out for Netflix so far, it's likely that, if filming can start early in winter 2022, we could be living the #PogueLife as soon as summer 2022.
What will be the plot of Outer Banks Season 3?
A third season would have a lot of ground to cover and plenty of loose ends to tie up—while, naturally, unraveling plenty of new ones. In Season 2's explosive finale, the Pogues lost the golden cross to Sarah's back-from-the-dead dad, Ward, and ended up marooned on their own private island, along with Cleo, one of the crew members of the cargo ship John B. and Sarah stowed away on, at the close of the episode. When they get back to the mainland, Kie and Pope have some parental issues to work out (as well as decide if they're crushing on each other or not), and Sarah needs to figure out if her ex Topper is the knight in shining armor he seems to be. And speaking of back-from-the-dead dads, John B.'s long lost father Big John is back, thanks to some finessing from the show's newest villain (turned ally, perhaps?) Carla Limbrey. Pretty much everyone is going to be hunting for Ward and his stolen gold.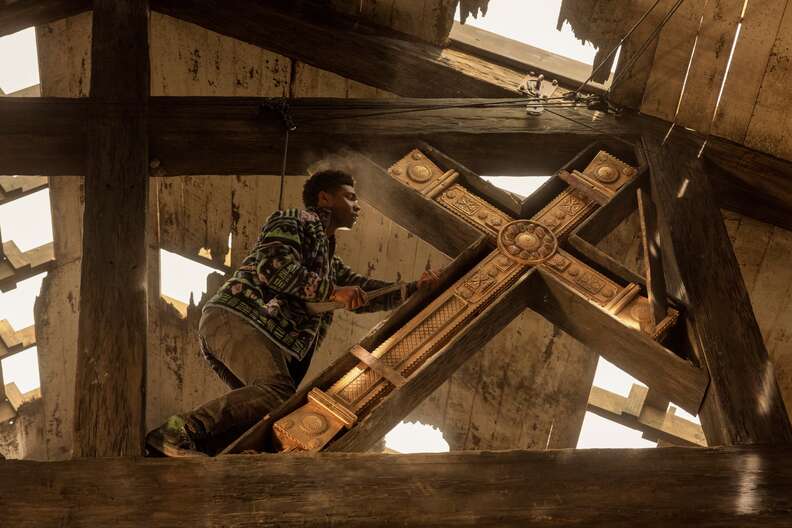 Who is in the cast of Outer Banks Season3 ?
It's likely that all the key members of the cast will return, including Chase Stokes as John B., Madelyn Cline as Sarah, Madison Bailey as Kie, Jonathan Daviss as Pope, and Rudy Pankow as John B.'s loyal buddy JJ. Carlacia Grant will also probably return as Cleo, Charles Esten as Ward Cameron, Drew Starkey as Sarah's scary brother Rafe, Julia Antonelli as Sarah's sister Wheezie, and Austin North as Topper, as well as Elizabeth Mitchell as Carla Limbrey and Charles Halford making his return as Big John.