Why Wendy's Brother Ben Is the Most Divisive Part of 'Ozark' Season 3
Major spoilers for Ozark up to and including the Season 3 finale follow. Click away now if you don't want the Netflix show spoiled for you.
"It's a good feeling, man," laughs Ben Davis at the start of "Fire Pink," the penultimate episode of Ozark's often agonizing, thoroughly gripping third season. Monologuing in the backseat of a taxi cab as images of benign leisure activities like playing golf and swimming in a lake flicker in the window, Ben explains that he's not a conventional guy, he doesn't go with the flow, and he will not "fall in line." Tears welling in his eyes as he repeats certain phrases -- "roof over my head," "he's just a guy," and "cause he can't" get a work out -- he articulates an entire worldview in a series of fractured ideas, dreams, and memories. You get to know Ben and his troubles. 
The scene, shot with the camera right up in the actor's face and with no reaction shots of the driver listening in the front seat, is a showcase for Tom Pelphrey, who viewers might recognize from his run on the CBS daytime soap Guiding Light or his appearance in Netflix's superhero drama Iron Fist. Later this year, he's slated to appear as All About Eve director Joseph L. Mankiewicz, the brother of Citizen Kane writer Herman J. Mankiewicz (who will be played by Gary Oldman), in David Fincher's highly anticipated Hollywood biopic Mank. But for fans of Ozark, a show where characters often drop in for a season before meeting a dark fate, he'll be Ben for a long time. It's the type of performance, brawny and sensitive, that leaves an impression.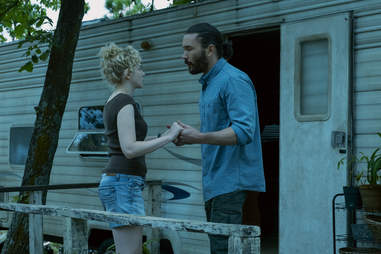 Steve Dietl/Netflix
Like many classic one-season arc family members on TV shows, Ben arrives with little backstory and it's immediately apparent that he's going to cause trouble. The younger brother of Laura Linney's ambitious family matriarch Wendy Byrde, he's introduced as a substitute teacher in the cold open of episode two, throwing his students' confiscated phones into a wood-chipper and punching out a groundskeeper. When the scene first started, I thought I was watching the wrong show by accident for a moment. Who was this teacher? Who are the kids? Why would you ruin so many phones?
Many of the characters on Ozark, like Jason Bateman's money-laundering accountant Marty Byrde and Felix Solis's cartel boss Navarro, are prized for their calculated maneuvers and icy touch; from his first scene, Ben is impulsive, erratic, and violent. He quickly works his way into Marty and Wendy's lives, befriending Jonah and pursuing a relationship with Ruth. Even when things are going well for him, there's a sense of uneasiness to the character. 
As later episodes reveal, he's been diagnosed with bipolar disorder, a detail that the show acknowledges but also fails to examine with a high degree of nuance. As Vanity Fair's fairly positive review of the third season noted, his serious medical condition is often treated, "like a mere plot device, like a gun introduced in the first act of a Chekhov play." There's a long history of Hollywood movies and shows portraying individuals with mental health issues as potential threats, dangerous outsiders, and untrustworthy cyphers. When treatment or medication is discussed, it's often noted as a hindrance. In its effort to tell the most intense version of its troubling story, Ozark doesn't exactly push back against those cultural stereotypes.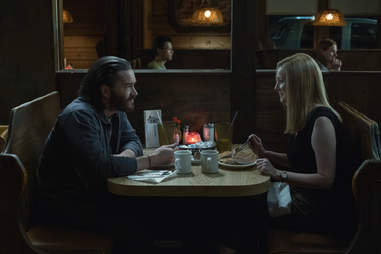 Steve Dietl/Netflix
Still, it's worth noting that Ben, even when he's behaving in a self-destructive manner, is almost always totally correct about the Byrde family's moral failings. The character exists within the warped ethical landscape of Ozark, where any violent act can be justified if it's done in pursuit of money or power. "He sees clearly and his intentions are good," said Pelphrey in a recent interview with the Huffington Post, touching on the character's complexity. "Ben is actually just telling the truth and doing the right thing, but in that world those qualities, those virtues, are not rewarded."
On a purely dramatic level, some of Ben's actions also become repetitive and frustrating as the season builds to its inevitably tragic conclusion. After he reveals Helen's true job to her daughter, did Wendy ever really expect to get him out of Missouri alive? Following the outburst at the political benefit, it's clear that the Byrde's will eliminate Ben or at least give Helen the approval to take him out. ("In our field there's no room for mental illness," says Helen to Marty in her typically blunt, unforgiving tone.) Given how cutthroat she's proven to be, it was only a matter of time before Wendy made the decision to have Ben killed.
That inevitability doesn't take away from the power of the performances that Pelphrey and Linney give, especially in the quietly moving scene they share together at the roadside diner. She asks him about his five-year plan and he describes a peaceful, quiet existence: a life on a farm with Ruth, a child, and maybe some goats. Wendy nods along, knowing that her brother's dream will never become a reality. In a show that rarely takes its foot off the gas pedal, preferring tick-tock suspense to moments of contemplation, the exchange has a calming, loving glow. It's a good feeling. Like most good feelings on Ozark, it's not meant to last.  
Need help finding something to watch? Sign up here for our weekly Streamail newsletter to get streaming recommendations delivered straight to your inbox.