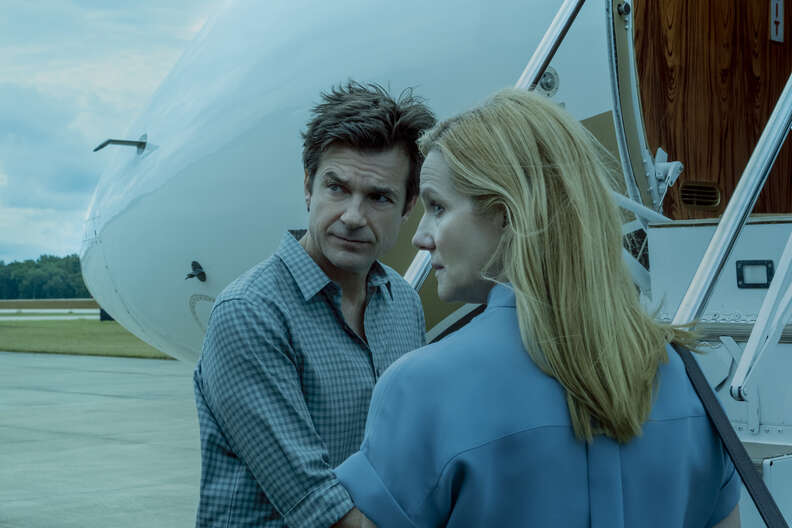 All the Burning Questions We Have After Finishing 'Ozark' Season 3
Where do Marty and Wendy Byrde go from here? Spoilers ahead, obviously.
The complicated marriage at the center of Ozark is one based on constantly shifting, slowly evolving loyalties. Do Marty Byrde (Jason Bateman) and Wendy Byrde (Laura Linney) stay together for their ever-expanding money-laundering business, their psychologically unraveling children, or each other? That unanswerable question powers the whole series, filling each moment with tension and mystery, and it also feeds into all the burning questions you find yourself thinking about after racing to the end of the often gripping, harrowing Season 3. Where do they go from here?
With Helen Pierce (Janet McTeer) out of the picture and the Byrde family even more aligned with the drug-dealing operation of Omar Navarro (Felix Solis), there are a number of ways Ozark could break in the coming seasons. The Kansas City mob, the cartel, the FBI, and Darlene Snell's new heroin gang could all create trouble for our favorite casino-running, odds-beating couple. These are some of the serious (and some of the goofy) questions we'll be thinking about as we wait for Season 4.
Is Wendy's brother Ben Davis actually dead?
Watching a steady stream of television, particularly genre shows with ludicrously high body counts, has convinced a certain subset of viewers that a character isn't really dead unless you see that person murdered on screen. There could be some sleight of hand going on, a morbid fake-out that will be revealed at a later date, and in some cases -- like on Westworld, Lost, or any number of science-fiction and fantasy shows -- viewers are right to express some skepticism. Ozark loves a bloody, gruesome death.
So did Wendy's brother Ben Davis actually survive? No, I don't think so. From a dramatic standpoint, his death didn't need to be shown on screen because his demise was inevitable, and the impact on Wendy was more significant to the story. Once Wendy decided he was expendable -- the moment he purchased the phone at the gas station and again put himself in danger to attempt to right his wrongs -- his fate was sealed. Tom Pelphrey gave a full-throated, wide-eyed performance as Ben, injecting blistering emotion into an often difficult, occasionally underwritten role. I understand why some viewers might want him to stick around. But we saw Marty burn the body and we saw Wendy's grief. If Ben is ever coming back, it'll be in ghost form.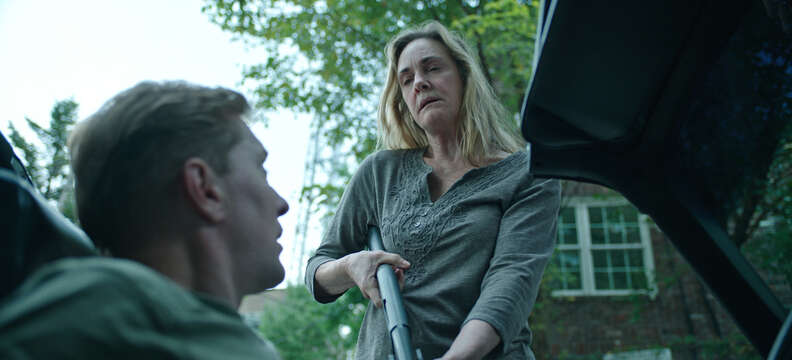 Did Frank Jr. die when Darlene shot him in the groin?
Unlike Ben, the villainous Frank Jr. very much survived his intimate encounter with the explosive end of Darlene Snell's shotgun. After getting kicked in the groin and tossed off a riverboat by Ruth, who he later brutally attacked, the preening son of Kansas City mob boss Frank Cosgrove got shot by Darlene and the camera pulled away in a way that might make some think he was gone for good. (It was Darlene's calculated move to earn Ruth's loyalty, proving that she could and would do what the Byrde family refused to do.) But the conversation between Darlene and Frank Sr. towards the end of the finale confirmed that Frank Jr. will live to gamble another day. Hopefully, he'll be a little more polite in the future.
How did Marty doctor the photo he showed the FBI?
On Ozark, the details always matter. Towards the end of the finale, Marty earns the trust of Navarro by feeding the FBI information about a murder that occurred on American soil, which gives the federal government jurisdiction to pursue Navarro's enemies across the border. Using footage that Jonah and Ben captured of the illegal delivery gone wrong, which he says he obtained from an anonymous source, Marty finally convinces the FBI to follow through on one of his tips. It's a smart play.
In securing the FBI's assistance, he also cropped Ruth from the photo he gave the FBI. What does that mean? The FBI won't be able to place Ruth at the crime scene by using those photographs -- she was already a suspect because of tire tracks found at the scene -- but, perhaps more importantly, Marty's removal of Ruth also means that he can use those photos as leverage over her in the future. If Ruth really is done with the Byrde family for good, which she appears to be, Marty and Wendy are going to need a new way to keep her from turning on them. Those doctored photographs might be their most effective weapon.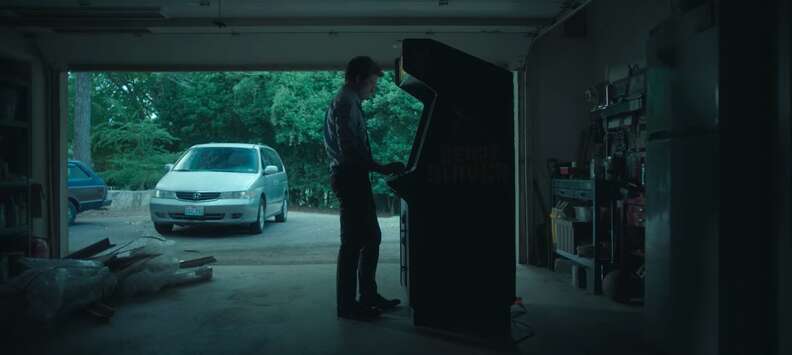 Where can we find the Beast Slayer arcade game?
During "Boss Fight," the suspenseful fourth episode of the season, Marty spent hours practicing self-isolation in a cave-like cartel dungeon in Mexico, where Navarro decided whether or not he was worth keeping alive. How did Marty pass the time? By flashing back to his father's slow, grueling death in a hospital, where young Marty learned some valuable life lessons by playing an arcade game called Beast Slayer. Did hospital waiting rooms have arcade games in the late '70s? Maybe!
When Marty got out, he ordered the game for himself and got it delivered to the house in Missouri, where it took a prominent place in the Byrde family garage. Unfortunately, you cannot order a Beast Slayer game and put it in your basement because the game doesn't exist. It appears to be made up for the show, the perfect metaphoric explanation for Marty's "win at all costs" competitive mentality. If you want to play Beast Slayer, you'll have to build it yourself.
What was the deal with Darlene and Wyatt's relationship?
Since its very first episode, which featured a man getting thrown from the top of a tall office building and splattering on the pavement below, Ozark has understood shock value. This season had its fair share of startling moments, from quasi-accidental murder of the rival casino owner's wife to the final shooting of attorney Helen Pierce, but the biggest surprise wasn't an act of violence. It was an act of love. A very strange act of love between a young man and a woman likely old enough to be his grandmother.
The budding relationship between Ruth's long-haired cousin Wyatt and local Missouri heroin grower Darlene Snell makes a certain amount of sense in the abstract. They both suffered great loss; they're both emotionally vulnerable; they both hate the Byrde family. Still, I didn't necessarily expect their tender mentor-mentee friendship to turn sexual in the way it did. (The pairing rhymed with Ruth and Ben's uncomfortable age-gap romance as well.) The good news is that Darlene and Wyatt seem mostly happy together, cleaning up nice for the Byrde family fundraiser and chatting in bed together about their various grudges. Love doesn't last long on Ozark, so let's try to be happy for these two.
Will Jonah Byrde turn on his parents next season?
While Season 2 put the spotlight on Charlotte's alienation from her family, following her attempts at legal emancipation and her growing understanding of her parents' business dealings, Season 3 gave Jonah Byrde (Skylar Gaertner) more of a chance to take center stage. The young cryptocurrency enthusiast had his first kiss, stood up to a bully, filmed a brutal shooting with his drone, and almost murdered the family lawyer with a shotgun. It was a busy summer for this young man.
During his standoff with Helen Pierce, Jonah confirmed a dark truth he probably already suspected on some level: His parents were partially responsible for the death of his uncle Ben. "You need to understand something," said Helen, calmly laying out the facts in her lawyerly cadence with a rifle in her face. "Your mom is the one who OK'd it."
Jonah and Ben were more than uncle and nephew; they were friends. They went on long drives together, spent time on the lake in the boat, and, again, witnessed a brutal shooting via drone. Marty and Wendy have been hardened by the events of the last few seasons and, on a certain level, they'll be able to compartmentalize Ben's killing and move on. There's money to be made. Jonah's reaction will likely be different, more volatile and less cold-blooded, and his understanding of his family's moral transgressions could inform where the show goes next season.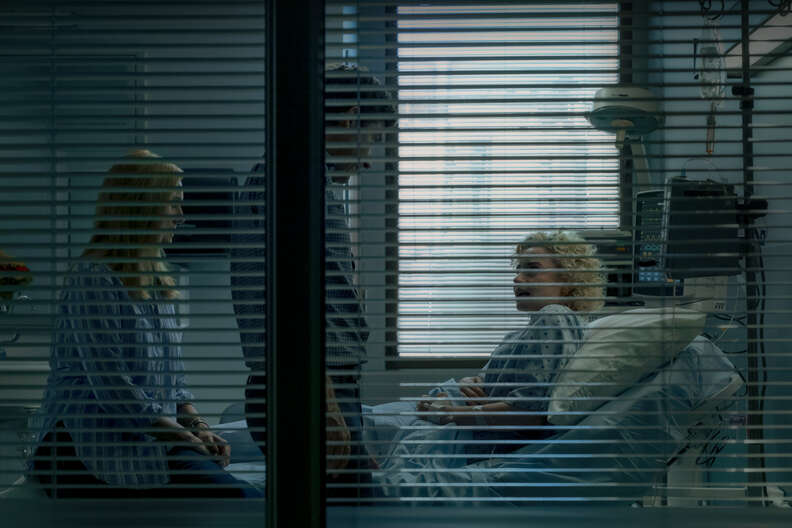 Is this really the end for Ruth Langmore and the Byrde family?
Say it ain't so, Ruth. After three seasons in the Marty Byrde money-laundering education program, with time logged running both the strip club and the casino, Ruth Langmore looks like she's ready to strike out on her own by forming a new partnership with Darlene Snell and her cousin Wyatt. After Marty and Wendy refused to kill Frank Jr. on her behalf and after they failed to protect Ben, Ruth stormed into the office and ended her alliance with the Byrdes. It's hard to come back to work once you call your boss's wife a "fucking bitch wolf" to her face. Even if you have a pretty relaxed HR department.
This rupture should set up the inevitable confrontation between Ruth and Marty that the show has been building towards since the first season. While he can often be fairly cold and detached in his treatment of her, Marty cares about Ruth and sees himself in her. Similarly, Ruth looks up to Marty, seeing him as both a father figure and a professional mentor. (From watching Season 2, viewers know that Ruth's actual dad, the loathsome Cade Langmore, was not exactly the reliable type.) Depending on how long Netflix wants Ozark to run, it could take at least another season to put Marty and Ruth in direct conflict. Marty and Wendy will have to deal with Darlene and Navarro first, formidable foes for sure, but Ruth will be waiting.
Need help finding something to watch? Sign up here for our weekly Streamail newsletter to get streaming recommendations delivered straight to your inbox.