Everything We Know About the Fourth & Final Season of 'Ozark'
The show is wrapping up with a two-part season in 2022.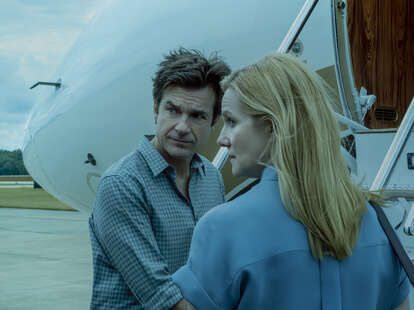 There's no easy way out for the money-laundering Byrde family on Ozark. The Netflix crime thriller about a Chicago family forced to move to the Missouri Ozarks to launder money for a Mexican cartel is one of the streaming service's best originals, and the show, which stars Jason Bateman and Laura Linney, reached new heights with its better-than-ever third season that earned 18 Emmy nominations in 2020, including one of which Julia Garner took home for Best Supporting Actress in a Drama Series.
With all of the jaw-dropping moments and the final bloodshed in Season 3, Ozark always leaves fans wanting more. Thankfully, Netflix renewed it for a fourth season in June 2020—but along with the news of the renewal came the announcement that Season 4 would be the final installment of the series. It seems as though Ozark is going out with a bang, though, because—like many prestige dramas before it, including Breaking Bad, Mad Men, and The Sopranos—the series is wrapping up with an expanded final season, told in two parts. We're breaking down everything we know about what's in store for the final chapter of Marty and Wendy's operation below.
When will Season 4 of Ozark premiere?
We finally know when we'll be headed back down to Missouri. In October 2021, Netflix announced the first half of the final season will premiere on Friday, January 21, 2022. It's unclear when the second half of the season will hit streaming exactly, but Netflix did confirm in September 2021 that Part 2 will also arrive sometime in 2022. The show had been in production for Season 4 since November 2020 and wrapped up in October 2021, so fans should be excited that we'll be checking in with the Byrdes and their nefarious associates soon.
How many episodes will there be in Ozark Season 4?
Seasons 1-3 featured 10 installments, but this time around, you'll be able to tune into even more dark, moody episodes. Along with the confirmation of a Season 4, Netflix also announced that it would expand to 14 episodes in order to wrap everything up.
According to IMDb, the title of the first episode has already been released. You won't be able to parse too much information from it, though. It's called "The Beginning of the End," which may seem a bit literal, though it is possible that it refers to a quote from cartel head Omar Navarro (Felix Solis), in which he said, "This is a beginning," at the end of Season 3.
Is there a trailer for Ozark Season 4?
The first official teaser for Season 4 arrived in October 2021 when Netflix confirmed the Season 4: Part 1 release date. It's foreboding—just how Ozark fans like it! The teaser features moody shots of the lake and riverboat casino with voiceovers from just about every one of the shady main characters—from Marty and Wendy to Darlene—the creepiest being Julia Garner as Ruth saying, "Why do I have this feeling we both know that you'd be better off dead?" It ends with Navarro's "This is a beginning" line to the Byrdes, so things are definitely about to get real.
Netflix also dropped a first look earlier in fall 2021. It seems as though the tease is one of the first scenes, if not the first scene, of Season 4—picking up almost immediately after the final moment of Season 3 when Navarro killed Helen (Janet McTeer). The clip pans to show a lavish gathering in Mexico—you may remember that it was Navarro's son's baptism that the Byrdes and Helen flew down for—then finds Marty and Wendy washing blood and human remains off each other in the bathroom. If that's any indication of what to expect, it looks like the already super melodramatic thriller is headed toward its most intense season yet.
Who in the cast is returning?
Since the show is based entirely around Marty and Wendy Byrde's operation, Jason Bateman and Laura Linney will be back. That also means Marty and Wendy's children, Charlotte and Jonah, played by Sofia Hublitz and Skylar Gaertner, are also givens to return. Outside of the Byrdes, characters like Ruth (Julia Garner) and Wyatt Langmore (Charlie Tahan), Darlene Snell (Lisa Emery), and now Omar Navarro (Felix Solis) and Special Agent Maya Miller (Jessica Frances Dukes) are all key to the plot, so we'll be seeing more of them, as well. Definitely expect to see quite a bit more of Navarro, actually, as Deadline reported Solis has been upped to a series regular. That goes for Jim Rattelsdorf, businessman Charles Wilkes' right-hand man, too, as actor Damian Young is also now slated as a series regular.
Tom Pelphrey, who played Wendy's brother Ben and shook things up last season when he became aware of what his sister was up to, will almost certainly won't be back, given that he was killed (although that hasn't stopped theorists from speculating he might still be alive because his death wasn't shown on screen). Janet McTeer, who played Helen, is also likely out, as she was shot to death in that jaw-dropping final moment, but she could conceivably return for an episode. She's absolutely dead, and Ozark definitely isn't a supernatural series, so it's not like she'll be haunting Wendy—but they have done a flashback episode before, so perhaps there could be one featuring Helen's past to offer more insight on Navarro. Of course, it's all up in the air, so right now just assume you'll be seeing the mainstays again next season.
Are there any new cast members?
It may be the final season of Ozark, but that doesn't mean we've been acquainted with all of the heinous individuals facing off with or puppeteering the Byrdes. In November 2020, Netflix announced a whole slew of new faces set to appear in Season 4. New cast members include Alfonso Herrera (The Exorcist, Sense8) and Adam Rothenberg (Castle Rock, Ripper Street), who will appear as series regulars, and Bruno Bichir (Narcos, Party of Five), CC Castillo (Outer Banks), and stage actress Katrina Lenk (The Band's Visit) who have been billed as recurring additions.
The new faces not only fill out the Navarro crime family that the Byrdes are now in deep with, but the law enforcement they'll be up against. According to Deadline, Herrera is playing Javi Elizonndro, "a member of the Navarro family who walks a fine line between playing the obedient lieutenant and scheming to take over his uncle's cartel," and Bichir is taking on Navarro's priest who he sees as a confidant. On the other side of the law, Rothenberg is taking on Mel Sattem, a former cop who now works as a private investigator and is relentless in his detective work, and CC Castillo will portray a Missouri sheriff named Leigh Guerrero.
At this point it's unclear how or to what benefit, but it seems like the Byrdes are going to form some alliances with more people in power. Broadway alum Katrina Lenk is playing Clare Shaw, a power-hungry CEO of a biopharmaceutical company—so while we might not get to hear her singing pipes, she'll be bringing the drama and Marty might need assistance from her in some capacity. The same goes for a character played by Bruce Davison (X-Men), who Deadline reported was joining the cast in February 2021. Davison is said to take on Randall Schafer, a retired Illinois senator who "is accustomed to doing things his way," but can be won over if he's convinced with "the right price." Given Wendy's political history, it seems likely that she'll reach out to him for some kind of influence.
Another newbie to the cast is Eric Ladin (The Right Stuff), who is slated to appear in the reoccurring role of Kerry, billed as, "the kind of guy you like but can't stand." His character supposedly loves to party and "is always looking for the next trend," which often gets him into trouble. Based on that description, he sounds like a local—and now that Ruth's single, perhaps they'll have a good time together and he could get in too deep with whatever she has up her sleeve. Regardless, as another insufferable character, he sounds like he'll fit right in with the Ozark gang.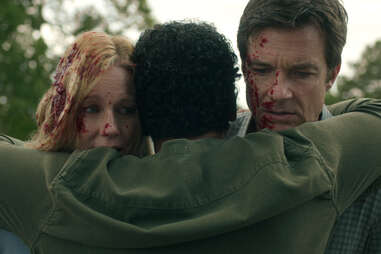 What will Ozark Season 4 be about?
You may remember that right after cartel leader Omar Navarro shot and killed Helen as soon as she and the Byrdes arrived at his home in Mexico, he devilishly said, "This is a beginning." So, while Wendy and Marty may never have had their teeth sunk so deep into their scheme—Wendy working closely with Navarro and Marty trying to convince the FBI to take down Navarro's rivals—it sounds like they're about to face a whole new set of terrors in their now very close relationship to the cartel boss.
In speaking to Entertainment Weekly, showrunner Chris Mundy explained exactly what that "beginning" is. He said, "Marty kind of said it in the speech that he gives to try and get Wendy out of bed, which is that we have to burrow all the way into the center of this thing. To us, it's that. It's, you're a vital part of this enterprise now and you're completely on his radar, to the point where he's commingling his or someone else's blood with yours, you're sharing in that. And so, for better or worse, you're completely in this game, and now it's yours to see if you have another play left in you."
He also explained that Navarro killed Helen instead of Marty and Wendy because not only did they get their casino up and running, but "... in Navarro's mind, [the Byrde's] claim that they have the FBI on their side and can swing the power of the US government in the intervention in the drug war against their rivals, that's something virtually no one else can do." So, that relationship dynamic, plus the fact that Marty has been in contact with FBI agents even against Agent Maya Miller's requests as she grows more impatient herself, will all likely percolate in the next season.
Mundy also added, "I think it will be about whether or not Ruth really can create something of her own that she wants and is sustainable, or if she wants something else. And I think it will be about if the Byrdes can they turn the biggest mistake of their lives into this huge advantage, and how much will karma catch up with them if they do?" That being said, Ruth did seem keen on forming a partnership with the Snells now that Wyatt and Darlene are (literally) in bed with one another and she's realizing that she may never feel a part of the Byrde family, so it's possible a locals vs outsider plot could unfold, too.
Regardless, it sounds like there's no backing out for anybody until this thing really reaches a head, be it with the cartel or the law enforcement.