Everything We Know About the Fourth & Final Season of 'Ozark'
The series is wrapping up with an expanded final season.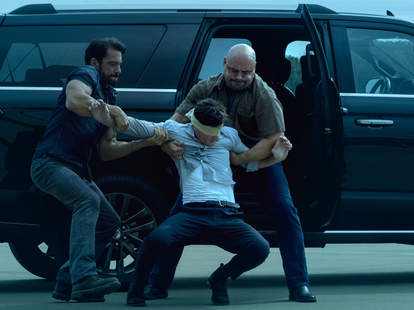 Note: Major spoilers for Netflix's Ozark up through the Season 3 finale will follow. Click away now if you don't want the show ruined for you.
There's no easy way out for the money-laundering Byrde family on Ozark. The Netflix crime thriller about a Chicago family forced to move to the Ozarks to launder money for a Mexican cartel is one of the streaming service's best originals, and the show, which stars Jason Bateman and Laura Linney, reached new heights in 2020 with its better-than-ever third season. Just last month, the show picked up nine Emmy nominations, including acting nods for Bateman and Linney.
While it took almost a year and a half for the show to follow up on its second installment, considering all of the jaw-dropping moments and that final blood-shed shot of the season, fans are already clamoring for more. With the coronavirus slowing down production, there could be a long wait. Here's everything we know about Season 4 of Ozark so far.
Is there going to be a Season 4 of Ozark?
In late June 2020, Netflix announced Ozark would be back for a fourth season, dropping another cryptic black and white video on social media. It took a second for the show to be renewed since the third season aired in spring 2020, but it was inevitable, given the series is incredibly popular, Season 3 was met with acclaim and ended with that shocking finale.
What was surprising about the renewal, though, was that this will be the final season of the series. Of course, good things can't last forever and nobody would want for the show to turn into watching the Byrdes either on the run for years or rotting away in jail. Netflix wrote that the show is "going out with a bang," though, so whatever is in store for the final chapter of Marty and Wendy's operation, you can bet it'll be good. 
Steve Deitl/Netflix
When will Season 4 of Ozark premiere? 
Right now it's hard to say when new episodes will air. Ozark doesn't necessarily follow a strict release schedule, based on the many commitments of its stars, with Season 1 debuting back in July 2017, Season 2 a little over a year later in August 2018, and Season 3 not premiering until March 2020. With that in mind, and the fact that Netflix suspended production of all of its originals amid the COVID-19 pandemic, you probably shouldn't expect to see more of the Byrdes and their nefarious associates until late 2021 at the earliest.
How many episodes will there be in Ozark Season 4?
Seasons 1-3 featured 10 installments, but this time around you'll be able to tune into even more dark, moody episodes. Along with the confirmation of a Season 4, Netflix also announced that it would expand into 14 episodes in order to wrap everything up. The final season will be broken up into two parts, similar to the approach of acclaimed series like The Sopranos, Breaking Bad, and Mad Men have taken in the past. 
Who in the cast is returning?
Since the show is based entirely around Marty and Wendy Byrde's operation and dealings, you can assume Jason Bateman and Laura Linney will be back. That also means Marty and Wendy's children, Charlotte and Jonah, played by Sofia Hublitz and Skylar Gaertner, respectively, are also givens. Outside of the Byrdes, characters like Ruth (Julia Garner) and Wyatt Langmore (Charlie Tahan), Darlene Snell (Lisa Emery), and now Omar Navarro (Felix Solis) and Special Agent Maya Miller (Jessica Frances Dukes) are all key to the plot too, so it makes sense for them to return, as well. 
Tom Pelphrey, who played Wendy's brother Ben and shook things up last season when he became aware of what his sister was up to, wil almost certainly won't be back, given that he was killed (although that hasn't stopped theorists from speculating he might still be alive because his death wasn't shown on screen). Janet McTeer, who played Helen, is also likely out, as she was shot to death in that jaw-dropping final moment, but she could conceivably return for an episode. She's absolutely dead, and Ozark definitely isn't a supernatural series so it's not like she'll be haunting Wendy -- but they have done a flashback episode before, so perhaps there could be one featuring Helen's past to offer more insight on Navarro. Of course, it's all up in the air, so right now just assume you'll be seeing the mainstays again next season.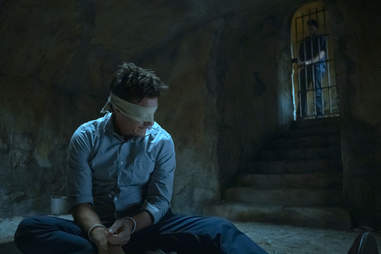 Steve Deitl/Netflix
What will Ozark Season 4 be about? 
You may remember that right after cartel leader Omar Navarro shot and killed Helen as soon as she and the Byrdes arrived at his home in Mexico, he devilishly said, "This is a beginning." So, while Wendy and Marty may never have had their teeth sunk so deep into their scheme -- Wendy working closely with Navarro and Marty trying to convince the FBI to take down Navarro's rivals -- it sounds like they're about to face a whole new set of terrors in their now very close relationship to the cartel boss.
In speaking to Entertainment Weekly, showrunner Chris Mundy explained exactly what that "beginning" is. He said, "Marty kind of said it in the speech that he gives to try and get Wendy out of bed, which is that we have to burrow all the way into the center of this thing. To us, it's that. It's, you're a vital part of this enterprise now and you're completely on his radar, to the point where he's commingling his or someone else's blood with yours, you're sharing in that. And so, for better or worse, you're completely in this game, and now it's yours to see if you have another play left in you."
He also explained that Navarro killed Helen instead of Marty and Wendy because not only did they get their casino up and running, but "... in Navarro's mind, [the Byrde's] claim that they have the FBI on their side and can swing the power of the US government in the intervention in the drug war against their rivals, that's something virtually no one else can do." So, that relationship dynamic, plus the fact that Marty has been in contact with FBI agents even against Agent Maya Miller's requests as she grows more impatient herself, will all likely percolate in the next season.
Mundy also added, "If we're lucky enough to get a Season 4, I think it will be about whether or not Ruth really can create something of her own that she wants and is sustainable, or if she wants something else. And I think it will be about if the Byrdes can they turn the biggest mistake of their lives into this huge advantage, and how much will karma catch up with them if they do?" That being said, Ruth did seem keen on forming a partnership with the Snells now that Wyatt and Darlene are (literally) in bed with one another and she's realizing that she may never feel a part of the Byrde family, so it's possible a locals vs outsider plot could unfold, too.
Regardless, it sounds like there's no backing out for anybody until this thing really reaches a head, be it with the cartel or the law enforcement.
Need help finding something to watch? Sign up here for our weekly Streamail newsletter to get streaming recommendations delivered straight to your inbox.