Nicco Annan on Finding His Identity Through 'Fame' and Vanessa Williams
The star of 'P-Valley' discusses the art that inspired him.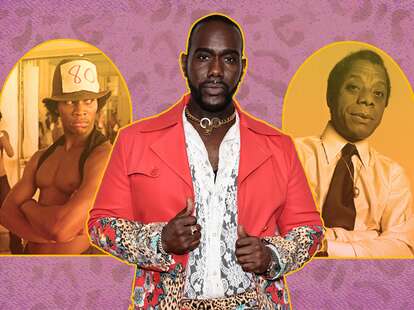 It's impossible to look away from the screen when Nicco Annan is playing Uncle Clifford on P-Valley. As the nonbinary owner of the strip club The Pynk—who this season tops his outfits with elaborate, rhinestone coated masks—Annan's performance combines his gifts for music as well as a soulful exploration of Southern queerness and longing. Annan has been playing Uncle Clifford since P-Valley was creator Katori Hall's play Pussy Valley on stage and he also appeared in her Pulitzer Prize winner The Hot Wing King. "She writes for the people of the South, the American South, the Black American South and for the LGBTQ community to amplify their voices," he says. "And it's one of the things I find it's a pleasure and an honor to work with an artist, to be able to partner with another artist that your values matter."
Annan grew up in Detroit where he was inspired by lauded high school theater educator Marilyn McCormick at Cass Technical High School. He then attended the conservatory program at SUNY Purchase before working as an actor, dancer, and choreographer. Here, he walks us through the culture that have shaped his work and his own identity.
James Baldwin and Zora Neale Hurston
Before the screen, for me, were the words on the page of James Baldwin and Zora Neale Hurston. Even in high school, I remember being aware of, " Oh. There's some Black queer people out here. What's that about?" And the fact that they were not defined by their queerness, but more so by their Blackness and their humanity. I think that because people can see your skin, they cannot see, necessarily, your identity. And I said necessarily, because we know that's not always the case, but it was for me.
Gene Anthony Ray in Fame
In Fame, the movie, the first thing, aside from it being a school of performing arts and the dancing, acting, and music, I was intrigued and really moved by the late Gene Anthony Ray. He played Leroy in the movie. And he was this Black urban kid from New York City. And he was just good at dancing at the parties, and he was not a trained dancer. But his character, and his portrayal of Leroy Johnson intrigued me so much. Because he was this Black urban boy, he was not a traditional dancer size in that he wasn't really super thin. He was extremely athletic. And I had this thing, when I was a kid, where people thought that I played football because of my size and my build. And they were like, "Oh, you should be a football player." But then, I would take tap classes, and they were like, "But you're good at tap dancing." And I was like, "Yeah. The coach of the football team is actually the tap dance teacher. So, let's get into it." So that movie, and then when it turned into a series, I just was in love with it. I watched it all the time. And it was something that gave me hope.
Israel Hicks and SUNY Purchase
So I came from Detroit straight to Purchase. The dean of the program was the late, great Israel Hicks. And he was a man, a teacher, and a mentor to me. He helped mold me as an artist. But also, I'll say this, he helped to shape my fire. And when I say that, I mean, I came this 18-year-old kid that just was sparking, I knew that I was gay. But I also knew that I was Black. I also knew that I was into classical theater. I also knew that I had a strong foundation in the drama of theater. So I was attracted to August Wilson, of course; to Lorraine Hansberry. I was attracted to international artists. I remember we did a Nigerian play called Morountodun. And my father, and my family, is from Ghana, but I had never had the opportunity to be able to connect my cultural identity with my artistic voice. And to do so in a space, as a gay man, was something that gave me an additional expansion and a level of confidence.
Vanessa Williams in Kiss of the Spider Woman
One of the shows that really got me—now, this isn't necessarily a queer thing but—Kiss of the Spider Woman. In high school, [my teacher] Marilyn McCormick brought a group of the students from Detroit to New York and we saw Kiss of the Spider Woman with Vanessa Williams. And to see her play Aurora and to see her thing, and dance, and be this goddess, yet still be poisoned, the widow spider. It was so enchanting to me. And the complexity of gay relationships or queer relationships, to me, it intrigued me. It was something that I found familiar, even at a young age. But it was the magic of all of the song and the dance, and how dance can really be incorporated. I choreograph a lot of straight plays or film that does not require music. It is what we call "psychological gesture." So being able to use the body and movement to tell our story and how we feel, I think that's a part of what our ballroom culture, in the queer community, embraces the movement. You don't always have to be a trained dancer, it's about how you can use your body to create shape to tell story.

HBO's Def Poetry Jam
When that was going, that really brought to life again, and matched again, my love for literature with the performing art. I was one of the resident choreographers at Dance Theater Workshop in Chelsea, New York. So, we were in our old queer community down there, but I lived in Brooklyn, but I was in Chelsea every day. And it was a partnership between Dance Theater Workshop and Urban Word NYC. So that show, Def Poetry Jam, really sparked a lot in me. And I was directing and choreographing a series of one person shows. So these would be a group of six people that would get the opportunity and funding to have their plays produced. Oftentimes, because we were in Chelsea, we really focus on amplifying the Black and brown, and queer space, and those stories.
Club culture and Karen Covergirl
I was from Detroit, but I spent the true adult developmental years here, in New York. A pop culture thing for me was the club and nightlife. That's where the music was. That's where the dance was. So I had three clubs that were my absolute favorites: It was Octagon, The Warehouse and Escuelita, and we call it Esco's, for short. And I remember, at Esco's, there was Karen Covergirl. She reminds me a little bit of Vanessa Williams in Kiss of the Spider Woman, now that I'm telling you this. She's no longer with us, but she was a beautiful entertainer. And I remember first seeing her at the drag shows that we had over at Escuelita. And she was a woman of a trans experience, an entertainer, and so beautiful. And she had a subtlety to her that was so powerful. And I think that is where I saw and experienced things that imprinted on me. That masculinity and femininity doesn't have to be forced down anyone's throat. It just is. So, as a gay man, you can just be you playing a non binary character who can just be.

Destiny's Child
Destiny's Child was doing college tours [when The Writing's on the Wall came out], and they had come up to Purchase during, what we called, Culture Shock. And Culture Shock was this big Spring festival that was amplifying the queer space, it was amplifying the Black Student Union and Latinos Unidos, all of our groups. I was emceeing Culture Shock that year. I remember meeting Beyoncé and Kelly and Farrah. They called me over and were like, "Come on, Nicco, we need you to pray with us." And so, we prayed together. So to see their ascension as a group and of course, as individual women, it really was like, "Oh, you've been on the trajectory your whole life. And you didn't really know." I just say to all of the people like, "Let's just keep living. Let's just keep doing what we do, being who we are because, as that album says, the writing is on the wall."