'Parasite' Winning Big Won't Fix the Oscars, But There's Reason to Be Hopeful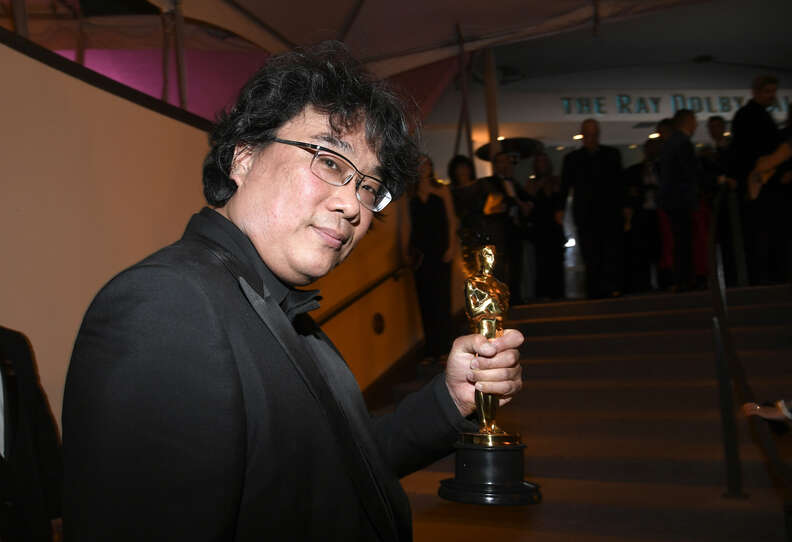 It's easy to be pessimistic when it comes to the Oscars. The Academy of Motion Picture Arts and Sciences hasn't given audiences many reasons to think differently. It's an organization that perpetually struggles to nominate a diverse slate of movies, that has given only one woman the Best Director award in nearly a century of handing out trophies, and confounds expectations with a Moonlight win one year and a Green Book the next.
But the 2020 Oscars gave us a thrilling, history-making event when Parasite was announced the winner for Best Picture. By the time Jane Fonda read that director Bong Joon Ho's film had won, making it the first film not in the English language to get that prize, it wasn't as surprising as it might have been, had the night not already felt like Parasite's. Its remarkable evening began when Bong and his co-writer Han Jin Won won for Best Original Screenplay. It continued when the movie was awarded International Feature Film, though that was expected. But by the time Bong won Best Director, giving an outwardly emotional speech given, in part, directly to fellow nominee Martin Scorsese, a Best Picture win was beginning to look hopeful. Still, my gut told me not to get too excited.
My gut was, thankfully, wrong. The moment of Parasite's win was greeted with such fervor in the room that when the production tried to cut the lights on Bong's team, the likes of Charlize Theron and Tom Hanks gestured vigorously for the powers that be to let the speeches continue.
Heading into the Oscars, it looked like 1917 was the safe choice. Best Director front-runner Sam Mendes' World War I drama was a piece of flashy filmmaking that had collected a bunch of precursor trophies. No one was really euphoric about it, but no one hated it either. It seemed like just the kind of middlebrow art that the Academy has gravitated toward over the years. But it took home a mere two trophies.
Parasite's success is astounding on multiple levels, even beyond the piece of trivia that's being passed around most frequently with regards to its Best Picture win. Not only is it the first South Korean film to ever win the International category (formerly Best Foreign Language Film), it is the first to ever be nominated. And beyond that Parasite is not the type of story that the Oscars often gravitate towards. It's no trite feel-good narrative of triumph over hardship. It's a brutally anti-capitalist statement with an ambiguous ending that doesn't strictly adhere to any one genre.
Just as it is easy to be a downer about the Oscars, it would be similarly easy to herald this as a new age for the ceremony -- one that celebrates films that challenge existing social structures from outside Hollywood's myopic bubble. But Parasite does not fix the Oscars. That the members of the Academy loved this movie so much, yet failed to nominate any of its actors is proof of that. The International Feature category, even with the renaming, is fraught and limiting. There's no guarantee another movie of Parasite's caliber will emerge victorious next year.
But there is still reason to be extremely hopeful about what Parasite's win means for the industry at large. Studios and distributors now have more reason to take chances on titles from outside of the U.S. where previously language might have been considered a barrier to entry for audiences. And, hey, I'm taking it as a positive that the people in the Dolby Theatre, dripping with jewels, are willing to celebrate a movie that takes issue with the bubble of extreme wealth many of them occupy.
So for now, we're celebrating. Probably not as hard as Bong, who made it clear throughout the night that he needed a drink. He deserves all the drinks and more.
Need help finding something to watch? Sign up here for our weekly Streamail newsletter to get streaming recommendations delivered straight to your inbox.