In Defense of Paris Hilton's Only Album, 10 Years Later
A lot happened in 2006. Pirates of the Caribbean: Dead Man's Chest was the biggest movie of the year. Daniel Powter's "Bad Day" was the biggest song in the world. *NSYNC's Lance Bass came out. Twitter was born; Facebook went public.
And Paris Hilton released her first and only full-length album 10 years ago today, on August 22nd -- the aptly titled Paris.
The move to music was a logical one for the hotel heiress -- at that point in time, Hilton had half a decade of modeling under her belt, a few indie-film spots (Nine Lives, House of Wax), countless fragrances, and two autobiographies (Confessions of an Heiress: A Tongue-in-Chic Peek Behind the Pose, Your Heiress Diary: Confess It All to Me). She turned the role of the modern-day socialite into the ultimate celebrity, pioneering a form of success that her detractors would sum up pejoratively as "famous for being famous."
In 2003, Paris' popularity was solidified in the FOX celebreality series The Simple Life, where she, alongside fellow socialite and then-BFF Nicole Richie, stayed with working-class families across the US and took on low-paying jobs. (Remember when Paris asked if Walmart was a place that sold "wall stuff"?) It became the stuff of '00s pop-culture legends before getting canceled in 2005, which freed up Hilton to achieve triple-threat status: after modeling and acting, now it was time to get behind the mic.
The world's introduction to Paris Hilton, Pop Star happened on June 5th, 2006, when she released her album's tropical lead single (and her first ever), "Stars Are Blind." The song was something completely unexpected from Hilton -- top pop divas of the time were focusing their attention on R&B-tinged tunes (JoJo's "Too Little Too Late" and Pussycat Dolls' "Stickwitu" topped the charts) or operating from a place of pop-punk-affected angst (Kelly Clarkson's "Because of You,"P!nk's "Stupid Girls"). Coming out of the gate with a Caribbean-influenced track, one with the same chord progression as the 1970 reggae song "Kingston Town" by English group UB40, was a surprising move for Hilton.
Perhaps even more unexpected was the lyrical content of the song. Paris played queen of the party girls in her tabloid persona; here, she was vulnerable, raw, relationship-seeking. She kicks off the chorus:
Even though the gods are crazy
Even though the stars are blind
If you show me real love, baby,
I'll show you mine
Intimacy goes beyond carnal craving for the rest of the song, though it's not ignored in lines like, "I can make it nice and naughty / Be the devil and angel, too / Got a heart and soul and body." Paris is critical of these desires, hinting at being fooled in the past: "Some people never get beyond their stupid pride / But you can see the real me inside."
Hilton breathes her way through the song, delivering the lyrics with a lackadaisical sex-kitten vocal performance -- one directly echoing the baby-talk voice she used while acting on The Simple Life, the "that's hot" inflections that made her famous. In 2006, critics saw it as a tactic to hide the fact that Paris couldn't actually sing instead of what it actually was: acting on behalf of her brand on every level to keep the sound alive. Funny enough, the breathy quality of "Stars Are Blind" and most of Paris as a whole influenced future records from Lana Del Rey and her ilk. The music video, too, feels like Tumblr culture a decade early -- it's shot entirely in black and white and in slow motion, as if Paris is posing for GIFs.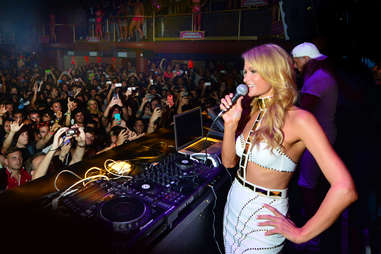 "Turn It Up," the album's opener, was its second single. The first sound we hear from Paris is a few moans, then, "That's hot." She transitions to talk-rapping in a manner that would make "Toxic"-era Britney Spears proud. The song was the brainchild of legendary hip-hop producer Scott Storch, and it went on to break the top 10 on Billboard's Hot Dance Club charts.
Paris' third single, "Nothing in This World," differs completely from the prior two: it's a pop-rock song through and through, featuring vocals from a then-unknown Kesha (the track was produced by Kesha's longtime collaborator and alleged abuser, Dr. Luke). Of the singles, it's the most vocally strenuous, with Hilton succeeding at Hilary Duff levels of sonic sweetness.
The rest of Paris teeters around the genre-play of the singles -- it's very much a pop record, but Hilton tries her hand at R&B, reggae, pop, rock, and even country (the Alanis Morissette-channeling "Not Leaving Without You" is a riot.) It ends with her covering Rod Stewart's "Do Ya Think I'm Sexy?" in a way only Paris Hilton could.
The most hidden of the release's hidden gems, though, has to be "Screwed." On this track, Hilton sings about a romantic dilemma she hopefully has never experienced: the bouncy tune is written from the perspective of someone whose significant other cheats on her, and she inexplicably wants him back… while acknowledging it's a problem and she's "screwed." Ironically enough, the song was intended for Hilary Duff's older sister, Haylie, to jump-start her music career, but Paris' version leaked first. Guess we all know who's screwed.
Critically, Paris received mixed reviews -- Billboard and Entertainment Weekly championed the release, while E! and NME slammed it. In retrospect, it feels like a forgotten LP (with the exception of "Stars Are Blind," which broke the top 10 in 2006 and is burned into the greater cultural consciousness). The dynamism of the release made it polarizing -- is this a good album? Or is it all over the place? Many couldn't get over the fact that Paris Hilton was making music and never really gave her a fair chance in the beginning, as if she bought her way into pop stardom.
Any way you slice it, Paris is still a great pop album -- a well-written one, and one that serves to define just how strange and exciting 2006 was. Ten years later, Paris nostalgia might be bubbling under the surface, to which we say: give us a new LP, Hilton!
Sign up here for our daily Thrillist email, and get your fix of the best in food/drink/fun.
Maria Sherman is a music and culture writer living in Philadelphia. Paris Hilton's her new BFF. Find her on Twitter @mariasherm.