Paula Pell Came of Age with Kate Bush and Orlando Porn Stores
The 'Girls5eva' star and former 'Saturday Night Live' writer discusses the cultural touchstones that influenced her queerness.
Design by Maggie Rossetti for Thrillist
Paula Pell didn't come out in one fell swoop. Like many queer folks, especially ones born in Florida, she did it in fits and starts, sometimes telling the people in her immediate orbit and other times shoving that aspect of her life to the back burner. Pell was hired as a writer at Saturday Night Live in 1995—she's responsible for Debbie Downer and the Spartan cheerleaders, among other classic sketches—but didn't acknowledge her sexuality in Rockefeller Plaza's storied halls until 2001. After that, there was, more or less, no going back. She has since married and become one of today's most recognizable lesbian comedians, with memorable roles in Girls5eva, A.P. Bio, the Amy Poehler-directed movie Wine Country, and 30 Rock.
Thrillist asked the 59-year-old Pell to tell us about the queer cultural touchstones that influenced her coming-out journey and ongoing sensibilities.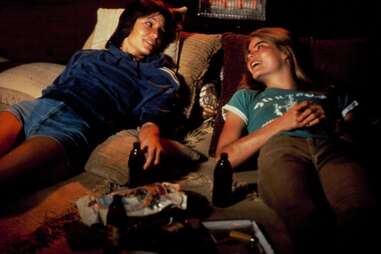 Personal Best
My wife and I have a little studio that we made it into a little gym. I had purchased, a while ago, original posters from Personal Best, and I just got them framed and we were laughing because we're like, "This is going to be the gayest workout room." One of them is just Mariel Hemingway—really cool, sweaty—and the other one is [Patrice Donnelly], who's her love interest in it, and they're both kind of sexy-fighting and she's got a wet T-shirt on. It's so much more filthy-looking than I had remembered.
That movie was so pivotal to me. I was going into my first relationship, which remained secret for many years—like all through college and many years after that. I watched it recently and I really remembered how much it connected with me because it was actually an ordinary story. The relationship itself was so normal in that movie in terms of just two people that are trying to be in the Olympics and they can't get enough of each other. And then they realize, Oh, we're laying here talking with our legs entwined. That's how my first relationship happened, too—a really close friend. It was kind of the movie I watched again and again, but it's also not acting like it's such a big, massive thing. I just hated the end because she's with this guy who you don't even think they have that much of a connection. I guess that's the way all the old white men that were producing movies then had to do it.
'Fake' lesbian porn
We, of course, didn't have the internet, so my friends and I would go to this adult superstore in Orlando when I was growing up. I remember watching lesbian porn, per se. Most of it was fake. I even wrote an SNL sketch one time about it, which we never did because I think it was impossible because it was too risqué. [The porn] was all these ladies with super long nails, and they'd just be like [makes grunting noises]. And you're like, "Are they even touching each other? They're like a foot away from each other. Who's touching?" When I would rent, at the time, the "authentic" lesbian movies, nothing would happen in them. I remember watching and being like, "Ugh, just put something in something—anything! Lay on top of each other and roll!" It was just not good porn.
I got a VHS of one of very few that I actually liked that seems real. I can't remember the name of it. I was making zero money at the time. I walked up to the counter, and the guy was like, "$189." And I'm like, "Sorry?" They were used videotapes, and that's how few and far between of what they had. It's going to be a premium price, even though it's secondhand. I was crying laughing when we left because I had this fucking checkbook and I'm writing with a shaky hand. It was too late for me to go, "Oh, well, then forget it, I don't want it."
Kate Bush and other female singer-songwriters
I had a very full gay-bar life of going out, dancing constantly. It's probably why it took me five years to graduate from college. It was the early- to mid-'80s, and I had an asymmetrical bob and wore all vintage clothes. We were really into Kate Bush, really into Chaka Khan, a lot of club music of that era, like Sylvester. And then I was deeply, always immersed in the singer-songwriter world of Joni Mitchell, Melissa Etheridge, Indigo Girls, all those. I loved Shawn Colvin, Emmylou Harris. I always call it bubble-coming-out-of-your-mouth heartbreak songs.
Rosie O'Donnell adopting kids
In the early '80s, I had a big heartbreak—the early love of my life. I've called it "going down Penis Avenue," but for a short amount of time, I thought that maybe I wanted to have kids [and] maybe I'm open to all genders. There was no model for a queer woman having children, ever, unless she had kids, divorced, came out, admitted she's gay, and then had her children still. But there was no starting from scratch with kids, because you couldn't adopt. And then when I looked back on it, I remember thinking how Rosie was adopting kids and then having kids, and I was just like, "Man, that just wasn't there when I was going through that period."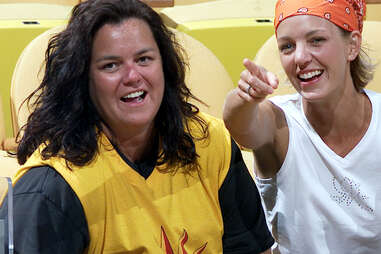 WNBA games
My first wife and I had WNBA season tickets in New York in the '90s. We would go to those games constantly, and it used to drive me crazy—I think it's changed a lot—because back in the day, when they were trying to get it going, they made it all about kids. At the halftime, they'd have kids' games. And at that time, there weren't as many queer women that had kids, so they were all sitting there like, "I guess I'll go get some popcorn. I don't want to really see two 5-year-olds chase each other for a piece of candy."
I may have even told Rosie O'Donnell this one time when I was working with her: I had a really funny thing happen one night. Rosie always sat a couple rows in front of us because we always had the same seats. I didn't know her at the time. And Joan Jett sat off to the side of us. One night, the game was Breast Health Awareness Night, and Rosie was sitting in front of me. Then I got an emergency call that someone found a 30-pound cat on the Upper West Side and was asking me, "Can I bring it over to your house?" It was going to have kittens. My friend James Anderson was like, "That's the most lesbian night I've ever heard in my entire life." I ran home right after the game. I'm in tears because I think I'm going to deliver this giant cat's kittens, and the kittens that were coming out were two testicles because it was a big male cat.
Co-writing the Homocil sketch for SNL
I wasn't open for quite a long time. The SNL commercial Homocil that my best friend James Anderson wrote [in 2001], I helped with a little of it and I worked on it later with him when he shot it. We would go to all these meetings, and they were truly concerned that it was going to be offensive. At that time, people feared that they're being offensive by just doing gay content. With Homocil, the whole joke of it was that it's a very pro-gay thing. It was the early years of Prozac and all those commercials for antidepressants with people staring out a window. It's Will Ferrell staring out, and it's like, "Do you feel anxious? Depressed?" And then you see that his kid definitely is gay and that he's watching and kind of like, "What the fuck?" And it's like, "You take a pill because it's not their problem—it's yours." It was like the most queer-positive thing ever.
It was what every kid wants to say to their family members: "I hope you find help with your heart palpitations because you're screaming at me." They were truly, genuinely trying to figure out, is this a positive? And I just finally, in a meeting—this was years after I had been there—was like, "Well, I'm gay, and I'm telling you right now that this is absolutely the most queer-friendly thing you have ever shown." And then, of course, the next year GLAAD was playing it at their ceremony.
I didn't have any relationships for a long time in those first few years of SNL. I just was just so enmeshed in that world and my job, and I just was fearful because I had had heartbreak before. Nobody could really figure me out anyway, so that was the break at work where people started very quietly telling each other, "Did you know that Paula Pell is a lesbian?" People would come up and go, "By the way, I didn't know that and that's great."
Matthew Jacobs is an entertainment editor at Thrillist. Follow him on Twitter @tarantallegra.