Where Have I Seen All These 'Peaky Blinders' Actors Before?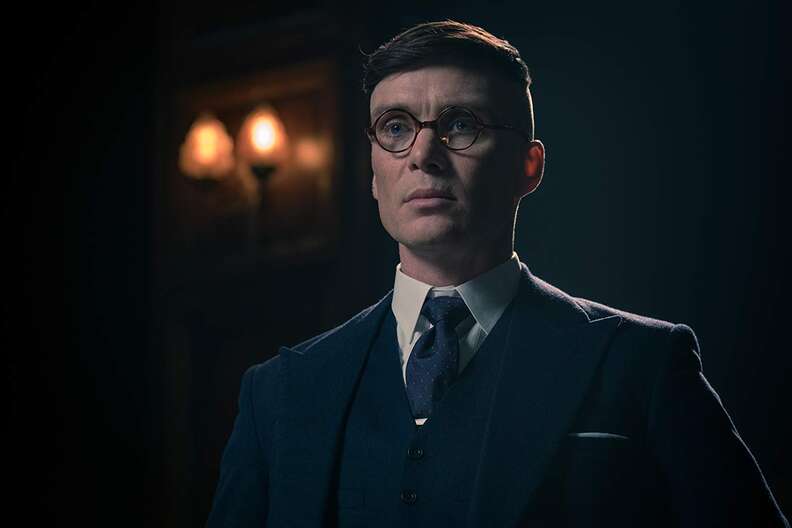 Cillian Murphy as Tommy Shelby

| BBC
Cillian Murphy as Tommy Shelby

| BBC
Peaky Blinders, the well-wrought BBC and Netflix production about a family of gangsters in interwar England, is a veritable who's-who of talent from across the pond. Cillian Murphy, whom you probably know best as Scarecrow from the Dark Knight trilogy or as the star of Danny Boyle's 28 Days Later and Sunshine, heads a clan that includes a Malfoy matriarch and one of the bad guys from The Revenant. As for each season's guest stars and recurring characters? Like all other shows with loads of British actors, they're either people you know from Harry Potter or Game of Thrones -- unless they're Tom Hardy.
The show's fifth season adds even more new and recognizable faces to the mix, so we've compiled a list of all the Peakies you might see and wonder, "I know that guy... but from where??"
More: Here's what to remember before you fire up Peaky Blinders Season 5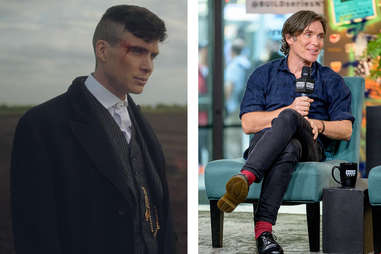 Cillian Murphy
Peaky Blinders character: Tommy Shelby, the ambitious, ruthless head of the Peaky Blinders gang and also, in Season 5, an elected Member of Parliament
Where you've seen him before: Cillian Murphy is an extremely accomplished Irish actor with extremely sharp cheekbones. Tommy is his first lead role in a while, but you probably know him best as the fast-talking Scarecrow from Batman Begins -- who also shows up for a couple scenes in The Dark Knight and The Dark Knight Rises. He also starred in zombie horror 28 Days Later, Danny Boyle's Sunshine, and played the rich failson in Inception.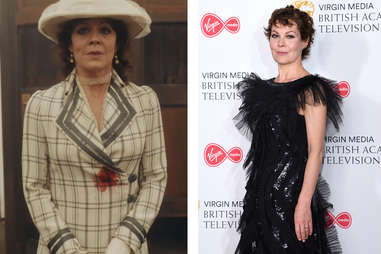 Helen McCrory
Peaky Blinders character: Polly Gray (NOT Shelby, thank you very much), the family matriarch and mother to Michael
Where you've seen her before: McCrory played another recognizable head of another well-known English family: Narcissa Malfoy in the Harry Potter movies. You might also recognize her as party medium and literal witch Evelyn Poole, a.k.a. Madame Kali, from the Netflix series Penny Dreadful. She is also married to Billions actor Damian Lewis.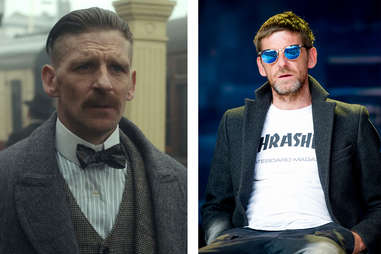 Paul Anderson
Peaky Blinders character: Arthur "Shalom, Ahfur!" Shelby, the heavily accented older brother and brutal right-hand man of Thomas
Where you've seen him before: Arthur Shelby is Paul Anderson's first major role in a big series, but you've seen him in smaller parts before. He played Colonel Sebastian Moran in Sherlock Holmes: A Game of Shadows, appeared in the Drake fave Top Boy (now on Netflix!), and was one of the bad dudes trying to kill Tom Hardy in The Revenant.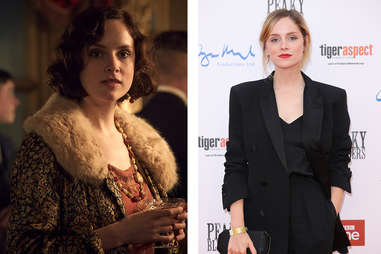 Sophie Rundle
Peaky Blinders character: Ada Shelby, the youngest Shelby sibling and the one least involved with the family business
Where you've seen her before: Sophie Rundle is having a good 2019: she's returning for her fifth season as a regular on Peaky Blinders after having co-starred in the delightfully gay HBO series Gentleman Jack. She also played the estranged wife of Richard Madden's character on Bodyguard, and Lucy on The Bletchley Circle, about a group of women who worked in Bletchley Park, where the WWII "enigma machine" was decoded.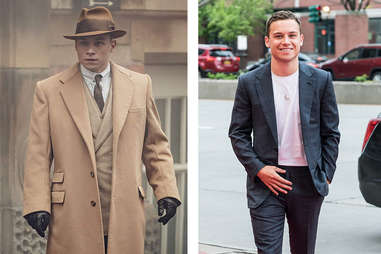 Finn Cole
Peaky Blinders character: Michael Gray, the son of Polly and cousin to the Shelby siblings, who returns with his new wife following a few years in America
Where you've seen him before: Just 23 going into Season 5, Cole doesn't have as varied a filmography as some of his Peaky co-stars, but he has been playing Joshua 'J' Cody on TNT's Animal Kingdom for the past few years. He's also in the Margot Robbie movie Dreamland, which comes out later this year. He's also slated to appear in Fast & Furious 9 next year.
Kate Phillips
Peaky Blinders character: Linda Shelby, Arthur's understandably perturbed wife
Where you've seen her before: Kate Phillips has been making the rounds of all the British prestige TV out there: starting with Wolf Hall, the miniseries based on the rise of Thomas Cromwell where she played Jane Seymour, and then Lise Bolkonskaya in the War and Peace miniseries, Venetia Scott in The Crown, and she even played Princess Mary in the Downton Abbey movie.
Natasha O'Keeffe
Peaky Blinders character: Lizzie Stark, a former prostitute who's now Tommy's wife and the mother of his young son
Where you've seen her before: You may know O'Keeffe as Abbey Smith from the later seasons of Misfits, Emelia Ricoletti from an episode of the BBC's Sherlock, or as the homicidal sociopath Fedora from the Jekyll and Hyde miniseries.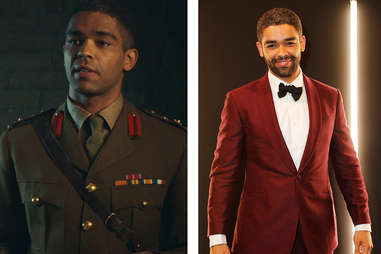 Kingsley Ben-Adir
Peaky Blinders character: Col. Ben Younger, the army intelligence officer who arrests Ada in Season 4
Where you've seen him before: Most recently, you've probably seen Kingsley Ben-Adir as small-time detective Karim Washington on The OA Season 2. He's also had one-episode roles in British series Midsomer Murders and Marple, and played a character named "Wet Stick" in King Arthur: Legend of the Sword, bless him.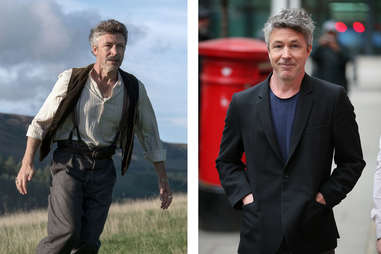 Aidan Gillen
Peaky Blinders character: Aberama Gold, the resourceful Romany Gypsy assassin who helps the Shelbys out with their Season 4 problem (a.k.a. Adrian Brody's Luca Changretta)
Where you've seen him before: If you're here, then you probably know Aidan Gillen as that dude from that weird little HBO fantasy show... what was it called? Oh, right. The Irish actor played professional schemer and no-gooder Petyr Baelish, a.k.a. Littlefinger, on Game of Thrones for seven seasons. He also memorably played ambitious Baltimore politician Tommy Carcetti on The Wire. Other credits include that yelling dude on the plane at the beginning of The Dark Knight Rises, as well as the yelling dude in Maze Runner: The Scorch Trials (you know, the guy who says, "WELCOME TO THE SCORCH!"). He is also the star of History's UFO-investigation drama Project Blue Book.
Sam Claflin
Peaky Blinders character: Oswald Mosley, a politician with very strong views
Where you've seen him before: You've probably seen Claflin as the hot surfer dude of the final three Hunger Games movies, Finnick Odair. More recently, he was the love interest opposite Emilia Clarke in Me Before You, and the evil, evil, evil colonizer Hawkins in Jennifer Kent's The Nightingale.
Anya Taylor-Joy
Peaky Blinders character: Gina Gray, Michael Gray's new wife, a very "ugh, over it" young American
Where you've seen her before: The world met Anya Taylor-Joy when she charmed and horrified us all as the star of Robert Eggers' Puritan horror movie The Witch. She's also appeared in M. Night Shyamalan's Split and Glass, and voiced one of the little Gelflings in Netflix's Dark Crystal series. She'll also play superhero Magik in X-Men spinoff The New Mutants... whenever that finally comes out.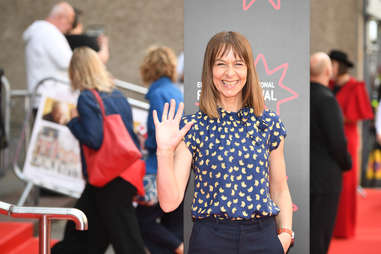 Kate Dickie
Peaky Blinders character: Mother Superior, the head of an abbey funded in Grace Shelby's name
Where you've seen them before: If you recognize Kate Dickie but just can't put a finger on where you've seen her, you probably know her as everyone's least favorite auntie Lysa Arryn in Game of Thrones. Like Taylor-Joy, she also had a part in The Witch and even played a tiny, blink-and-you-miss-it role as a First Order monitor in Star Wars: The Last Jedi.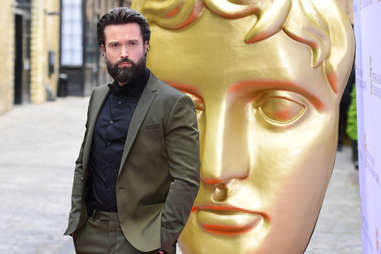 Emmett J. Scanlan
Peaky Blinders character: Billy Grade, a professional footballer who's now a singer
Where you've seen them before: Emmett J Scanlan is truly one of those guys with those faces that stick in your mind. You might know him as one of the riot guards in the space prison in Guardians of the Galaxy, or you may have seen him as Glen Martin from The Fall. Recently, he's been Lobo in the Syfy series Krypton and also has a part in USA Network's Bourne movie spinoff series, Treadstone.