Everything We Know About 'Peaky Blinders' Season 6
What's next for Britain's favorite crime family?
The most recent installment of the Netflix-by-way-of-the-BBC drama Peaky Blinders wrapped up its fifth season with a cliffhanger finale that left more questions unanswered than resolved. Between failed schemes, surprising survivals, and shocking returns, the last episode of Season 5 threw things into chaos for Tommy Shelby and the rest of his old-fashioned razor gang. With production on the sixth and final season currently underway, it'll be a while before we get to see more of Peaky Blinders, but for now, here's everything we know about the upcoming season.
When will Peaky Blinders Season 6 premiere?
With the pandemic quarantine in place for nearly all of 2020, Peaky wasn't able to start production in early 2020 as they'd hoped. But you can't keep a good gangster down, and after a year of doldrums, the show is officially back in production as of January 2021, with Cillian Murphy himself spotted sporting his characteristic dark coat and hat amid the smoke-filled streets of Manchester.
In March 2020, director Anthony Byrne posted a moody photo on Instagram with the caption, "We were so close to the start of filming Season 6. Months of hard work by our very talented, dedicated and hardworking crew. Sets were built, costumes were made. Cameras and lenses tested. Locations were booked. All the prep was done. It's a real shame not to be able to make it for you at this time." He also thanked his cast and crew members and assured us they would start again as soon as they were able.
Per Digital Spy, during quarantine Byrne had gone live to answer fan questions on Instagram and share updates on the status of the show. He also shared a letter to the fans from star Cillian Murphy, in which he sent us his love, and said that his character Tommy Shelby would probably be "busy writing Volume 1 of his memoirs, 'Tommy Shelby the Pre-War Years'" in quarantine. "That's something I would definitely like to read. And I think by now he's definitely cutting his own hair with his hat while smoking a cigarette."
Given all this, it's likely that we won't be seeing a hint of Season 6 until late 2021, if not later.
Is Season 6 the last season?
Yes and no. The bad news is that, on January 18, when the BBC confirmed that Season 6 had just started production, they also confirmed that it would be the last. It's likely that the year's delay caused by the pandemic shutdown accelerated the network's plans to end the show with the next season. The good news is that the show's creator, Steven Knight, said that Peaky Blinders would indeed live on "in another form."
Deadline reported in 2018 that there were talks with the BBC about a potential Season 7, and Knight has previously stated that he was aiming for seven seasons. "My ambition is to make it a story of a family between two wars, so always I've wanted to end it with the first air raid siren in Birmingham in 1939," Knight said at the 2018 BAFTA TV Awards, per Digital Spy. "It'll take three more series [to reach that point]." Given Knight's intentions and the series' success, could there be a conclusive movie in the works? Or maybe the BBC will relent and give the Shelby family one more round after Season 6, to end it the way they always wanted.
How many episodes will be in Season 6?
Barring any major changes, we can expect Season 6 to have six episodes like other seasons of the show.
One of the things we do know for sure is that the premiere episode of the season will be titled "Black Day," thanks to a preproduction Instagram post from director Byrne. Sounds ominous.
Who's directing this season?
While Peaky Blinders has traditionally switched directors from season to season, this time Season 5 director Anthony Byrne is sticking around to direct Season 6 as well. "I really had to think about it because it's a massive commitment to make, but it felt like this series is part one of two," Byrne told GQ. "I think previous series had very definite endings, whereas I think this series doesn't end that way. So I felt more and more that I wanted to come back and finish this."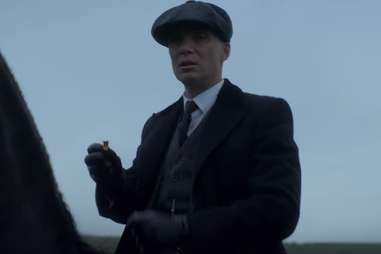 Who's returning for Season 6?
Despite that Season 5 ending, Cillian Murphy is—shocker—confirmed to return as Tommy Shelby. Barring some dramatic twist, the rest of the Shelby family should return as well. That includes Paul Anderson as Arthur Shelby, Sophie Rundle as Ada Thorne, Finn Cole as Michael Gray, Harry Kirton as Finn Shelby, and Natasha O'Keeffe as Lizzie Stark. We can also reasonably expect Packy Lee to return as Johnny Doggs, Jordan Bolger as Isaiah Jesus, and Charlie Murphy as Jessie Eden.
We'll also likely be seeing more of Sam Claflin's Oswald Mosley. Per Digital Spy and speaking to BBC Sounds' Obsessed with Peaky Blinders podcast, director Anthony Byrne said that Mosley and certain "people in his world" will be a part of Season 6 in addition to Anya Taylor-Joy's Gina Gray and her family. In that vein, we'll probably see Brian Gleeson reprise his role as Jimmy McCavern. And after his surprise return in Season 5, it's also possible that we'll see more of Tom Hardy as Alfie Solomons in Season 6 as well.
Kate Phillips' return as Linda Shelby is a bit of a toss-up. Linda threatened to kill Arthur and ended up getting shot as a result, and while she survived, her reappearance is uncertain. Speaking to Digital Spy, Phillips said, "I'd like to think [Linda's] going to be around and maybe there might be some reconciliation, but also you know her fury is pretty palpable by the end of episode five... It does beg the question—how do you come back from trying to kill your husband?"
In some really sad news, we learned that Helen McCrory, who played the inimitable Shelby family matriarch Polly Gray on the show for five seasons, died of cancer in late April 2021. There's no news yet how the show plans to address this loss in its next season.
As far as new cast members go, Amber Anderson (whom you may remember from Black Mirror's "The Waldo Moment") has been cast as an unknown character, probably a mysterious English socialite if the photo on her Instagram is any clue. Black Mirror's Conrad Khan has also been cast in an unknown role. Knight has also confirmed that Stephen Graham will be appearing in this season—he won't say who Graham is playing, but has said it's definitely not Al Capone.
Speaking of famous bad guys, there's a pretty powerful fan rumor going around that Rowan Atkinson (of Mr. Bean and Johnny English fame) will be playing Hitler, who is a known buddy of Oswald Mosley. The creators haven't confirmed anything like that, though. A number of bona fide celebs have also expressed interest in guesting on the show, from Brad Pitt to Snoop Dogg, A$AP Rocky, and Samuel L. Jackson, all of which Knight has said he'd be delighted to have on. (The role of Tommy originally almost went to Jason Statham.) Will Sam Jackson show up in 1930s Birmingham to call Tommy Shelby a motherfucker? We can only hope.
What's the plot of Peaky Blinders Season 6?
The Season 5 finale was a bit of a doozy. Tommy had an entire scheme to take out his political rival, Oswald Mosley, a British fascist who did, in fact, exist in real life. Tommy broke out Barney, an expert sniper and old war buddy, in order to kill Mosley during a political rally. Of course, it backfired, ending with Shelby ally Aberama Gold dead and Tommy putting a gun to his head at the end of the episode. Mosley, however, is still very much alive, leaving further unresolved threads that will surely carry over into next season.
The biggest question at hand, however, is who betrayed Tommy and caused his plan to fail (we have some thoughts). Of course, Season 6 must also further grapple with Tommy's suicidal ideation—we're assuming that he doesn't die after Season 5, given that actor Cillian Murphy has been spotted on set (a telltale sign that an actor will continue to star in a show).
Past that, we also know that Season 6 will delve more into Gina's influential American family as well as people from Oswald Mosley's social circle. That being said, we won't be seeing much of the American mob. "I think it's a bit of a minefield, because it's been done a lot," series creator Steven Knight told Digital Spy. Knight has no intentions to touch the likes of Al Capone at any point in Peaky Blinders' future.
The new season will take us up to 1934, where "things are worse," Knight told NME. "The drum beat is getting louder, tensions are worse and Tommy is right in the middle of all that. Again, it will be an exploration of what was going on in the '30s and how certain things transpired." We can expect Season 6 to be just as firmly mired in the politics of the time as Season 5, and according to Knight, "it is a tragedy."