Pee-wee Is Surprisingly *Not* Creepy in His New Netflix Movie
Pee-wee's Big Holiday, now on Netflix, is like snacking on a bag of assorted candies without realizing -- whoops! -- you just inhaled 50 times your daily sugar requirement. The jokes are sweet, the adventure's airy, and you could definitely be consuming healthier entertainment. Whatever. Sometimes you want -- no, need -- to watch a manchild ride a balloon chair to a miniature convertible, which he drives through a neighbor's kitchen to get to work. Everything in small doses.
And Big Holiday doesn't overreach. The movie marks the return of actor Paul Reubens's gleeful alter ego, who appeared in two feature films (1985's Pee-wee's Big Adventure and 1988's Big Top Pee-wee) and was last seen onscreen in 1990's Pee-wee's Playhouse. After reviving the character in 2010 for The Pee-wee Herman Stage Show, Reubens, writer Paul Rust (co-star of Netflix's Love), and producer Judd Apatow set out to stage a fresh, whimsical Pee-wee road trip. Big Holiday maintains the eccentricity and strolling pace of Tim Burton's Big Adventure while bringing the character into the 21st century with Adult Swim-like surreality. And, importantly, this movie does everything it can to make Pee-wee timeless. Because the last thing anyone streaming it needs to do is consider the actor's recent activity in the real world.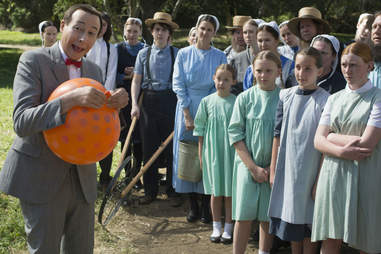 Netflix
Audiences hold grudges, especially when someone fucks with their childhoods. On July 25, 1991, Reubens was a beloved figured. Playhouse had recently wrapped, and reruns were more popular than ever. On July 26, 1991, Sarasota, Florida, police arrested Reubens for public indecency after catching him masturbating in an adult movie theater. CBS immediately yanked Playhouse off the air, Toys 'R Us took Pee-wee toys off the shelves, and Reubens begged the world for some mercy in repeated statements and through community service. Pee-wee's reputation was forever tarnished. If you were a kid hanging in a schoolyard in the '90s, you heard Pee-wee jerk-off jokes. If you talk to anyone in their 20s today, they'll tell you Pee-wee's a little creepy. A messy child pornography charge in the early 2000s and a confused investigation of vintage erotica that was later dropped (but still landed Reubens on a sex offender list) cemented his new place in the media's eye.
The incidents haunt Pee-wee. There's no shaking that. When you see Reubens splashed across Netflix's landing page, back in his gray suit and red bow tie, his grizzly mug shot crosses your mind. But a few minutes into Big Holiday, the character's beaming demeanor casts a blinding light over history. Apatow and Reubens took precautions; the movie exists in a parallel universe that never grew out of the 1950s suburban mold, creating a confectionary cocoon of kitsch, and 2016 Pee-wee only looks a week older than 1985 Pee-wee, like an old comic strip character suddenly came back to life (beware: the technological explanation, while interesting, will diminish the anti-creep tactic). His actual adventure defies summation; there are bank robbers, old-timey pilots, aliens, busty farm girls who want nothing more than to wed our hero, and actor Joe Manganiello, who encourages Pee-wee to pull the ripcord on the quaint life. Cue a rousing, Pee-wee-ified rendition of "New York, New York." How it ties together is the characters' magic.
Pee-wee's clownery arrives at a time when most people suffer from a mild case of coulrophobia. Someone who smiles that much, fights tooth and nail for true friendship, and can play baroque minuets on a deflating balloon is a colossal weirdo. Big Holiday overcomes natural distrust and Reubens's own baggage. It's a silly movie that hits and misses. It's a simple movie that makes perfect sense for Netflix's relaxed platform. What it's not is creepy. Pee-Wee returned pure. A snake will make him wail like a dog whistle, a sticky situation will summon a devil on his shoulder, and a root beer barrel will send him into pure ecstasy, but that's him. He made it. Reubens made it. Pee-wee's Big Holiday is good on its own merits, but there's exhilaration to the triumph.
Sign up here for our daily Thrillist email, and get your fix of the best in food/drink/fun.
Matt Patches is Thrillist's Entertainment Editor. He previously wrote for Grantland, Esquire.com, Vulture, The Hollywood Reporter, and The Guardian. He misses Chairy. Find him on Twitter @misterpatches.