Everything You Need to Know About the Actor Who Plays the Clown in 'IT'
New Line Cinema/Albert L. Ortega/Getty Images
There's no way to be fully prepared for your first viewing of IT, the new terrifying version of Stephen King's classic horror novel. Even if you've seen the creepy trailer, followed all the clown and balloon related stories on social media, and read reviews of director Andy Muschietti's adaptation, there will still be parts of the movie that surprise you. The key is to remember it's only a movie. And that freaky clown? He's played by a Hollywood actor, not the actual embodiment of evil itself.
In fact, to quell your anxieties -- or simply brush up on some trivia after the movie -- it's a good idea to get to know the non-circus-performing actor bringing Pennywise, the dancing clown that terrorizes the children of Derry, Maine, to grisly life. Armed with knowledge about the performer hidden beneath all that white makeup, you'll be prepared to do battle with the movie that's scaring the crap out of horror fans across the country.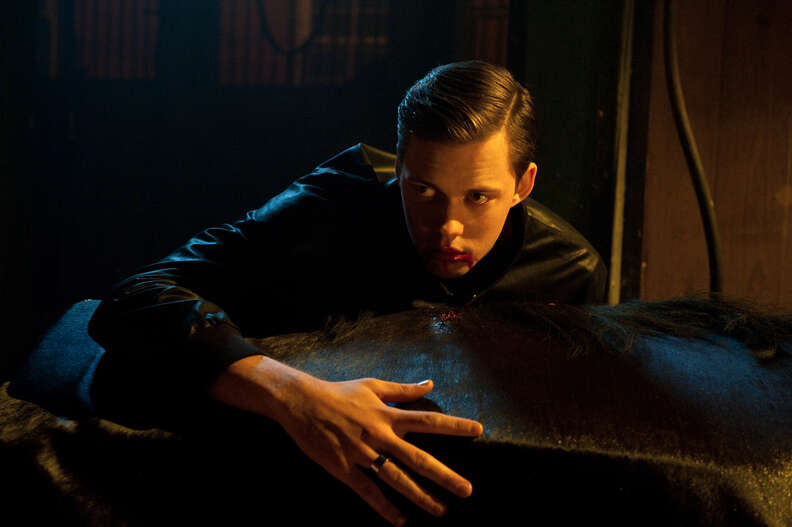 He's played by Bill Skarsgård
Pennywise is one of literature's most memorable villains, a shape-shifter who reappears every 27 years to strike fear into the hearts of children, and playing him would be an obvious creative challenge for any actor. For one thing, you have to compete with the cultural memory of Tim Curry's portrayal of the sewer-lurking clown in the 1990 ABC miniseries adaptation. It's a bit like taking on the role of the Joker after it's been played by Jack Nicholson and Heath Ledger.
So, who did Muschietti find to follow in Curry's clown-shaped shoe footsteps? Bill Skarsgård, a 27-year-old Swedish actor who you might recognize from this year's Charlize Theron gun-fu thriller Atomic Blonde, the YA sequel The Divergent Series: Allegiant, or the (very bad) Netflix horror series Hemlock Grove. (Oddly enough, he was also recently cast in Hulu's Castle Rock, which takes inspiration from King's Maine multiverse.) In some ways, he resembles many other hunky young actors, but if you look closer at his sharp cheekbones and penetrating eyes, you start to get a sense of why he was given such a daunting role. He's got the look.
His dad is the acclaimed actor Stellan Skarsgård
There's another compelling reason to cast Skarsgård: His father has also been a screen villain. For many, Stellan Skarsgård is best remembered as a scientist in Marvel's Thor movies or as a familiar (and often sinister) presence in Lars von Trier's provocative art films, but he also played the villainous Martin Vanger in David Fincher's adaptation of The Girl With the Dragon Tattoo. It's a bone-chilling performance in a movie that methodically ups the tension with every scene. And, he knows a thing or two about acting under pounds of makeup: The elder Skarsgård played Bootstrap Bill in two of the Pirates of the Caribbean sequels, which means, yes, he looked like this a lot. Maybe he gave his son some tips on how to make the most of a role where you're basically unrecognizable.
His brothers are also actors
Acting runs in the Skarsgård family. As Bill explains in the Jimmy Kimmel clip above, he's one of eight siblings and four of them are following in their famous father's footsteps. (If you've ever thought, why are so many young Swedish actors named Skarsgård, this is the reason why.) While brother Gustaf Skarsgård has a significant role on the History Channel drama Vikings, the most recognizable non-Stellan member of the family would have to be Alexander, the oldest brother and the very buff star of last year's big-screen Tarzan movie. But like Bill, he's also good at playing bad, bad men: Earlier this year he was the abusive husband character on HBO's mystery drama Big Little Lies.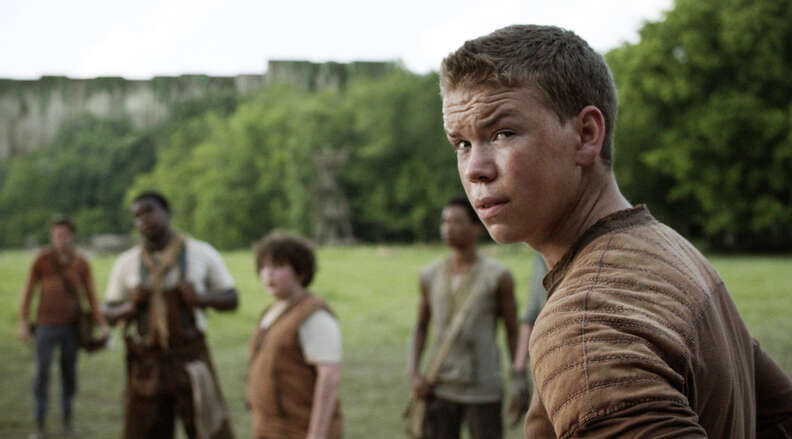 He wasn't the first actor cast in the role
Before director Andy Muschietti began working on this new version of IT, True Detective filmmaker Cary Fukunaga was developing the project for Warner Bros. for years and eventually walked away from the production over creative differences. Though Fukunaga is still credited on the movie's screenplay, many of his ideas were abandoned in rewrites and the actor he cast in the role of Pennywise, Will Poulter of The Maze Runner and Detroit, also left the production. "Will basically expressed a feeling that he had slowly disengaged from playing that character, that was so dark and terrifying," said Muschietti in an interview with Deadline. "It was a personal decision I respected, but I was eager and willing to find my own Pennywise and that's what we did."
Following Poulter's departure, there were also rumors of an older actor being cast in the role. The other actor in the running was Hugo Weaving, the Australian thespian famous for playing Agent Smith in The Matrix and Elrond in the Lord of the Rings films. At 57 years old, Weaving would have been a much older Pennywise than the more boyish Skarsgård and Poulter, but it's fun to think about the steely menace he would've brought to the role. (Imagine Pennywise saying "Mr. Anderson...")
He wanted Pennywise to be "unpredictable"
A creature that lures children into a sewer grate isn't exactly what anyone would think of as "predictable," but apparently Skarsgård really wanted his version of Pennywise to leave you on edge. He wanted there to be an unnerving quality to his performance. "If you have explosiveness and quick changes, it's something that's very unsettling," he told SlashFilm. "I wanted to incorporate that unpredictability, but have the character be almost like, you know when you're about to pop a balloon [between your hands]? It's this tension of explosiveness that's about to happen. In the character, if something happens, it's super explosive. But there's an unpredictability, as if you're pulling something back and at any moment, it might snap. I wanted to incorporate that in the physicality of it."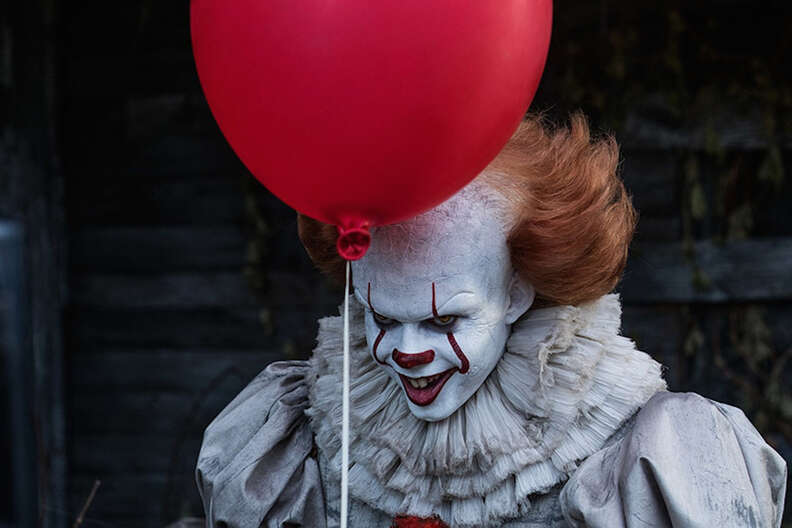 He can do Pennywise's creepy eye trick without CGI
Pennywise is a physical role. But thankfully the power of special effects makes some of the more mystical elements of his character achievable without casting an actual magical sorcerer. (Also, when he shape-shifts in the movie, other actors helped play the titular menace.) But, according to interviews, there was one physical aspect that Skarsgård had under control: the clown's menacing stare. Apparently, Skarsgård is able to move his eyes in some pretty disturbing ways.
"I told Bill, 'I want it in both directions, I want you to send your eyes looking away and give a really unsettling look,'" said director Andy Muschietti's in a recent interview with DigitalSpy. "He said, 'I can do it', so he did it. What are the chances? It's one in a million and he was cast already. ... So even in those moments when his eyes move, it was in. In the storm drain when he goes limp with his eyes looking fucked up, that's all him."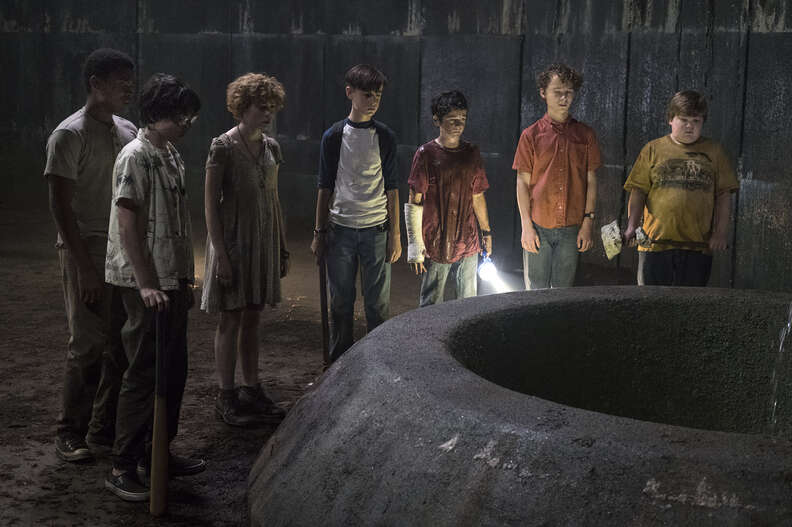 He's already signed up for an IT sequel
[Warning: Mild spoilers for IT follow.]
If you liked Skarsgård in the Pennywise role, there's good news: He's already signed up for a sequel. As many King fans already know, the novel covers two distinct time periods -- when the Losers are young and when they're reunited as adults -- but the new movie only covers the childhood material. A sequel, which the movie teases, would leap ahead into the future and cover the later sections of the book. That means more Pennywise -- and more Skarsgård.
There's a strong chance that next movie will give you a better sense of what makes Pennywise tick. "I am attached to it but that's all I can say, we're in the early stages and I'm talking to Andy about it and figuring out what It will be," said Skarsgård in an interview with Metro UK. "It's a different story but I'm excited to delve in deeper to the character as there's more exploration for who Pennywise is."
Sign up here for our daily Thrillist email and subscribe here for our YouTube channel to get your fix of the best in food/drink/fun.