Your Friend's Phish Obsession, Explained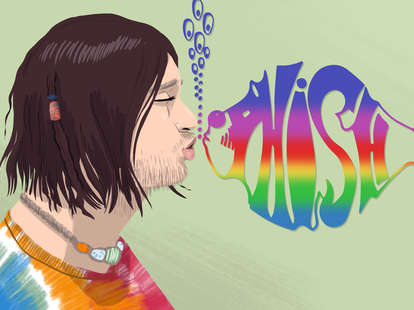 Jason Hoffman/Thrillist
Jason Hoffman/Thrillist
Summer means different things to different people. For some, it's hiking; for others, it's about surfing or reading or late nights at a beer garden jawing with old friends. For me, it's standing in the grass watching four aging dorks from Vermont play seemingly endless improvised jam-rock tunes with thousands of other sweaty obsessives.
Chances are you've noticed that Phish, the psychedelic act that keeps 1960s-style jam-band grooves alive for generations young and old, is touring yet again. Everyone has that one friend who clogs Instagram with selfies next to "transcending" dudes in cargo shorts, or, worse, repetitive shots of the complex lighting rig that envelops the stage. "Again?" you shout at your screen when yet another pic hits your feed. "He's seeing Phish again??!"
I hear this all the time because, alas, I am that friend. I've already seen Phish twice this summer and have tickets for at least one more show. I may squeeze a fourth in before Labor Day to tide me over until the four-night New Year's Eve set at Madison Square Garden. I remain undeterred from making the case for Phish. I'd like nothing more than to get other people to recognize what's going on at these gigs -- or, at the very least, pump the brakes on the hatemobile. To that end, here's the 101 about Phish, the greatest artistic enterprise in this or any other galaxy.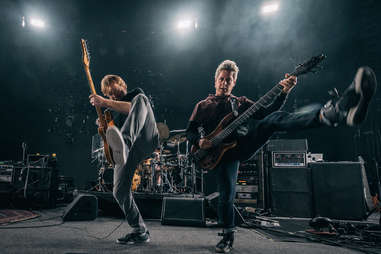 What is Phish?
Phish is four over-50 dudes: frontman Trey Anastasio (whose mother used to work on Sesame Street), pianist Page McConnell (whose father helped create Tylenol!), bassist Mike Gordon (whose mother is an accomplished visual artist), and the charismatic and oftentimes goofy drummer Jon Fishman, whose nickname, Fish, creates massive amounts of confusion, even for diehards (onstage banter will sometimes include, "Hey, Fish, what do you think about…," sending newbies into a tailspin not seen since the "which one's Pink?" heyday of Pink Floyd).
The gang met in college in Vermont, officially formed the band in 1983 (though really only became a quit-your-day-job enterprise in 1988), and despite a four-year hiatus in the aughts, is still going strong. All four sing, and none particularly well. You read that right: I am a gigantic Phish fan trying to convince you that they rule, and I'm well aware that the vocals only occasionally merit "hey, that's not bad" status.
Where did the name "Phish" come from?
Yeah, the name is kind of dumb, but so is "The Beatles." It wasn't intended to refer to fish, either. As recounted in Parke Puterbaugh's Phish: The Biography, band members were spitballing names when one of them made the sound "of air coming out of a balloon." They quickly realized that no club was going to book a band called "phhhhssssh," so it was simplified to "Phish."
What kind of band is it?
At times, Phish's music features some moments of unpredictable, Grateful Dead-esque psychedelia (thus the comparisons). The band can also tap moments of deep groove like Parliament-Funkadelic, Talking Heads-like sonic density, the byzantine orchestration of Genesis, Beastie Boys goofiness, and highs of tripping-on-psilocybin-as-some-amazing-DJ-spins-11th-dimensional-mind-journey electronica. I don't go to sporting events, so Phish concerts are the only place wherein I'd ever consider high-fiving a total stranger. It happens when they bust out one of your favorite tunes. And, eventually, they all become your favorite tunes.
How did Phish become popular?
Plenty of genre-bending bands came of age in the 1990s, but you don't see Spin Doctors or Rusted Root selling out four-night shows at Madison Square Garden every single year. Morbid, but undeniable: Phish benefited from the death of Jerry Garcia in 1995. At that time, the band was coming into its own and gathering steam with a healthy following, and when Deadheads had nowhere to turn, many turned to Phish.
That said, the link between The Dead and Phish is generally overstated. Phish will occasionally dabble in faux-bluegrass, but Jerry Garcia was an accomplished banjo player. There were a few years of "disco Dead," but funk grooves are core to Phish's appeal. Also, you are more prone to find computer programmers, Web 1.0 tech nerds, and Libertarian entrepreneurs at a Phish show than with the Dead, many of whom took the lawlessness of the tune "Truckin'" to heart.
But this dynastic shift, coupled with Phish's lenient attitude toward concert recordings and tape-trading (another similarity with the Dead), led to a ubiquity amongst a certain set. Put bluntly, if you hung out in a dorm room with a bong and a tape deck in the 1990s, you likely giggled over the lyrics to Phish songs. This may explain how the band eventually wound up on Late Night with Conan O'Brien and Saturday Night Live.
What is Phish's big hit single?
If all you listen to is commercial radio, you've never heard a Phish song. The band's enduring cult status begins with its jam-band musical style, ideal for live performances. A three-minute pop song can transform into a free-form exploration of a never-ending groove, or it can go down a rabbit hole of complex, proggy instrumentation. The lyrics can be nonsense, fraught with puns, or a burst of earnest words about hippie peace and love. There are no rules at a Phish show.
Most of Phish's songs, in recorded form, are a typical four minutes. They have a melody, they have a chorus, just like any other rock song. On stage, any one of these tunes can get cracked open and transformed into an 18-minute composition. That can mean stretching out a long guitar solo, a quiet build that inspires a call and response from the audience ("wooo!"), creating entire new themes on the fly (that are never heard from again), or hitting an apogee and triumphantly returning to the original melody. It isn't that different from what classic jazz artists started doing in the bebop years, but with a unique mix of deep rhythmic funk and a swirl of psychedelic ax-manship. And it doesn't let up.
What kind of music does Phish "jam"?
Phish's music ranges from complex orchestrations to booty-shakin' thick funk to vast, spaced-out ambience. Some of the tunes are really clotheslines on which to hang a new, improvised permutation on themes that will only be performed one time. Once you witness one of these explorations that really gels, you'll find yourself chasing that dragon and coming back for another show. Sometimes there are waves of guitar that eventually climax with a "wheedle-wheedly-wheeeeee!" and everyone in the audience goes "wooooooo!"
In a packed amphitheater, this isn't as crazy as it sounds. What the group's fans really crave when they see Phish perform is a state of euphoria referred to as "the hose," achieved during runs of intense improvisation. When this happens, it's as if a dam has burst on stage and the musicians' very essence washes over the delirious crowd. It sounds a little corny! Until you experience it, that is -- and then you'll want to experience it again.
Why are people obsessed with Phish shows?
While Phish occasionally dives into a "dark jam," seeing the band is, by and large, an agreeable, upbeat experience. These are goofy guys who are into fantasy and sci-fi, and back in the day they were known for joking around with the crowd. The drummer is also an instrumentalist: once in a while he'll come out front to blow into a vacuum cleaner.
They've reeled in the carnival-act stuff over the years. Today, trampolines only come out for one specific funky build-up during the anthemic number that, according to Phish.net, is played at 33.69% of shows. A while back they would hurl giant, colored balls into the crowd and, as they bounced, the corresponding player would improvise. The drummer wore a Viking's helmet and swimmer's goggles (and still wears a dress with donuts on it). There is a goofy, meta-Tolkien song cycle called "Gamehenge" that fans like to discuss, but it isn't essential to know about that. All the insider stuff has tapered off a little. There are some songs where fans know where to clap but, you know what, you'll catch up.
Are they decent musicians?
Let's talk about guitar. Trey Anastasio is unique stylist; he can do chunky blues, get jazzy, and also take beautiful, aria-like solos. His playing at times echoes Garcia, Frank Zappa, David Gilmour, and, as he himself has cited, Tom Scholz of Boston. But he's truly marked his own ground, mixing in spacey delays and echoes and whatnot. No one else sounds like him.
But there are a lot of guitar gods out there. Phish's secret weapon is Page McConnell. Few rock champions lug a grand piano around with them and feature it so prominently. When sexy hippie girls twirl around at shows, grabbing at imaginary stars, it's the bright piano keys they are reacting to.
These days Phish is truly about the outstanding musicianship and, I must add, the unofficial fifth member of the group, lighting designer Chris Kuroda.
Why is the lighting guy so important?
Phish is about more than cool lights. As the band performs extemporaneously, Kuroda responds behind his massive electronic board. These are jazz lights. He jams the lights. Occasionally, when a tune devolves into post-lingual, free-form barbershop vocalizations, there's, like, a light solo, man!
Are Phish fans huge stoners?
I'm not going to lie: a lot of Phish fans indulge in weed or MDMA during shows. If you go to a Phish concert, someone will shove a joint in your face and offer you a puff. Multiple times. Some people indulge too much and end up at the first-aid tent. In the parking lot, some jokers end up doing whip-its. One time, a putz ran in front of my car and nearly got killed. At a New Year's concert a blitzed-out girl covered in flashing lights and wearing a unicorn horn kept wanting to hug my wife. Sure, why not? (Later, well past midnight, she asked when the countdown would start. She was standing right there when thousands of balloons fell inside Madison Square Garden.)
Despite all the open drug use, whacked-out lyrics ("Split Open and Melt"), and occasional shouting of "Kush! Kush!", Trey Anastasio has been 100% clean and sober since a DWI arrest in 2006. The other members of the group are, according to lore, "pretty much sober," these days, too, either for their own well-being or to avoid enabling their frontman. Years ago, their backstage antics were in tune with the crowd, but now, seconds after the final encore, each member of the group gets on his individual bus that whisks them away from the venue, a temptation-avoidance strategy borrowed from Neil Young.
Still, a lot of people enjoy the show with nothing more than a can of 7UP. During the summer shows, many people take their kids and let them run around on the back of the lawn. Everyone is groovin' and having a good time.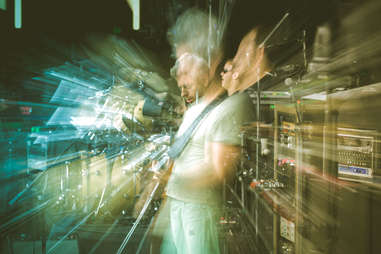 Does Phish ever team up with other musicians?
There's never an opening act at a Phish show, but that hasn't prevented some extraordinary stamps-of-approval by musicians you know. They tore apart a 20-minute version of "Down by the River" with Neil Young at Farm Aid in 1998 and dueted with Jay Z on "99 Problems" and "Big Pimpin'" at a gig in Coney Island in 2004. Others that have joined the band on stage include Carlos Santana, Sharon Jones and the Dap-Kings, Alison Krauss, Kenny Rogers (!), and, of special importance to Jersey-bred Trey Anastasio, Bruce Springsteen.
Each member of Phish has a life outside the group. Jon Fishman played drums in something called the Jazz Mandolin Project, while Page McConnell has a techno-funk trio called Vida Blue and has played with Jack Black's Tenacious D. Trey Anastasio recorded an album with a supergroup called Oysterhead with Primus' Les Claypool on bass and The Police's Stewart Copeland on drums, and also scored a Broadway show (Hands on a Hardbody). Bassist Mike Gordon has his own band, too, but he's also made two feature films: one an experimental art-house movie, the other, Rising Low, a documentary about bass players.
And even though you may not know any Phish songs, the band's all about covering songs you do know. There's even a recurring Halloween gag in which they appear in "musical costume" and do an entire album (like The Beatles' White Album, the Rolling Stones' Exile on Main St., Little Feat's Waiting For Columbus, the Talking Heads' Remain in Light, the Velvet Underground's Loaded, etc.). But you might also hear a Stevie Wonder song, a TV on the Radio song, a 2Pac song, and a Ween song (above). The list goes on.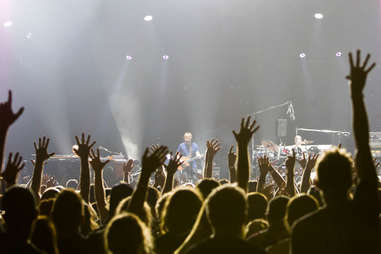 Where does Phish play?
Most summers (this year being something of an anomaly) there is a three-day camp-out festival on an abandoned Air Force base or a mushy national preserve in the Florida Everglades. This can lead to some unexpected developments like the middle-of-the-night "Tower Jam" in Maine, in which the band played an unannounced ambient set on what, when lit, looked like a rocket ship. (Dancers rappelled down the side, unless I hallucinated that part.) The mini-festivals have a bit of a Burning Man feel, with art expositions in tents and not much bathing.
New Year's shows are huge for Phish fans, too, with recent midnight surprises including audience levitation, runaway golf carts, and a United Nations-esque ode to flying hot dogs.
One show leads to another and, yes, some people really do take half the year off to travel with the band, earning a living selling "wares" in the parking lot. But 98% of the crowd is friendly and welcoming and, like The Rocky Horror Picture Show, everyone gets jazzed when they learn you are a virgin.
Is it easy to buy Phish show tickets?
One does not simply walk into a Phish show.
It's been a long time since their days as a bar band in Mayor Bernie Sanders' Burlington, Vermont. There are occasional locations that still have available tickets the week of the concert, but chances are, the gig will be sold out well in advance. This band you've never heard has giant crowds of people clamoring to get in! In fact, demand can be so great at certain stops that there is a lottery system to try and keep things democratic. (Though everyone usually bugs their roommate to put a bid in for them to try and get great seats -- they're the band that launched a thousand Venmos!)
What's remarkable about going to numerous Phish shows is that you inevitably start running into the same people. You won't remember their names, they won't remember yours, but those "hey, it's this guy!" moments can be great (especially if you are dying of thirst and your half-remembered pal is carrying a giant jug of water). There's nothing like jumping on a bus or pulling into a nearby Days Inn and seeing someone who's there for the Phish show. Scream, "They're gonna open with 'AC/DC Bag'!" and then -- bam! -- you've got a new best pal.
Which album will help me understand the lure of Phish?
Phish's record output mirrors what the Grateful Dead's Jerry Garcia once said: "Making a record is like building a ship in a bottle. Playing live music is like being in a rowboat in the ocean."
To get to the heart of Phish, and to do so free of charge, listen to the "Island Tour," four concerts from April 1998. The run showcases the band at the top of their game: energetic and exploratory, mixing classic rock guitar with shimmering, echoey digital delays that almost take on a techno sound. There's a deep keyboard funk and an almost inhuman steady drum groove. "Punch You in the Eye" from the April 2nd show takes about five minutes of build-up before it even starts.
The first time you hear it, you'll bob your head; the fifth time you hear it, you'll be swaying right there in your living room; and when you eventually see them perform it live, you'll be lifting up your arms and losing your mind. The April 4th show has a 16-minute version of their cover of Eumir Deodato's arrangement of the opening to Richard Strauss' "Also sprach Zarathustra" (also known as the theme from 2001: A Space Odyssey) and it's arguably the most quintessential Phish riff out there.
Is Phish a religion?
It's silly, but it has occurred to me that the solace many find in attending religious services is somewhat mirrored for me in seeing Phish. Christians already know the story of Christ, but they go to church to hear it again with a new spin from this week's sermon. These are rituals. I cross state lines each summer to see the same four dopes play variants of songs I've heard a hundred times before, only in new combinations and with varied emphasis. I find joy in being with others similarly enamored of the experience, and come away invigorated and inspired. And I guess you could call articles like this one representative of an urge to proselytize. So maybe Phish is a religion. And if so, after being a fan for so long, I should have enough of a tax deduction to see them an extra time this year.
Sign up here for our daily Thrillist email, and get your fix of the best in food/drink/fun.
Jordan Hoffman is a film critic and writer whose work appears in
The Guardian
,
Vanity Fair
, and Mashable. Follow him: @JHoffman.