America is great. Period. We could define the good ol' land of the free purely with this simple statement. But let's take a moment out of our workdays of chasing the American dream to think about the images that really represent tried-and-true Americana. As we look up into the bright blue sky with a cold Pabst Blue Ribbon in our strong American hands and tilt our heads nostalgically to one side, these are the images that come to mind...
This guy, his armchair, and his cheeseburger
We can only imagine that this hardworking American has worked hard in his hard-worker blue pants and now deserves the most American of snacks (yes, snacks). Eating a cheeseburger and drinking a soda on a seafoam-green armchair is the actual American dream.
A slice of warm, crispy apple pie
If apple pie is not American, then we've all been living a sad, sad lie.
A powerful man in a suit
Work all day 'till you build an empire. Laugh maniacally. Tear the empire down through your own personal greed. Spawn a Hollywood movie. Repeat.
A red disposable cup
Otherwise known as "American party cups," these bad boys have probably made more appearances in iconic American cinema than John Wayne, and that guy used to be in everything. Let's "cheers" and then chug to that. 
Grandma in the kitchen with multiple sticks of butter
Grandmothers are culinary goddesses. Also, butter is the secret ingredient to a happy life.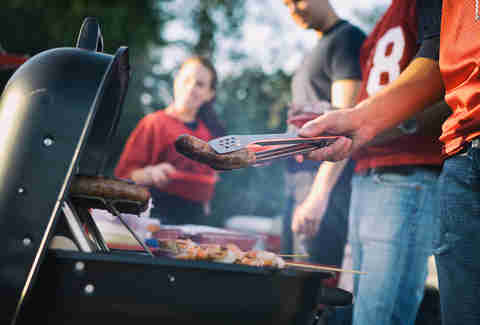 These guys working the grill
In America we like to eat, we like to watch sports, and we like to eat while watching sports. One hand turning those sausages, the other high-fiving your bro, that's the life.
Just a man and his trucks
 What a view.
A double bacon cheeseburger
In France they only eat single bacon cheeseburgers.
A beautiful blonde woman in a kiddie pool
We live on the Field of Dreams dogma of "If you build it, they will come." Or, if you blow it up with a foot pump.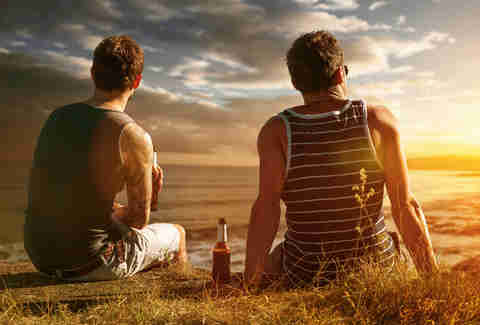 Best bros sharing a moment and a beer
Tank tops required.
A child who fell asleep whilst playing video games
There is nothing quite like going to bed while visions of Halo dance in your head.
An eagle just casually swooping
We may have just had an Amerigasm.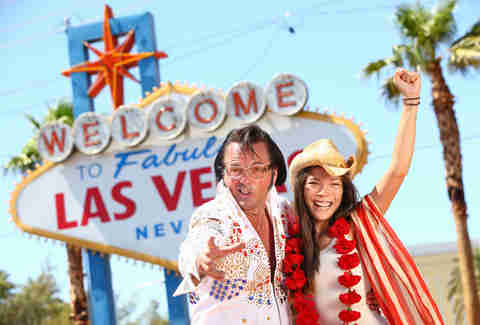 Vegas, mixed with fake Elvis, with a dash of girl with cowboy hat
 It may be a recipe for disaster, but it's our disaster, and it feels like home.
This family, their beautiful home, and those white tops with jeans
The house says "classy," the jeans say "casual."
Rows and rows of Cheetos
If you take away our Flamin' Hot Cheetos, then you aren't a respected establishment. If you take away our freedom of choice entirely, then you are a terrorist.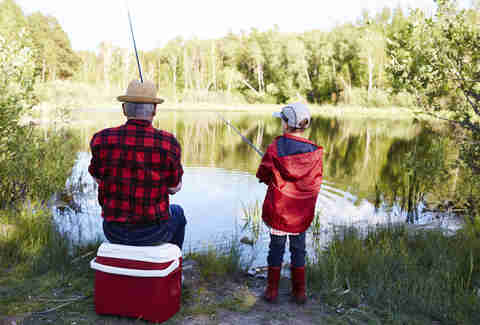 Grandpa and grandson fishing like it's no big deal
Hopefully there's at least one Capri Sun in that cooler.
 
This guy taking a bubble bath, smoking a cigar, drinking a glass of whiskey, and wearing a Santa hat and beard. Yep.
Because, why not?
A wiener dog dressed in a wiener costume
There is even a wiener leash!!! This is the best it will ever, ever get. 
A camper
A home on wheels is the only way to see our glorious and vast country. Picture this: dad flirting with the English GPS in the front, brothers and sisters pulling hair and learning how to curse in the back, and those country roads John Denver was singing about rolling out in front of you.
Young, fabulous people beckoning
White pants, blue checkered prints, red bikinis, feet cool in the water, a tall glass with some mysterious alcoholic beverage that will make you slur your words yet somehow still tastes like the fruit punch of childhood... it's all so tempting! Well, maybe just one drink...
Kara King is a production assistant at Thrillist and often sings "Country Roads" alone in her room. Follow her patriotic adventures at @karatillie.