Why the Fetish Shop SEX Is so Integral to FX's 'Pistol'
You can trace the Sex Pistols' origin to the London store owned by Vivienne Westwood and Malcolm McLaren.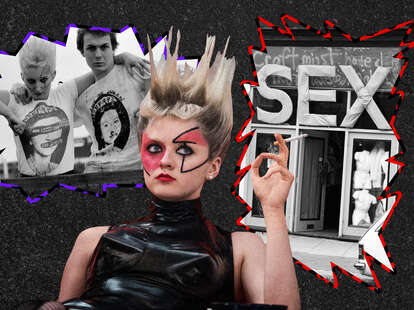 Design by Maitane Romagosa for Thrillist
Design by Maitane Romagosa for Thrillist
The thing about the history of the Sex Pistols is that everybody involved likes to say that they're who created the Sex Pistols. Was it guitarist Steve Jones, who always had rock star dreams? Was it their manager, the infamous Malcolm McLaren, who was desperate for success after his stint working with the New York Dolls failed? Or was it fashion designer Vivienne Westwood, who created the punk look and needed somebody to model it?
Although the British four-piece was wildly successful and started a sonic and political movement in their short-lived career from '75-'78, oral histories, documentaries, and most recently FX's Danny Boyle-directed miniseries Pistol (out now out Hulu) go to show that the band's origin was ultimately a combination of all of those things. But despite there being a lot of noise surrounding the group's beginnings, there is one place that was undeniably the center of it: SEX, the fetish shop and boutique owned by Westwood and McLaren in London in the mid-'70s.
SEX is essentially the center of Pistol's punk universe. Although it's been rebranded since the '80s as World's End (the flagship location for Westwood's fashion line), a provocative shop owned by Westwood and her former partner McLaren (played by Talulah Riley and Thomas Brodie-Sangster in the series) was nestled into 430 King's Road between '74-'76. The outside featured nothing but suggestive pink rubber letters spelling out S-E-X and the inside was full of bondage, corsets, and latex. From Steve Jones' (Toby Wallace) fateful visit to the shop that's depicted in the first episode of Pistol, SEX is made out to be as integral to the Sex Pistols' story and ideology as "God Save the Queen," and an important piece in understanding women's involvement in the scene at the time.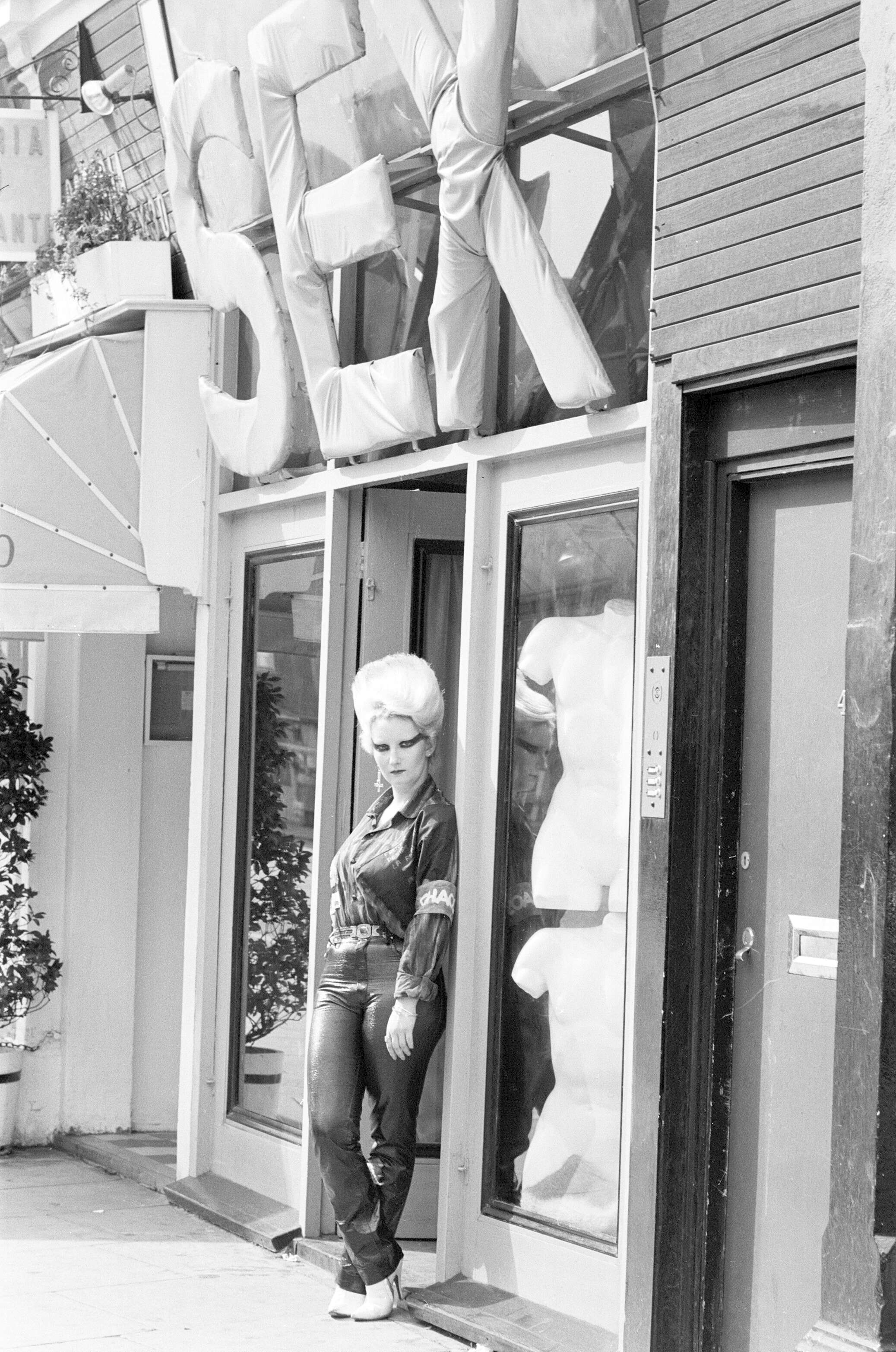 The show's production designer and co-costume designer Kave Quinn says that she "absolutely" saw SEX as an influential part of the story. "It was such a meeting place. It's where John auditioned, it's where they met because everybody was always hanging out in there," she says. "There's so much history in that shop." Because of that, Quinn says, "It was one of the most daunting sets I've ever built … It had to be absolutely right."
Danny Boyle, series creator/writer Craig Pearce, and the rest of the production team got permission from Vivienne Westwood to recreate the space, and Quinn ended up working closely with one of the designer's advisors Murray Blewett, who had been with her since SEX. "He was fantastic," she says, helping her to dress the shop and pointing out necessary details.
The Pistol team also worked with punk fashion icon and former SEX sales associate Jordan, who died in spring 2022 but visited the set often throughout production. "She was really invaluable," says Quinn. Remembered as one of the pioneers of the punk style and a staple part of SEX, Jordan provided the team with photographs to use as reference points and helped decipher details, like the exact color of the writings on the walls that featured quotes from famous philosophers.
"Just having [Jordan and Murray]—Murray through Vivienne's blessing—was really good. They also came in when we were finished and they were really happy with it, which was really, really fantastic," Quinn says.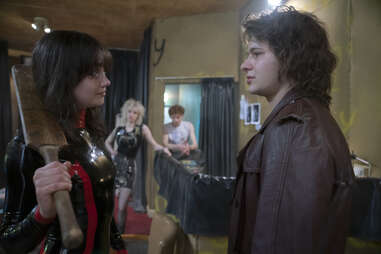 Pistol first introduces SEX when guitarist Steve Jones is seduced by the shop and wanders in with the intention of stealing something to wear with his early band The Strand. McLaren, Westwood, and their sales associate Chrissie Hynde (who worked there before fronting The Pretenders and is played by Sydney Chandler in the series) catch him—but also find opportunism in the moment. "I want you to fuck the world," McLaren tells him—Jones' working class struggle and rock star dreams are the perfect vehicle for spreading the SEX cohorts' anarchic message.
"You can see how it all begins," says Sydney Chandler of that moment in SEX. Wearing one of her favorite costumes in the scene—a latex catsuit that she had to be "lubed up" to get into—she says you could sense the sort of rock n' roll magic it conveys on set. "I remember even in rehearsals it felt very fun [seeing] these three, big characters come together and merge. The way [Riley, Brodie-Sangster, and Wallace] did it, there is an intense, almost sexual effect to it—like [Westwood and McLaren] were drawn to him."
From that moment on, the series chronicles how McLaren forced his way into Jones' life, the evolution of the band and their political message, and what contributed to their demise. But even as the band becomes fully formed and their star rises, SEX's significance never fades. It's where Johnny Rotten (Anson Boon) auditions for the group singing Alice Cooper's "Eighteen" in one of the show's most exhilarating scenes; it's where Sid Vicious (Louis Partridge) cheekily toys with safety-pins while asking about openings in the band; and it's where women like Westwood and Jordan (Maisie Williams) discuss their plans to lead a shocking, sexually subversive fashion revolution.
In those scenes and others, Maisie Williams says Jordan helped characterize the shop, just as much as she helped the production team design it. While not all of Jordan's stories could make it into the show—like Williams' favorite anecdote about a hot day when Jordan's rubber top and skirt almost melted off, or Kave Quinn's favorite detail that "grannies" actually used to knit the jumpers sold in the shop—she was essential in helping Boyle and the Pistol team understand what the experience was like shopping there. "The shop was always quite alive," Williams says of what Jordan told her about working there. "She would say that quite often people would open the door, walk in, and be too scared to walk around. They would just meet eyes with [her] sitting behind the counter and they would stare at each other, and then they would leave."
"Danny [Boyle] really liked that thing about people being intimidated to come in, and that was worked [into the show]," says Talulah Riley. It's something you absolutely get the sense of—from ITN news anchors sheepishly shopping for knickers to the way Williams is outfitted in spiked hair and striking eye makeup.
One scene in particular that captures that intimidating but exhilarating energy of SEX is when two aspiring punks and teenage girls (Catriona Chandler and Razan Nassar) come into the shop in Episode 4, telling Westwood and Jordan they want to "change their lives." More than that, though, it's a key moment in illustrating how central SEX was to women of the punk movement and their own political visions. While the girls are at first horrified by the latex that Westwood throws at them, it's when we see her get up on her pink rubber soapbox to explain the feminism at the helm of her work.
"I think what Craig [Pearce] and Danny [Boyle] have done is really tried to dive into the female stories from this time," says Williams. "Our show is fictional somewhat, [like with the two girls who represent the hysteria of the time], but it captures something very special."
SEX may not be the sole focus of Pistol, but it's positioned to be entwined with the Sex Pistols' narrative and one of the most thrilling elements of the series. (Who could resist those characters at the front counter, their ensembles, or even that striking pink sign, which Quinn replicated almost exactly?!) While Johnny Rotten may have once hollered, "There is no future in England's dreaming," Pistol certainly makes you believe in the revolutionary dream of SEX that once existed and an entire movement latched onto.