This Oscar-Nominated Short About a Pitbull and Kitten Will Definitely Make You Cry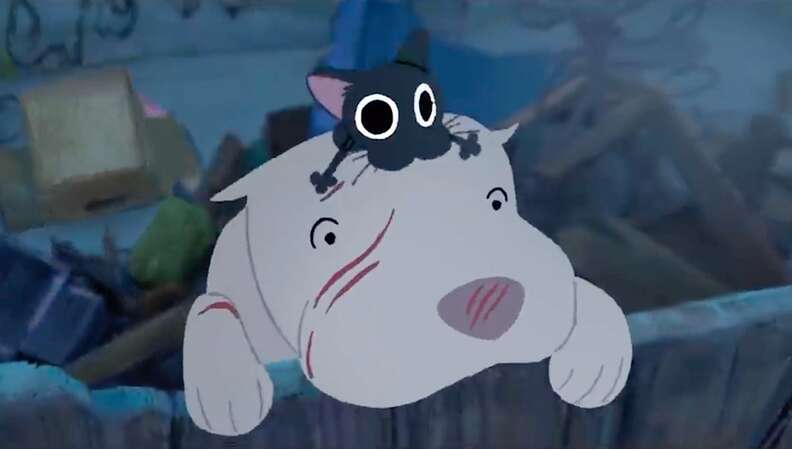 By now, chances are you've seen -- or made the decision not to see -- all of the major Oscar players. You've raved about Parasite, fought over Joker, and sat through three and a half hours of The Irishman on Netflix. But dig into the less heralded categories and you'll find a lot of gems waiting to be watched. You could watch Honeyland, the amazing documentary also nominated in International Feature Film, about a Macedonian beekeeper dealing with intruding neighbors. Or if you somehow missed Pedro Almódovar's masterpiece Pain and Glory -- nominated for Best Foreign Language Film --well, get on it.
But if you only have 10 minutes and want to cry and smile and coo at animals, there is one nominee that should be on your list: Kitbull, from the tear wizards at Pixar. (It's available to stream on Disney+.) Kitbull is nominated in the animated shorts category and it's about a pitbull and a kitten who become friends. Do I really need to say anything else or are you already sold on the unlikely animal friendship?

Pixar is surely the most recognizable name in animation and it routinely dominates the animated feature category. (This year's race seems like more of a toss-up, with strong Netflix entries like I Lost My Body and Klaus in the mix, but the prize could very well go to Toy Story 4.) Shorts are a little bit more of a crapshoot, though. In the past, the company has had success with the likes of dumpling saga Bao, which delighted (and maybe horrified) audiences before Incredibles 2, and Piper, which was attached to Finding Dory and followed a sandpiper playing in bubbling water.
This year, Kitbull has tough competition. The 2020 animated short nominees also include the wonderful Hair Love by Matthew Cherry, which uses a hand-drawn style to talk about Black hair, a father-daughter relationship, and family coping. The other three films in the category -- Dcera, Memorable, and Sister -- all use incredible stop motion techniques.
Kitbull didn't open any of the studio's major releases from the past year, instead hailing from its relatively new SparkShorts initiative, "designed to discover new storytellers, explore new storytelling techniques, and experiment with new production workflows," according to president Jim Morris. That's why Kitbull doesn't look like your typical Pixar product. Instead of the computer generated figures we're so used to seeing from the people that brought us the likes of Ratatouille and Wall-E, the stars of Kitbull are hand-drawn creations.
In Kitbull, directed by Rosana Sullivan, we first meet a tiny stray kitten living in San Francisco's Mission District. The little creature rejects human affection, preferring to return to her quiet lair with a pilfered fish. But one day, her life of peace in her garbage fort is interrupted by the arrival of a pitbull, who just wants a pal to play with, but the kitten is suspicious, as so many people unfortunately are of pitbulls. Soon, the animals develop a tentative rapport, whacking a bottle cap back and forth, though the cat remains cautious. Of course, it wouldn't be Pixar without a dose of melancholy. It becomes evident pretty quickly that our pup friend is being badly abused. But don't worry -- there's a happy ending, which I won't completely spoil for you here.
The pittie and kitten are perfectly calibrated to appeal to our cuteness sensors, like Baby Yoda and Detective Pikachu before them. The kitten has eyes that fill its entire face, while the pittie has a soft snout like a hippo. Reader, they are adorable. If you need a dose of sweet interspecies friendship with a dash of cathartic crying, give it a watch.
Need help finding something to watch? Sign up here for our weekly Streamail newsletter to get streaming recommendations delivered straight to your inbox.