All 25 Pixar Movies, Ranked
From classics like 'Toy Story' to new movies like 'Turning Red,' we're assessing every title from the groundbreaking animation company.
'Turning Red'

| Pixar/Disney
'Turning Red'

| Pixar/Disney
Choosing a favorite Pixar movie is an impossible task we wouldn't wish on anyone—not even Sid, the toy-torturing bully first introduced to audiences back in 1995. But with the release of Turning Red on Disney+, we revisited all 25 Pixar feature films that have made us laugh and (especially) cry over the past 27 years to assess which are really the best of the best. Grab a hanky: Things are about to get kid-friendly but emotionally devastating!
ALSO READ: Our round up of the best Pixar's short films and the best movies on Disney+
25. Cars 2 (2011)
The stamp of Pixar chief creative officer John Lasseter, who took a leave of absence in late 2017 over sexual misconduct allegations and has now left the company, will always be imprinted on the Pixar legacy. Specifically, his love deep love of automobiles. And after the middling Cars netted $10 billion in merchandise sales, Pixar pushed the inevitable sequel into production. Cars 2 is essentially a show floor for Happy Meal toys, doubling down on Larry the Cable Guy's insufferable Mater by sending him on a global spy mission. Nodding to Connery-era Bond and packing in more action couldn't prevent Cars 2 from clunking out.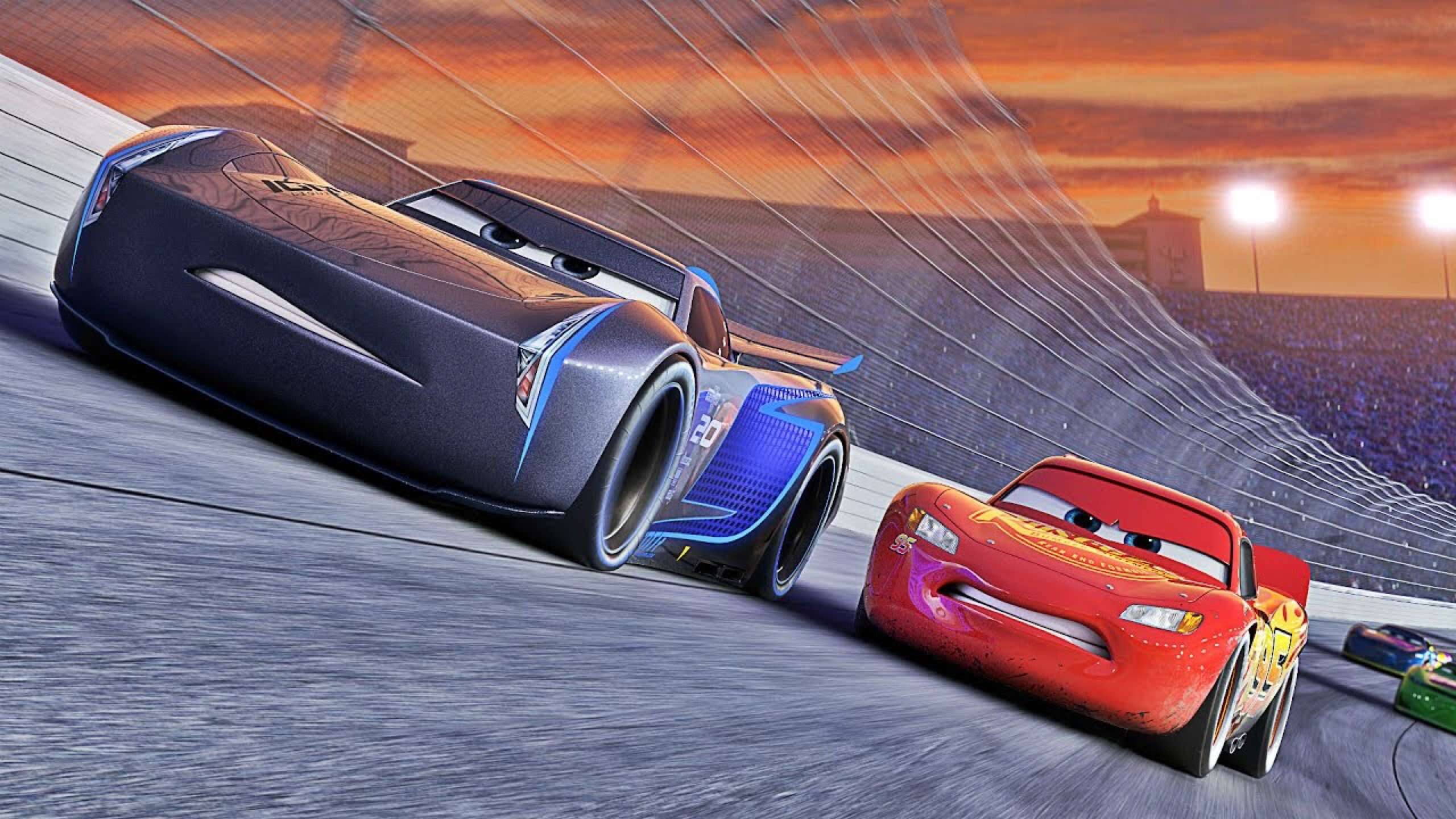 24. Cars 3 (2017)
Cars 3 delivers exactly what you'd expect from yet another Cars movie: more cars! Facing new competition from a souped-up sports vehicle voiced by Armie Hammer, and struggling to connect with an excitable new trainer (stand-up Cristela Alonzo), intrepid series hero Lightning McQueen (Owen Wilson) must recover from an accident, go through a bunch of Rocky-style training scenes, and make peace with being washed up. It's an odd premise for a family movie, especially a series as kiddie-friendly as this one, but the writers don't seem interested in pushing the idea in any deep or strange directions. Instead, you get more warmed-over nostalgia, including a back-from-the-dead voice cameo from Paul Newman, and some colorful racing sequences. Might be time for this franchise to head to the great junkyard-in-the-sky.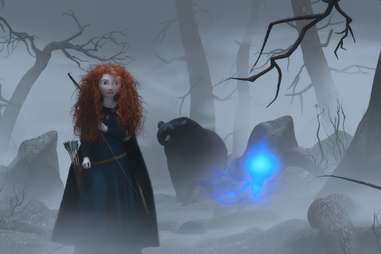 23. Brave (2012)
The studio's only "princess" movie is so determined to avoid Disney's past clichés that it never figures out what to do with the fiery Scottish lass, Merida. Set in a 10-mile radius of the Highlands, Brave is a daughter-mother road movie that only kicks off 30 minutes into its runtime. Rousing bagpipe music goes a long way.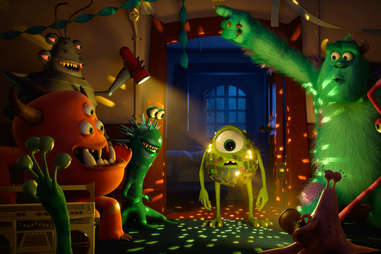 22. Monsters University (2013)
The sequelization of Pixar's universe has been somewhat dispiriting to watch unfold, given how trailblazing the studio's best work tends to be. Technically, this is a prequel, a campus comedy about how Mike and Sully first learned to scare together. Were fans really itching to learn this backstory? Probably not. But you can tell the writers had a lot of fun slyly parodying elements of Animal House and other college classics. Despite some lame bits, it earns a passing grade.
21. Cars (2006)
As aforementioned, the Cars franchise seems to be a shared labor of love between Lasseter and Disney's accounting department, but the first movie does have a light, nostalgic touch to it that separates it from some of the company's more critically acclaimed, existentially bleak films. The presence of Paul Newman's gravelly voice as Doc (in his final non-documentary role) lends the film a layer of poignancy, and the animation team's rendering of desolate American roads makes the predictable plotting and occasionally overbearing gags glide by like a good road trip should.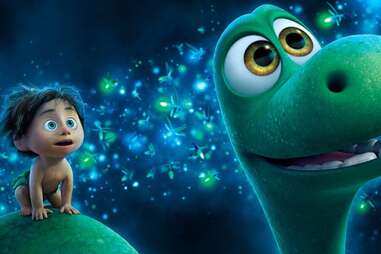 20. The Good Dinosaur (2015)
Pixar is not in the "kids' movie" business. Its characters are bubbly, the stories are simple, but the stories are designed for all ages, all minds, all senses of humor. The Good Dinosaur is as close as the company's come to a feature for the wee ones—and it thrives for it. Sharing DNA with The Lion King, the prehistoric feature follows a young, anxiety-ridden apatosauruses named Arlo who loses his father, loses his way, and becomes an independent lizard with the help of his pet human. The Good Dinosaur is a road movie, a sweet one at that, with hyperrealistic backdrops, cartoonish characters, and childlike wonder. It's not for everyone because it's not supposed to be.
19. A Bug's Life (1998)
Stuck in never-ending, media-devised competition with Dreamworks' Antz, which premiered just a month prior, this micro-riff on Seven Samurai is low-key and noble. The straight adventure doesn't glow like Pixar's emotionally meaty movies, but with eccentric characters and a scrappy heart—courtesy of NewsRadio-era Kids in the Hall alum Dave Foley—the movie has a taken-for-granted kid's movie quality: fun.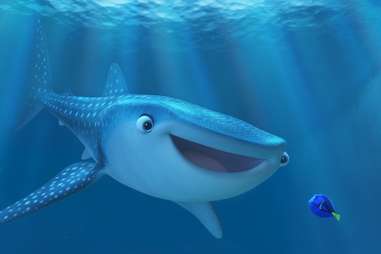 18. Finding Dory (2016)
Sometimes the best supporting characters are second bananas for a reason: They exist to prop up the hero on his or her journey. Luckily, the forgetful bluefish Dory is the rare sidekick who can swim on her own. While it hits many of the same emotional and story beats of the original—this time Dory is the one looking for her parents, leaving Marlin (Albert Brooks) to track her down to a fish rehabilitation center in California—this clever sequel delivers enough memory-loss gags, light parental trauma, and show-stopping, Fast and Furious-style set pieces to keep adults entertained and kids enthralled. Sure, it lacks the poignant, manipulative power of the Toy Story sequels, but there's still a surprising amount of depth to this DeGeneres deep dive.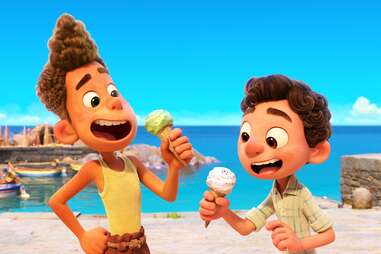 17. Luca (2021)
This entry from director Enrico Casarosa doesn't aim to answer the big existential questions that many Pixar films ponder. Instead, it's a simple story about two sea monsters who become friends and then venture onto land where they hang out with a spunky human girl and eat pesto pasta. It's often quite charming, but suffers under the weight of its influences, namely its homages to the work of Hayao Miyazaki. Ultimately, Luca is too literal to match anything in the Studio Ghibli oeuvre, but that doesn't mean it isn't a pleasant Italian romp.
16. Onward (2020)
After two straight years of sequels, Pixar finally returned to original material with Onward, an adventure story about two elf brothers and their father's legs. Yes, you read that correctly. Not their father. Their father's legs. On Ian Lightfoot's (Tom Holland) 16th birthday, his mother gives him and his brother Barley (Chris Pratt) a gift from the father he never really knew. It's a wizard's staff and a spell so that the brothers can spend one more day with their long dead dad. Unfortunately, the spell only half works—leaving them with a parent sans torso and head—so they have to go on a quest to restore their pop's full body before time is up and they never get to see him again. The driving concept behind Onward's setting is basically: What if people in Middle Earth got technology and stopped practicing magic? And it's a clever one that doesn't necessarily feel realized to its full potential. Barley, a perfect role for Pratt, is a true believer, which looks something like a D&D obsessive. However, Ian is the one who possesses a gift he must harness to get to meet his father for the first time. Onward veers from near horrifying absurdism—the legs are really freaky—to goofy earnestness to tear-provoking emotion. And while it never reaches the transcendent heights of the studio's best work, it's a lovely story of trying to connect with a loved one after loss.
15. Incredibles 2 (2018)
After more than a decade in hiding, writer-director Brad Bird's Parr family of neurotic, superpowered do-gooders returns for a sequel that takes a little while to get going but still delivers the visual goods. After directing two live-action blockbusters, including the ridiculously entertaining Tom Cruise vehicle Mission: Impossible–Ghost Protocol, Bird makes his animation comeback and displays a commitment to making his action sequences as kinetic and thrilling as possible. There's a train rescue mission led by Holly Hunter's Elastigirl in this movie that would make James Cameron and George Miller weep. Unfortunately, some of the connective tissue that gets us from spectacle to spectacle is distractingly flimsy—Screenslaver, the masked villain of the movie, is a dud—but you might be so knocked out by the frenzied set-pieces that you don't even notice.
14. Toy Story 3 (2010)
Sequels generally suck, and don't even get us started on third installments. Yet much like its predecessor, Toy Story 3 proved exceptional. Buzz and Woody were peopled with equally memorable new faces like tyrannical Sunnyside Daycare tyrant Lots-o'-Huggin' Bear and a dandyish Ken doll who sounds suspiciously like Batman. Much like the previous iterations, toys are an allegory for a certain stage of Andy's life—in this case, he's college-bound and has outgrown his old playmates—and the film is shot through with themes of death, abandonment, and decay, resulting in the sort of constant oscillation between laughter and tears that only Pixar provides.
13. Monsters, Inc. (2001)
After imagining toys have rich inner lives, it was logical that Pixar would give complex emotions to another childhood trope: the monsters hiding in your closet. Mike (Billy Crystal) and Sully (John Goodman) are the creatures assigned to harvest the screams of a cute little girl named Boo, but what makes the movie more than just a cleverly executed trifle is the commitment to world-building. Even if Crystal's humor can grate at times, the richly imagined parallel city of Monstropolis is worth getting lost in again and again.
12. Toy Story 4 (2019)
After the emotional brinksmanship of Toy Story 3, a movie that featured the franchise's heroes facing certain death by fire in an incinerator, the creative braintrust at Pixar were smart enough to pull back on the throttle a bit for this elegiac adventure. An adrift Woody (Tom Hanks) tries to prove his loyalty to his new child owner Bonnie by serving as a mentor and life coach for Forky (Tony Hale), a comically suicidal arts-and-crafts project that's newly gained consciousness and wants nothing more than to return to the trash heap he came from. When Forky goes missing on a family road trip, it's again up to Woody to rescue him. By tricking out Woody's personal journey with emotionally rich reversals and delightfully absurd new characters, like a Canadian daredevil voiced by Keanu Reeves, director Josh Cooley keeps the film from feeling ponderous and repetitive. Even though large sections simply remix details and settings from previous Toy Story movies, the passage of time has added another melancholy layer to what was already a nostalgia-obsessed narrative when the series began in 1995. Instead of being suffocated by its own history, Toy Story 4 wears it like an old cowboy hat. Not every franchise can pull it off, but this one does.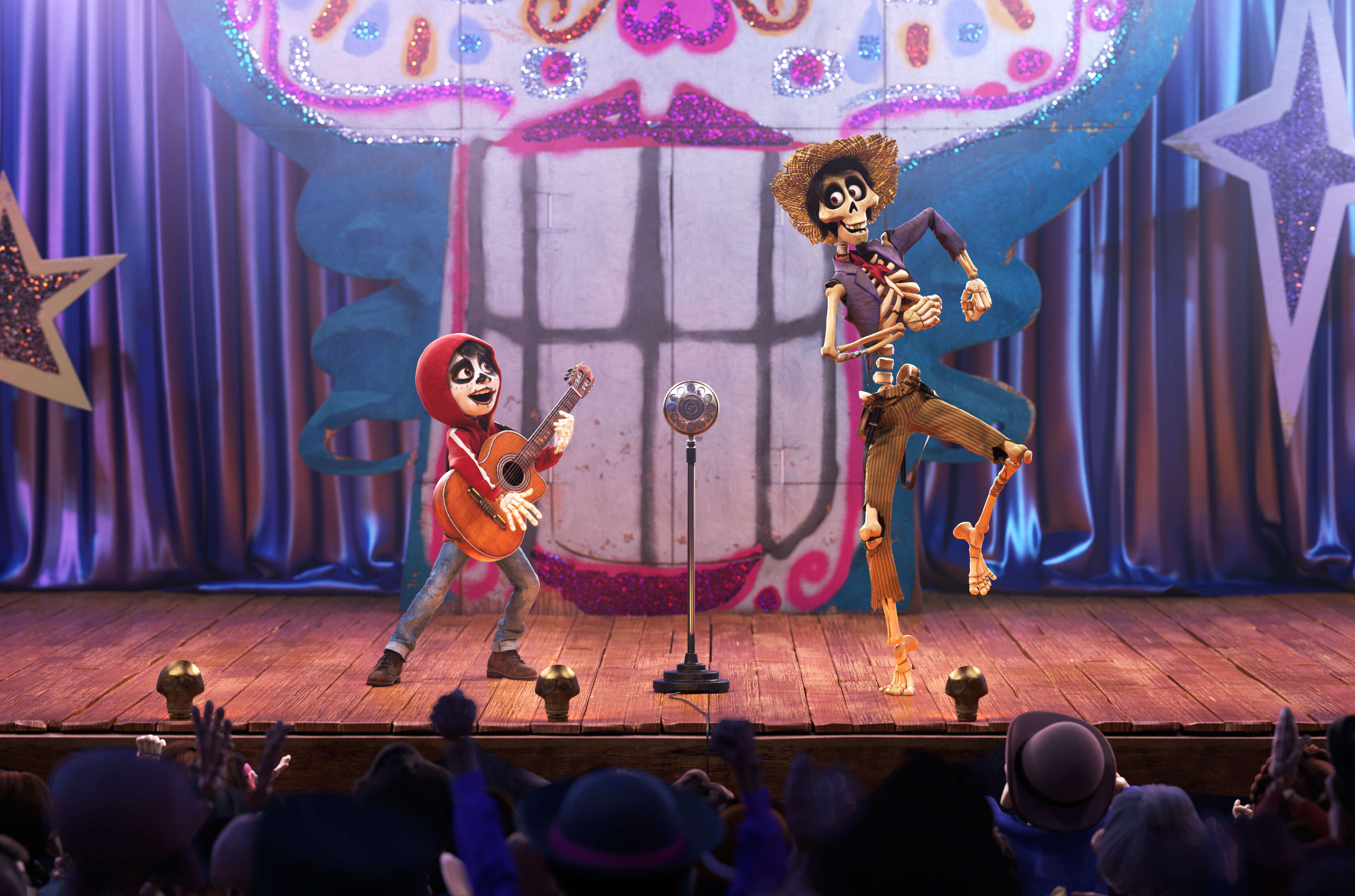 11. Coco (2017)
Following the disappointing The Good Dinosaur and two sequels to old properties, Coco was a much-needed jolt of originality. There are certainly elements of previous Pixar movies in this story centered around a young boy's journey on the Day of the Dead—the vision of the afterlife is a bit like Monsters Inc.'s nightmare world, the generational divide will likely remind you of Up, and the emotionally brutal finale is as mournful and psychologically fraught as Toy Story 3's climax—but director Lee Unkrich and his collaborators approach every aspect of the tale, from the world-building to the slapstick dog gags, with gusto. Taking a page out of the traditional Disney playbook, this is the first Pixar film to heavily rely on original songs, and they're stunners. The sequence built around "Remember Me," the Oscar-winning song performed by multiple characters, belongs in Pixar's tearjerker Hall of Fame.
10. Toy Story 2 (1999)
Pixar's first sequel did more than reverse the original's equation. Examining mid-life crisis, Pixar spliced sci-fi adventure (introducing Buzz's nemesis, the oft-mentioned Zurg) into the sorrowful story of Jessie the Cowgirl, a toy whose owner grew up and gave her away. For a retread, the Jessie flashback scene set to Sarah McLachlan's "When She Loved Me" is as crushing as the most championed Pixar moments.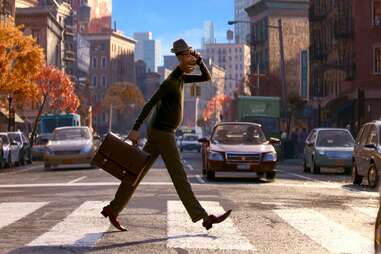 9. Soul (2020)
Soul feels like the most grown-up movie Pixar has ever made. It's less concerned with the predicaments of childhood than it is with middle-aged malaise; there are just a few cute characters that yield merchandising possibilities. Directed by Pete Docter, it's an evolution from Inside Out, finding the animators in a more heady, existential place than they've been before. Jamie Foxx voices a jazz pianist working as a middle school band teacher who gets the gig of a lifetime—and then promptly dies. Resisting death in The Great Beyond, he lands in The Great Before where he pairs up with a soul yet to be born (Tina Fey). Soul is arguably the most artistically experimental movie the studio has produced, and it's also one of the most meditative.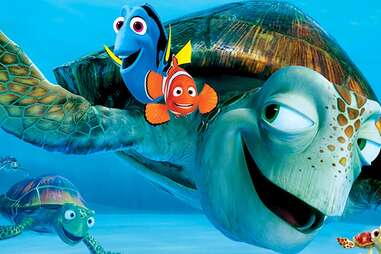 8. Finding Nemo (2003)
What's more terrifying than the bottom of the ocean? Um, how about losing your child? Watching neurotic clownfish Marlin (brilliantly voiced by Albert Brooks) frantically scour the depths of the sea in pursuit of his only son Nemo (Alexander Gould) can be an emotionally taxing, overwhelming experience. But, luckily, director Andrew Stanton keeps the movie afloat by giving ample screen time to the joyfully silly Dory (Ellen DeGeneres), a team of possibly stoned turtles and the deepest voice casts Pixar has ever assembled (Willem Dafoe, Allison Janney, and Geoffrey Rush all turn in killer work). And, yes, it will probably make you cry.
7. Up (2009)
If this list was a ranking of which Pixar movie had the power to tear out your heart with a scalpel in the first five minutes, Up would sit atop it. The devastating opening passage, chronicling the relationship between the film's cantankerous but lovable old geezer protagonist Carl (Ed Asner) and his wife Ellie (Elie Docter), is like a condensed cartoon version of Richard Linklater's Before trilogy. That the rest of Up doesn't quite live up to its opening is inevitable. That being said, the whole picture also works splendidly as a raucous action-comedy, overflowing with vibrant tropical imagery, hilarious voice work, and... SQUIRRELS!
6. Inside Out (2015)
Inside Out showcases Toy Story writer/Monsters, Inc. director Pete Docter, who helmed this recent arrival, at his imaginative best. Set inside the mind of 11-year-old Riley, where emotions Joy, Sadness, Anger, Fear, and Disgust run the show and memories are collected and stored as glowing orbs, the Pixar impresario has created a vivid fictional world that rivals WALL-E in its inventiveness and lush visual landscape. Bolstered by crazy-good voice-acting from Amy Poehler as Joy and The Office's Phyllis Smith as Sadness, Inside Out is as smart and perceptive about human psychology as it is emotionally resonant.
5. Turning Red (2022)
13-year-old Chinese-Canadian Meilin "Mei" Lee (Rosalie Chiang) lives in Toronto with her close-knit multicultural group of friends, acing her classes and swanning around town like the independent spirit she is—except when it comes to her family, particularly her mother Ming (Sandra Oh), who keeps close watch over every aspect of Mei's life. The morning after Mei and her mom have a particularly bad argument (sparked by, it's implied, Mei drawing sexy pictures of crushable boyband singers as mermen), Mei awakens to find herself, like a cuddly version of Franz Kafka's Metamorphosis, transformed into a giant red panda—poofy tail and all. When her mother figures out what's going on, she reveals the true reason for her overprotective nature, and that they have less than a month to fix it. Domee Shi's feature debut is a beautifully animated, hilarious, and emotional coming-of-age story that explores the equal importance of family and friendship in the lives of teen girls who find themselves growing up faster than they were prepared for.
4. The Incredibles (2004)
Years before the Marvel Cinematic Universe became the Galactus-like box office-conquering force it is today, Pixar beat The Avengers at its own game. Masterfully written and directed by Brad Bird, The Incredibles builds an entire pop-art world of heroes and villains from scratch, then goes about investing each character with vivid thoughts, dreams, and feelings as they bounce their way through one show-stopping action sequence after another. This is how you do an origin story.
3. Toy Story (1995)
It's hard to overstate how much of a paradigm-shifting film Toy Story was upon release. Instead of following the proven musical-comedy formula established by mega-hits like Beauty and the Beast, Aladdin, and The Lion King, director John Lasseter tossed out the playbook and established his own approach, which emphasized storytelling over spectacle, wry wit over broadly telegraphed gags, and melancholic nostalgia over triumphant heroism. Buttressed by iconic voice performances from Tom Hanks and Tim Allen, eye-popping animation, and, yes, some treacly Randy Newman songs, the film kicked off an era of innovation that shows few signs of slowing down.
2. WALL-E (2008)
WALL-E is undoubtedly the most aesthetically radical film on this list. Director Andrew Stanton's follow-up to Finding Nemo plays like a sci-fi art-film at times, especially in its patient, painterly first half, which follows the charming robot as he cleans up the debris littering his home planet. But despite all the praise deservedly thrown towards its innovative style, the film wouldn't work if it didn't possess the thing that makes every other Pixar film tick: heart. The delicate courtship between WALL-E and his companion EVE (Elissa Knight) is Tracy/Hepburn for the iPod age, a love story we'll be rewatching long after we've abandoned our own home planet.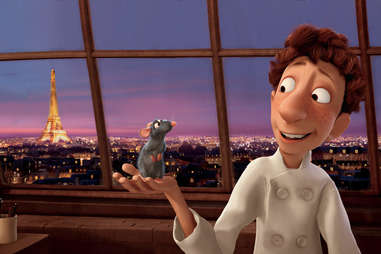 1. Ratatouille (2007)
There's a tremendous amount of love flowing through the Pixar canon: love for partners, love for family, love for friends, love for cars. But only one movie dares—and that's the right word, as it continues to catch flack for it—to explore the existential struggle that is loving oneself. If Remy the Rat is going to survive life on this planet, he has to become the furry mammal he's told he can't be. He has to cook. Director Brad Bird turns the act of defiance into a three-ring circus. Composer Michael Giacchino, a longtime Pixar collaborator, owns half the film with his take on Parisian jazz, and Patton Oswalt adds exhaustion and thrill to Remy's voice with nuance. Ratatouille is fine dining, the result of the best artists in the movie business telling an artist's story.