Choosing a favorite Pixar movie is an impossible task we wouldn't wish on anyone -- not even Sid, the toy-torturing bully first introduced to audiences back in 1995. But with Finding Dory opening on June 17th, we decided to throw ourselves to the sharks and rank all 15 of the company's films, from worst to best. Grab a hanky -- things are about to get kid-friendly but emotionally devastating!
Recommended Video
The International Trailer for 'The Last Jedi' May Have Revealed Something Huge
18. Cars 2 (2011)
The stamp of Pixar Chief Creative Officer John Lasseter, who took a leave of absence in late 2017 over sexual misconduct allegations and may not return to the job, will always be imprinted on the Pixar legacy. Specifically, his love deep love of automobiles. And after the middling Cars netted $10 billion in merchandise sales, Pixar pushed the inevitable sequel into production. Cars 2 is essentially a show floor for Happy Meal toys, doubling down on Larry the Cable Guy's insufferable Mater by sending him on a global spy mission. Nodding to Connery-era Bond and packing in more action couldn't prevent Cars 2 from clunking out.
17. Brave (2012)
The studio's only "princess" movie is so determined to avoid Disney's past cliches that it never figures out what to do with the fiery Scottish lass, Merida. Set in a 10-mile radius of the Highlands, Brave is a daughter-mother road movie that only kicks off 30 minutes into its runtime. Rousing bagpipe music goes a long way.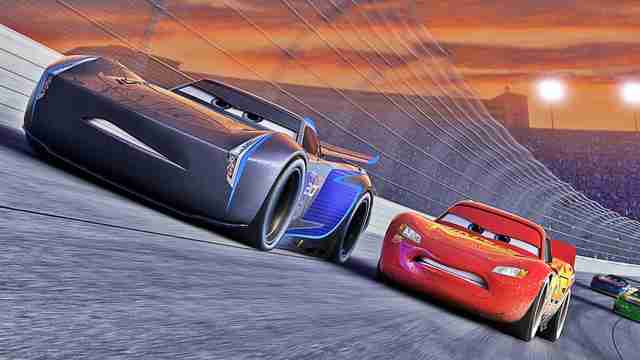 16. Cars 3 (2017)
Cars 3 delivers exactly what you'd expect from yet another Cars movie: more cars! Facing new competition from a souped-up sports vehicle voiced by Armie Hammer, and struggling to connect with an excitable new trainer (stand-up Cristela Alonzo), intrepid series hero Lightning McQueen (Owen Wilson) must recover from an accident, go through a bunch of Rocky-style training scenes, and make peace with being washed up. It's an odd premise for a family movie, especially a series as kiddie-friendly as this one, but the writers don't seem interested in pushing the idea in any deep or strange directions. Instead, you get more warmed-over nostalgia, including a back-from-the-dead voice cameo from Paul Newman, and some colorful racing sequences. Might be time for this franchise to head to the great junkyard-in-the-sky.
15. Monsters University (2013)
The sequelization of Pixar's universe has been somewhat dispiriting to watch unfold, given how trailblazing the studio's best work tends to be. Technically, this is a prequel, a campus comedy about how Mike and Sully first learned to scare together. Were fans really itching to learn this backstory? Probably not. But you can tell the writers had a lot of fun slyly parodying elements of Animal House and other college classics. Despite some lame bits, it earns a passing grade.
14. Cars (2006)
As aforementioned, the Cars franchise seems to be a shared labor of love between Lasseter and Disney's accounting department, but the first movie does have a light, nostalgic touch to it that separates it from some of the company's more critically acclaimed, existentially bleak films. The presence of Paul Newman's gravelly voice as Doc (in his final non-documentary role) lends the film a layer of poignancy, and the animation team's rendering of desolate American roads makes the predictable plotting and occasionally overbearing gags glide by like a good road trip should.
13. The Good Dinosaur (2015)
Pixar is not in the "kids' movie" business. Its characters are bubbly, the stories are simple, but the stories are designed for all ages, all minds, all senses of humor. The Good Dinosaur is as close as the company's come to a feature for the wee ones -- and it thrives for it. Sharing DNA with The Lion King, the prehistoric feature follows a young, anxiety-ridden apatosauruses named Arlo who loses his father, loses his way, and becomes an independent lizard with the help of his pet human. The Good Dinosaur is a road movie, a sweet one at that, with hyperrealistic backdrops, cartoonish characters, and childlike wonder. It's not for everyone because it's not supposed to be.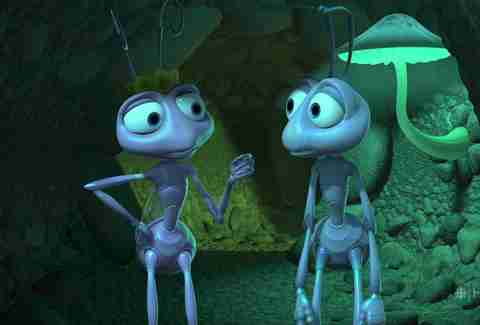 12. A Bug's Life (1998)
Stuck in never-ending, media-devised competition with Dreamworks' Antz, which premiered just a month prior, this micro-riff on Seven Samurai is low-key and noble. The straight adventure doesn't glow like Pixar's emotionally meaty movies, but with eccentric characters and a scrappy heart -- courtesy of NewsRadio-era Kids in the Hall alum Dave Foley -- the movie has a taken-for-granted kid's movie quality: fun.
11. Finding Dory (2016)
Sometimes the best supporting characters are second bananas for a reason: they exist to prop up the hero on his or her journey. Luckily, the forgetful bluefish Dory is the rare sidekick who can swim on her own. While it hits many of the same emotional and story beats of the original -- this time Dory is the one looking for her parents, leaving Marlin (Albert Brooks) to track her down to a fish rehabilitation center in California -- this clever sequel delivers enough memory-loss gags, light parental trauma, and show-stopping, Fast and Furious-style set pieces to keep adults entertained and kids enthralled. Sure, it lacks the poignant, manipulative power of the Toy Story sequels, but there's still a surprising amount of depth to this DeGeneres deep dive.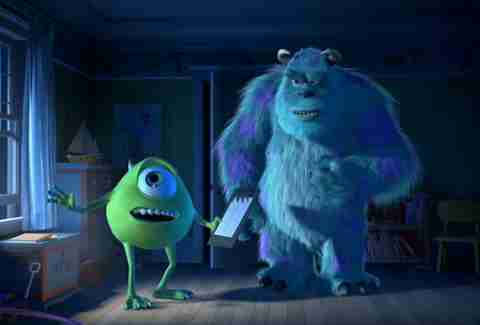 10. Monsters, Inc. (2001)
After imagining toys have rich inner lives, it was logical that Pixar would give complex emotions to another childhood trope: the monsters hiding in your closet. Mike (Billy Crystal) and Sully (John Goodman) are the creatures assigned to harvest the screams of a cute little girl named Boo, but what makes the movie more than just a cleverly executed trifle is the commitment to world-building. Even if Crystal's humor can grate at times, the richly imagined parallel city of Monstropolis is worth getting lost in again and again.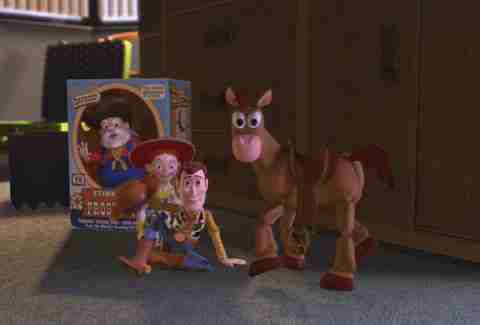 9. Toy Story 2 (1999)
Pixar's first sequel did more than reverse the original's equation. Examining mid-life crisis, Pixar spliced sci-fi adventure (introducing Buzz's nemesis, the oft-mentioned Zurg) into the sorrowful story of Jessie the Cowgirl, a toy whose owner grew up and gave her away. For a retread, the Jessie flashback scene set to Sarah McLachlan's "When She Loved Me" is as crushing as the most championed Pixar moments.
8. Finding Nemo (2003)
What's more terrifying than the bottom of the ocean? Um, how about losing your child? Watching neurotic clownfish Marlin (brilliantly voiced by Albert Brooks) frantically scour the depths of the sea in pursuit of his only son Nemo (Alexander Gould) can be an emotionally taxing, overwhelming experience. But, luckily, director Andrew Stanton keeps the movie afloat by giving ample screen time to the joyfully silly Dory (Ellen DeGeneres), a team of possibly stoned turtles and the deepest voice casts Pixar has ever assembled (Willem Dafoe, Allison Janney, and Geoffrey Rush all turn in killer work). And, yes, it will probably make you cry.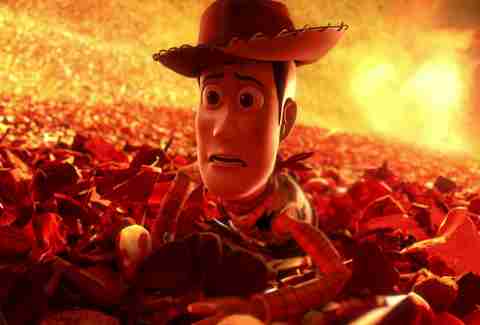 7. Toy Story 3 (2010)
Sequels generally suck, and don't even get us started on third installments. Yet much like its predecessor, Toy Story 3 proved exceptional. Buzz and Woody were peopled with equally memorable new faces like tyrannical Sunnyside Daycare tyrant Lots-o'-Huggin' Bear and a dandyish Ken doll who sounds suspiciously like Batman. Much like the previous iterations, toys are an allegory for a certain stage of Andy's life -- in this case, he's college-bound and has outgrown his old playmates -- and the film is shot through with themes of death, abandonment, and decay, resulting in the sort of constant oscillation between laughter and tears that only Pixar provides.
6. The Incredibles (2004)
Years before the Marvel Cinematic Universe became the Galactus-like box office-conquering force it is today, Pixar beat The Avengers at its own game. Masterfully written and directed by Brad Bird, The Incredibles builds an entire pop-art world of heroes and villains from scratch, then goes about investing each character with vivid thoughts, dreams, and feelings as they bounce their way through one show-stopping action sequence after another. This is how you do an origin story.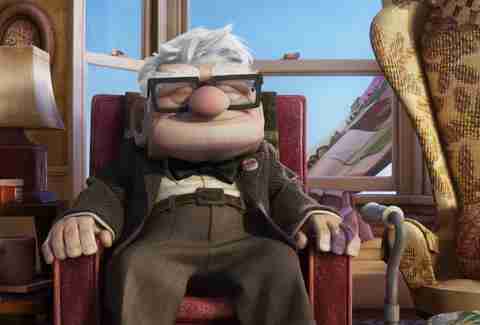 5. Up (2009)
If this list was a ranking of which Pixar movie had the power to tear out your heart with a scalpel in the first five minutes, Up would sit atop it. The devastating opening passage, chronicling the relationship between the film's cantankerous but lovable old geezer protagonist Carl (Ed Asner) and his wife Ellie (Elie Docter), is like a condensed cartoon version of Richard Linklater's Before trilogy. That the rest of Up doesn't quite live up to its opening is inevitable. That being said, the whole picture also works splendidly as a raucous action-comedy, overflowing with vibrant tropical imagery, hilarious voice work, and... SQUIRRELS!
4. Inside Out (2015)
Inside Out showcases Toy Story writer/Monsters, Inc. director Pete Docter, who helmed this recent arrival, at his imaginative best. Set inside the mind of 11-year-old Riley, where emotions Joy, Sadness, Anger, Fear, and Disgust run the show and memories are collected and stored as glowing orbs, the Pixar impresario has created a vivid fictional world that rivals WALL-E in its inventiveness and lush visual landscape. Bolstered by crazy-good voice-acting from Amy Poehler as Joy and The Office's Phyllis Smith as Sadness, Inside Out is as smart and perceptive about human psychology as it is emotionally resonant.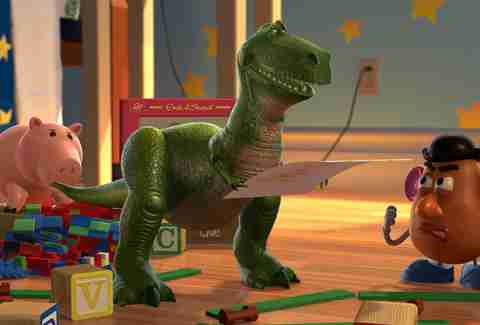 3. Toy Story (1995)
It's hard to overstate how much of a paradigm-shifting film Toy Story was upon release. Instead of following the proven musical-comedy formula established by mega-hits like Beauty and the Beast, Aladdin, and The Lion King, director John Lasseter tossed out the playbook and established his own approach, which emphasized storytelling over spectacle, wry wit over broadly telegraphed gags, and melancholic nostalgia over triumphant heroism. Buttressed by iconic voice performances from Tom Hanks and Tim Allen, eye-popping animation, and, yes, some treacly Randy Newman songs, the film kicked off an era of innovation that shows few signs of slowing down.
2. WALL-E (2008)
WALL-E is undoubtedly the most aesthetically radical film on this list. Director Andrew Stanton's follow-up to Finding Nemo plays like a sci-fi art-film at times, especially in its patient, painterly first half, which follows the charming robot as he cleans up the debris littering his home planet. But despite all the praise deservedly thrown towards its innovative style, the film wouldn't work if it didn't possess the thing that makes every other Pixar film tick: heart. The delicate courtship between WALL-E and his companion EVE (Elissa Knight) is Tracy/Hepburn for the iPod age, a love story we'll be rewatching long after we've abandoned our own home planet.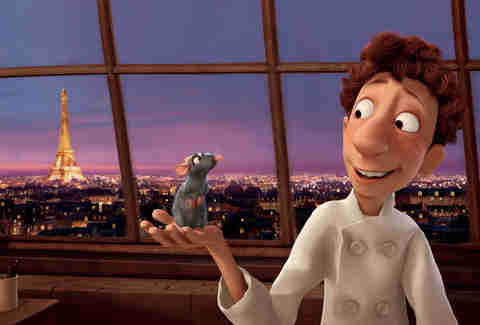 1. Ratatouille (2007)
There's a tremendous amount of love flowing through the Pixar canon: love for partners, love for family, love for friends, love for cars. But only one movie dares -- and that's the right word, as it continues to catch flack for it -- to explore the existential struggle that is loving oneself. If Remy the Rat is going to survive life on this planet, he has to become the furry mammal he's told he can't be. He has to cook. Director Brad Bird turns the act of defiance into a three-ring circus. Composer Michael Giacchino, a longtime Pixar collaborator, owns half the film with his take on Parisian jazz, and Patton Oswalt adds exhaustion and thrill to Remy's voice with nuance. Ratatouille is fine dining, the result of the best artists in the movie business telling an artist's story.
Sign up here for our daily Thrillist email, and get your fix of the best in food/drink/fun.
Matt Patches is Thrillist's Entertainment editor. He previously wrote for Grantland, Esquire.com, Vulture, The Hollywood Reporter, and The Guardian. He self-identifies as Mr. Potato Head. Find him on Twitter: @misterpatches.
Anna Silman is a staff writer at Thrillist Entertainment. She previously wrote for Salon and Vulture. She self-identifies as Lenny the Binoculars. Find her on Twitter: @annaesilman.
Dan Jackson is a staff writer at Thrillist Entertainment and he self-identifies as the Hockey Puck. He's on Twitter: @danielvjackson.