'Pleasure' Is an Extremely Explicit NSFW Look at the Porn Industry
The new film, out this weekend, is unrated for good reason.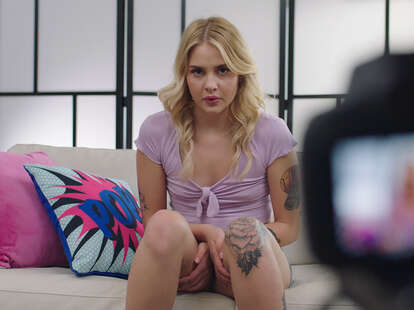 Neon
Neon
Even before anything appears on screen, it's very clear that Pleasure, directed by Ninja Thyberg, is not safe for work. Forget NSFW, even; this unrated film is barely safe for watching in the privacy of your own home depending on who could be looking in. But far from coasting only on shock value, Pleasure is an alternately titillating and horrifying look at the porn industry through the eyes of an eager young participant.
Nothing is that unfamiliar in the plot of Pleasure, but Thyberg, who hails from Sweden, approaches her subject with such a clinical gaze that it's hard to shake the feeling that she's doing something revolutionary. Pleasure is neither judgmental nor celebratory in the way it treats porn, and yet its dispassionate, brightly lit eye is deliberately unnerving. You'll leave the film wanting to wash off what you just saw.
At the center of Pleasure is Sofia Kappel as Bella Cherry, a character who, like Thyberg, is a Swedish expat. Bella has come to Los Angeles with the sole purpose of being a porn star. She's uninterested in exploring her new city beyond the model house where her agent has put her up and the other girls trying to break into the business and the sets where she performs.
Bella approaches everything in her life strategically, which Kappel conveys with analytical eyes. She's wary of getting too close to her female colleagues, aware that everything around her is a competition. While her roommate Joy (the giddy Revika Reustle), a transplant from Florida, eagerly tells producers she's down for anything sexually, Bella at first thinks it's beneficial to start off with the basics before graduating to the more hardcore material. She wants to leave something to the imagination, a pretense she eventually abandons.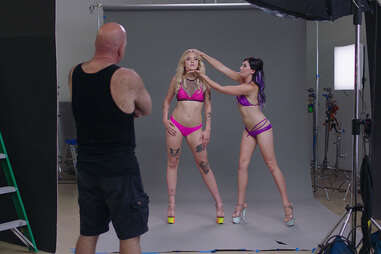 Though Pleasure is extraordinarily explicit—there are penises and vaginas and cum shots aplenty—Thyberg is more interested in the mechanisms of porn than the feelings it elicits. After the initial heavy breathing that kicks off the film, Thyberg cuts to Bella filling out paperwork. Thyberg seems aware that what's most unsettling about porn is not the actual sex, but the moments when the sex stops and everyone breaks character. She contrasts a supportive S&M set, featuring safe words and a female director, with what happens on a brutal shoot where Bella is afforded none of that care by the men around her. Thyberg hones in on the way the male performers can, at a moments' notice, turn into abusive caricatures for the camera, even as they pat Bella's shoulders and console her when the cameras aren't rolling.
There's something at times clichéd about Bella's descent. Frustrated by her lack of opportunities yet driven by her desire to succeed, she keeps pushing her boundaries farther and farther, along the way losing both any of the titular pleasure she gets out of sexual acts and her soul. The former is a less compelling descent than the latter. We expect to see young upstarts dragged into scenarios that are beyond their depths, losing their morals along the way, but what's more disconcerting is how even the most outrageous of sex acts are neutralized as Bella disassociates.
Thyberg spent years researching LA's porn industry, and cast its denizens to surround Kappel. Some of them radiate an uncanny quality, like Mark Spiegler, who plays himself as a hot-shot agent for porn stars, but it's Reustle, better known as her moniker Zelda Morrison, who matches Kappel's easy naturalism. Joy is Bella's foil, a girl who at first seems willing to be chewed up and spit out by porn, but ends up having a stronger moral code than the calculating Bella.
Despite the dirtiness of the content, Thyberg infuses Pleasure with an antiseptic quality that counters all of the bodily fluids. A coldness consumes the movie. Like Bella, you become numb watching it, and that's what makes it all the more haunting.