How Dare This Fan Play 'Pokémon Go' During a Beyoncé Concert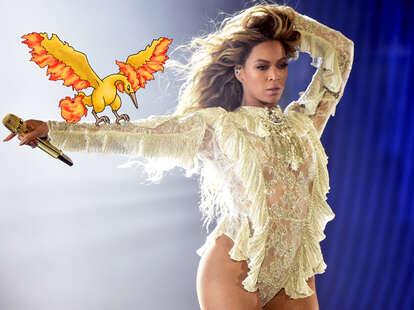 Kevin Mazur/Wire Images/Getty (Edited)
As the Pokémon Go craze intensifies, turning every public space into a potential Pidgeotto hunting ground, new social rules need to emerge. There's a specific time and a place to catch that ultra-rare Mewtwo you've been looking for. You know what's not the correct time and place? A Beyoncé concert.
Last week, during the Paris stop of Beyoncé's "Formation" tour, one brave fan dared to disrespect the Lemonade singer by -- I can't believe I'm typing this -- trying to catch a Pokémon while standing in the front row. Luckily, a more reverent, loyal phone-wielding fan was on the scene to take a video and shame this aspiring Poké-master.
"This bitch is finding Pokémon!" says the man filming the video. "Look at where she is. She's next to the stage." You can see the proof for yourself in the Instagram video below.
Honestly, this type of behavior was inevitable. This weekend, Rihanna warned her fans, "I don't want to see you catching any Pokémons up in this bitch," and phone-obsessed concert-goers have been irritating other people at shows since the era of the flip-phone. The rise of Pokémon Go simply introduces another element of the live music experience to be annoyed by.
But here's the thing: Beyoncé tickets are so expensive! Even a distant seat can cost anywhere between $300 and $600; I don't want to think about how much a front row ticket can cost. That Pokémon is not worth it. Put your phone down -- or just use it to film Beyoncé like everyone else.
Sign up here for our daily Thrillist email, and get your fix of the best in food/drink/fun.