PornHub's 'Full House' Parody Reveals the Sitcom's Dirty Secrets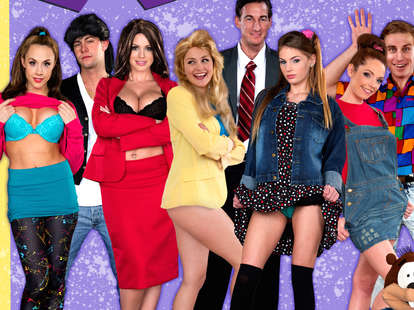 Full Holes is the latest X-rated remake from PornHub, that site you definitely don't visit and the first movie to spew forth from the company's newly minted original content wing. Hey, if Netflix is going to capitalize on '90s nostalgia, why shouldn't masturbatory entertainment do the same?
Even in the SFW trailer above, the sexual puns are out of control. The movie follows "Handy" and his two friends "Uncle Jizzy" and "Blowey" as they raise -- er, discipline? -- the rest of the clan: "BJ," "Stuffme," and "Muffchelle." "Kimmy Gobbler" stops by for some hijinks. Jizzy gets it on with the future "Aunt Fucky" at some point. You get the picture. Full Holes stars a who's who of porn stars you definitely do not know by name.
While the title is lacking inspiration (Phallus House? Full Hose? Full Trouse(r Snake)? -- OK, maybe they got it right), PornHub hits on something with their latest venture. Full House was a dirty, dirty show, in that way some horndogs tack on "in bed" to the end of their fortune-cookie fortunes. Here's a selection of Full House catchphrases that sound extremely dirty when we're talking about pornography:
"Have mercy!"
"You're in big trouble, mister!"
"Aw, nuts!"
"Not the hair! Watch the hair!"
"Don't call me a squirt!"
"Cut it out!"
"You got it, dude."
"Is it made out of woooood?"
Man, don't even get me started about the episode where teenage DJ marries her Greek second-cousin by unassumingly walking him around a table hand-in-hand. You know something happened there.
Full Holes, which you definitely won't watch because you're going to be too busy watching Netflix's squeaky clean Fuller House, can currently be seen on PornHub Premium, a service you don't subscribe to because, come on.
Sign up here for our daily Thrillist email, and get your fix of the best in food/drink/fun.
Matt Patches is Thrillist's Entertainment Editor. He previously wrote for Grantland, Esquire.com, Vulture, The Hollywood Reporter, and The Guardian. As a kid, he envied Michelle's pillow person. Find him on Twitter @misterpatches.