'Portrait of a Lady on Fire' Sets Lesbian Romance Ablaze
The love story of Orpheus and Eurydice is a Greek myth about a man who tried to bring his wife back from the dead with music. It's been told in different ways, but each version ends the same: Hades allows Orpheus to take his love back to the world of the living, but he must not turn around to look at her until they reach the surface or she will vanish forever. Believing Hades has tricked him, he turns around. In her 1944 book of essays, The Unquiet Grave, author Cyril Connolly wrote, "Miserable Orpheus who, turning to lose his Eurydice, beholds her for the first time as well as the last."
This mythos of star-crossed lovers is at the heart of Céline Sciamma's Portrait of a Lady on Fire -- which has a limited release now, and opens wide on Valentine's Day 2020 -- and symbolically referenced throughout the film. However, unlike Orpheus and Eurydice, the story of Héloïse (Adèle Haenel) and Marianne (Noémie Merlant) is no myth. While it's not biographical either, it's a portrait of lesbian love painted by a lesbian writer-director starring a lesbian. A love story of this kind, relying solely on the female gaze, creates an authenticity missed in many lesbian films before it. Writer-director Sciamma refuses the fetishization that lesbian relationships are often subjected to; this isn't a film that coddles the male viewer. The French filmmaker is known to tackle coming-of-age stories. She referred to her first three films -- Water Lilies (also starring Haenel), Tomboy, and Girlhood -- as a trilogy, but her fourth feature film feels like the culmination of her work.
The story begins with Marianne, a young painter who is teaching portraiture to a group of students. One student, without Marianne's permission, digs out a portrait that Marianne painted years ago. She's shocked to see it -- the image of a woman, her back towards her creator with fire burning the bottom of her dress. Upon being asked what it's called, Marianne replies, "Portrait of a Lady on Fire." Flashback to Brittany, near the end of the 18th century, Marianne is commissioned to capture the likeness of a young woman named Héloïse, the painting meant to be a gift for her future Milanese husband. But Marianne is told that she must paint Héloïse in secret because she refuses to pose, in an act of defiance towards the marriage she's being forced into.
The portrait session begins as Héloïse walks ahead. Her hood slowly falls with the pace of her step and a gust of wind, her blond head of hair revealed. She runs with Marianne in pursuit. Héloïse stops at the edge of a cliff, and there's a moment where you think she's going to jump. She turns around. "I've dreamt of that for years," she says. "Dying?" Marianne asks. "Running."
There's a scene in 1933's Queen Christina where Greta Garbo, after spending the night with her lover, gets up and begins pacing around the room. She begins to caress every object, looks upon her lover's reflection in a mirror, and grasps onto the bedpost. "I have been memorizing this room," she tells him. "In the future, in my memory, I shall live a great deal in this room." That important intimacy of memory is a big part of Portrait of a Lady on Fire, too. Sciamma implies heavy use of voyeurism, as Marianne must slowly and secretly commit Héloïse to memory, often closing her eyes for a few seconds to conjure her likeness. And as the artist was observing her muse, the muse was watching back.
Marianne and Héloïse's romance first develops through the fleeting glances they share. One of the most lustful scenes in the film is when they're describing to each other how they know how the other is feeling just by their respective body language; when they're embarrassed, when they're troubled. Eventually, Héloïse allows herself to pose for Marianne, new things about each other revealed with every new layer of paint. And with each layer, their attraction grows.
These star-crossed lovers exist in a world defined by men. Just as Marianne can't be free with her art -- she must paint male models in secret -- so, too, the women cannot be open with their relationship. The film shows how important it is to have a woman behind the lens, as well as holding the pen, when it comes to female narratives. This is especially true in regards to how the film handles the handmaid Sophie's abortion. Sciamma said in an interview with Jezebel that she chose this for the screen because she's seen few depictions of it: "When you're going for representing something that hasn't been represented much, I think you should also ask yourself about how this belongs in your film, and how is this going to be in the language of your film, and how it participates in the imagination of the film."
Despite that abortion was illegal in France at the time, Sciamma illustrates the fact that abortion was still part of everyday life. And this was especially true in Europe during the eighteenth century. According to Angus McLaren, a historian of sexuality, in his article "Abortion in France: Women and the Regulation of Family Size 1800-1914," abortion was first used as a "family planning measure," a back-up method of birth control, by married women, and as an "exceptional act" for an unwed mother to avoid bearing an illegitimate child (as is the case with Sophie), as a response to an overall "unwillingness to accept the notion that women could play an active part in determining family size." McLaren goes on to emphasize that, during this time, society welcomed a new, more feminist mentality and an increase in mutual support between women, as is seen in the film with Héloïse and Marianne helping Sophie through the procedure and her recovery. Just as Sciamma does with Héloïse and Marianne, she gives Sophie agency as she makes decisions for herself without the pressures of outside influence. No one is shamed for their choices.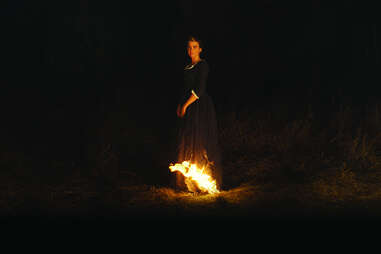 Sciamma's film is a slow burn romance, and boy, does it burn. The image of Adèle Haenel's Héloïse with flames engulfing the bottom of her dress isn't just for promotion -- it's the climactic scene of the film, the moment where Marianne's passion and love for Héloïse burns just as scorchingly. The romance at the film's centre takes time to blossom. It's built up in long, intricate strokes, as Sciamma puts the utmost importance in their connection. The film carefully goes through the confusion and hesitation of falling in love, and it's one of the few films that finds importance in the intimacy of words as opposed to sex. Sciamma shows us this through their pillow talk, in the glances and smiles they share, in the slightest touches, and the memories divulged of when they first wanted to kiss and when they first knew they were in love.
"In solitude I felt the liberty you spoke of. But I also felt your absence," Héloïse tells Marianne. Héloïse craves freedom and she finds it in another. Marianne craves creative freedom, and she finds it, too. You feel both elated and heartbroken watching Haenel and Merlant defiantly run towards their love they know cannot last. It's a film of technical brilliance, with romantic imagery that feels like high art seen on the walls of the Louvre. Portrait of a Lady on Fire is a period drama of burning intensity that brilliantly captures the collaboration of creator and muse through its gaze. Sciamma delivers a bittersweet, subversive, and honest depiction of lesbian love of the highest caliber. It's not a tale of greek mythology, but it surely holds the greatness of one.
Need help finding something to watch? Sign up here for our weekly Streamail newsletter to get streaming recommendations delivered straight to your inbox.