The Real Underground Ball Culture That Inspired FX's 'Pose,' Explained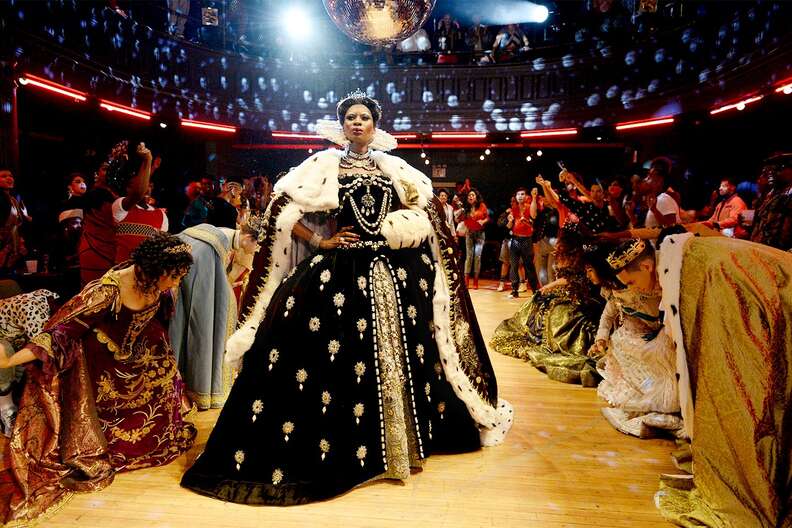 Ryan Murphy's compelling new series, Pose, puts a spotlight on the ball culture of the 1980s. The FX drama, airing on Sunday nights, offers a brief exploration into how New York City's LGBTQ youth created a community all their own with the help of elaborate drag competitions known as balls -- it's a story arc that closely resembles that of Paris Is Burning, a Sundance prize-winning and cult-beloved documentary (that you can watch right now on Netflix) that introduced straight audiences to this subculture in 1991.
If you happened to catch the first few episodes of Pose and have since realized that you're relatively unfamiliar with the underground ball scene, read on for a brief explainer.
What are drag balls anyway?
Drag balls are fashion show-like competitions where queens from different houses face off with one another as each of them don typically extravagant costumes and walk down a runway, to be judged on their outfits and appearance, and their attitudes. It's like an episode of RuPaul's Drag Race but a million times more intense. Aside from appearance, the focal point of each competition is voguing, a form of dance that was created by members of the ball scene -- not by Madonna, though she did help to popularize it in the 1990s. It involves intricate movements meant to mimic the way models pose in magazines and on catwalks.
Most balls are separated by categories -- A LOT of categories -- and each competing house member is expected to dress in a way that complies with whichever category they're walking in. Not every ball is the same, but some of the familiar categories might include butch queen, femme queen, high fashion, and schoolboy.
When did drag balls start?
As Blanca Rodriguez, played by MJ Rodriguez, says in the first episode of Pose, "Balls are a gathering of people who are not welcome to gather anywhere else." The competitions first rose to prominence in the 1920s during the Harlem Renaissance (though they had been around since the mid-1800s) as a form of social defiance and a way for queer youth to carve out a safe space in a world where acceptance was difficult to come by. Near the beginning, most balls were dominated by white males -- queens of color were expected to lighten their complexions in order to compete in them -- but the culture expanded by the 1970s, when black and Latinx competitors branched out to create their own community in which they could freely express themselves.
According to the website them., one of the first balls for black queens was organized by Marcel Christian in 1962, but years later in the '70s, Crystal and Lottie Labeija founded the legendary House of Labeija (more on that in a moment) and coordinated the first ball that was held by a house. Essentially, the duo is responsible for the origin of the house system that quickly evolved into the scene that's being paid homage to in Pose.
So, what's a house?
Think of houses as a home away from home for certain members of the ballroom scene -- these are tight-knit families that are meant to serve as safe spaces for African-American and Latinx queer youth, operating under the guidance of house mothers and fathers. As Pose perfectly illustrates with Damon (Ryan Jamaal Swain) seeking Blanca's help after being disowned by his parents, houses were often seen as a source of refuge for those who had been rejected by their families and/or were struggling to survive. House members didn't actually live together, but some children had the option to live with their house mothers if they had nowhere else to go.
In addition to being a source of emotional support, the main function of houses was for each group to compete with one another at balls. As Dorian Corey, the late founder of House of Corey, so eloquently puts it in Paris Is Burning, "A house is a gay street gang." She adds, "Street gangs get their rewards from street fights. A house street fights at a ball -- and you street fight at a ball by walking in a category."
Some of the more well-known houses include House of Labeija, House of Dupree, House of Ninja, and House of Xtravaganza all founded by iconic drag queens Crystal Labeija, Paris Dupree, Willi Ninja, and Angie Xtravaganza respectively.
What about the lingo?
Those who can walk the walk can also talk the talk. If phrases like "throwing shade" or "reading" were at one point permanent staples of your vocabulary, you can thank both the LGBTQ community and the underground ball scene for that. At most balls, you'd be hard-pressed to find any competitor, queen, or attendee who isn't effortlessly throwing around sassy lingo. Paris Is Burning gives a brief history lesson on the language of the drag community, but the birth of the terminology can be dated back to the 1890s.
As the legendary Billy Porter exclaims in the show's first hour, "That's how you do a ball!" You can catch Pose on FX every Sunday at 9pm EST.
Sign up here for our daily Thrillist email and subscribe here for our YouTube channel to get your fix of the best in food/drink/fun.
Danielle Jackson is an editorial assistant at Thrillist Entertainment. Follow her on Instagram at @danielleknecole.