'Pose' Starts a New Generation of Family in Its Season 2 Finale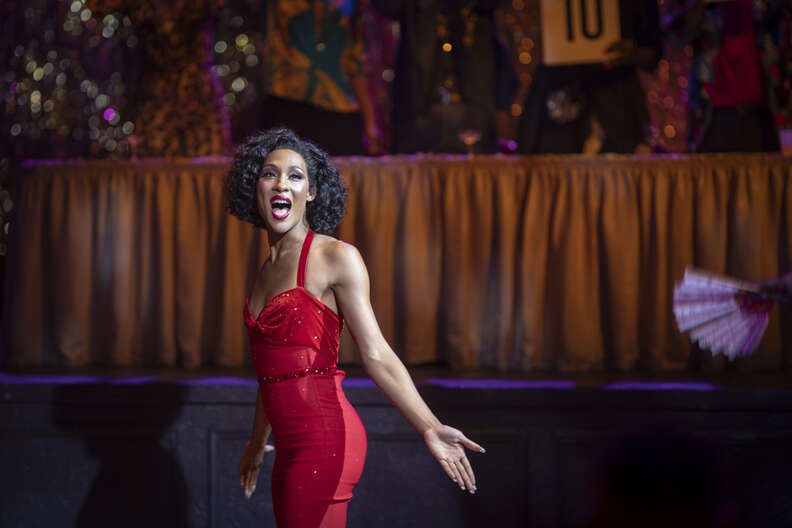 Between its first and second season, FX's Pose didn't reinvent itself as much as it honed its vision. It did away with the plotlines that existed outside the ball community, leaving the cis, white, suburban drama involving Evan Peters and Kate Mara for another, more boring show. Season 2 jumped ahead to 1990 when Madonna's "Vogue" was climbing the charts and AIDS was still ravaging queer communities, and subsequently became a more joyous, more heartbreaking, and altogether stronger show.
Though not without its missteps, the eight episodes married irrefutable, often tragic truths with high fantasy in a manner that was utterly thrilling to watch. Just when you thought you might not stop heaving from sobs, Pose offered up a Solid Gold dance sequence, a beach trip, or Patti LuPone singing Sondheim. But, perhaps more than any show on TV right now, Pose is also acutely aware of the passage of time, which is why the finale seems to have reset itself once again.
The last episode of the season jumps ahead to 1991. The House of Evangelista has dispersed. Angel (Indya Moore) and Lil Papi (Angel Bismark Curiel) are living in the Village. Her modeling career, on the upswing in the previous installments, is sputtering after members of the fashion industry learn she is trans. Still, she and Papi are happy together, their relationship strong enough to weather this challenge and more. Damon (Ryan Jamaal Swain) is in Europe, dancing and choreographing for Malcolm McLaren, another pop artist that brought voguing in the mainstream. The only person still left in the Bronx apartment that has served as Evangelista's home base is the strict, kind-hearted house mother, Blanca, and she is suffering. AIDS has left her susceptible to pneumonia and the fumes wafting in her home from her nail business aren't helpful. The initial minutes of the episode are worrisome, with Billy Porter's Pray Tell, ill earlier in the season, watching over her as she discusses her will, detailing how her possessions will be spread amongst her children and chosen family.
There's reason to be panicked. Earlier in the season, Pose orchestrated the first death of a major character: Angelica Ross' brash and defiant Candy, who was murdered in an unfortunately all-too-real scenario for trans women. Nonetheless, in the context of the narrative, Candy's demise felt almost cruel in its abruptness at first. One minute she was comic relief, railing at Pray for refusing to add a lip syncing category during balls; the next she was a victim. In a strange way, she became a more fully rounded character after her death, appearing to her friends as their guardian angel, offering challenges and encouragement.
If Blanca had died in the finale, it would have been similarly jolting. Already, there's emotional whiplash at play: the last we saw of her, she was speaking on the phone with the handsome lifeguard-aspiring doctor she had met during the previous week's getaway. Now, she's ill and there's no mention of her first-ever love interest.
It's hard to imagine Pose without Blanca, a relentless optimist who exists at the center of the action, and she recovers -- not completely, but fairly quickly. The episode then turns its attention to the Mother of the Year ball, an extravagant celebration that gives nearly every principal actor a chance to shine. Dominique Jackson's Elektra taking over Pray Tell's microphone as announcer is a highlight, as is Porter's Diana Ross moment in which the male judges show solidarity with the women they cheer and criticize. But it's Rodriguez who gives the most triumphant performance, participating in Candy's category and doing a rendition of Whitney Houston's "Star Spangled Banner," originally debuted at the 1991 Super Bowl.
Initially, it almost seemed as if Season 2 would end exactly as Season 1 did: with Blanca, trophy in hand. And while that is that case, Pose reveals its capacity to shift. All of Blanca's children, at least the ones we know, are not just leaving her, but leaving New York entirely. Damon has more opportunities with Malcolm; Papi found Angel a job in Berlin. As Blanca waits outside the venue for Pray to take her home in her wheelchair, she sees two kids and calls them over. They have both been kicked out of their homes and traveled to New York in search of the very community that Blanca can provide. She offers them food, and promises to teach them how to walk in the balls. The cycle of support continues.
The ending sets up a future for the House of Evangelista, but it also leaves multiple questions about what Pose will look like in its already announced Season 3. Does it focus on Evangelista 2.0? Are Angel, Papi, and Damon still key parts of the narrative? Will another time jump move the story closer to what co-creator Ryan Murphy has deemed its end point in 1996, when AIDS drugs become widely available?
Time has a powerful impact in Pose, which focuses on a world that both flourished and was decimated in the years it takes place. Moving forward brings its characters closer to stability, which also means they live with a disease for longer. It finds them at the mercy of trends, even as they know that the world they've created will sustain. Whereas Season 2 began with the hope of universal acceptance -- thanks to Madonna's "Vogue" -- it ends with the reminder that no matter where pop culture may be, there will always be queer and trans children in need of mothers.