The Ultimate 'Power' Power Ranking
Who was the best 'Power' character?
For its six seasons, Power has been a show about, well, power. Who has the most of it, who can wield theirs to best the bigger rival. The aptly named STARZ crime drama from Courtney A. Kemp and Curtis "50 Cent" Jackson followed the St. Patrick family and friends(?) combat mafias, drug cartels, and law enforcement as patriarch James, aka Ghost, tried to go legit, cracking into state politics. But then, there was the shocking penultimate episode, where Ghost got gunned down.
The verdict is still out on who shot Ghost. The teaser for the finale, which airs on Sunday, February 9, counter to the Oscars, flickers between the last three suspects -- Tasha, Tariq, and Saxe -- but any fan of Power should be prepared for the unexpected. But even in Power's final moments, the core characters from the very first season seem to be the last ones standing. That said, there have been some crazy motherfuckers who've had their fates sealed throughout this journey, begging the question: Which characters have embodied the show's title the most?
All considerations have been made, and every huge moment has been weighed. For this list, these Power characters have been deconstructed just as much as the word "power" itself. Prepare yourself for agreement, discord, and general reminiscing on the show's six-year run. This is the ultimate Power power ranking, featuring the most indelible, insane, and formidable players across six seasons.
Jukebox

| STARZ
Honorable Mentions: Simon Stern, Jukebox, and those sorry ass feds
Where most characters use drugs and violence to assert themselves, Simon Stern (Victor Garber) has been a series-long power player simply due to his deceptive business tactics and his sheer amount of capital. The man was originally a despicable antagonist, but over the course of Power, he settled into an anti-hero role and an unlikely ally for Ghost. 
For you hardcore fans out there: Laverne "Jukebox" Ganner (Anika Noni Rose) may have only been around for Seasons 3 and 4, but she came close to tearing the St. Patricks down. One of Power's most visible LGBTQ characters, Jukebox was crucial in setting Tariq down his current character arc, and it took both Kanan and Ghost to take her down. It's speculative, but perhaps if she hadn't teamed up with Kanan and introduced Tariq to Ray Ray, then maybe Raina would still be alive in the show's final episodes.
That whole FBI office dedicated to stopping syndicated crime did a lot more losing than winning over the course of the show, but they really did come close (so, so many times) to bagging some of the most sought-after drug lords, from Lobos to the Jimenez. Internal corruption ultimately plagued their efforts and led to most of them ending up dead or unemployed.
STARZ
10. Alicia Jimenez 
One of the most underrated druglords of Power was Alicia Jimenez (Ana de la Reguera). A vicious killer and extremely calculated, she and her brother helmed the Jimenez Cartel. Alicia was the brains of the organization, but also the most low-key. By hiding behind the guise of the Jimenez "Brothers," she was able to handle her enemies in gruesome ways, from forcing cocaine overdoses to setting them on fire. Her downfall, like many others before and after her, involved Dre, but in her final moments, at least she went out like a G.
STARZ
9. Milan, the cannibalistic Serbian
Few Power antagonists instilled fear quite like Milan (Callan Mulvey). As Tommy mentioned well before Milan ever made his first on-screen appearance, that dude really ate people. In fact, one of the unsuspecting Power moments came courtesy of Milan and his Serbian henchman: When Holly was fighting for Tommy (and her life), she hired Jamaicans to kill Ghost, and it almost looked like he was going to be shot when Milan (pretending to be Ghost's head of security, Dean) pulled up and saved the day. After that point, he had Ghost and company under his thumb in a way that even Lobos never had. Milan's fatal flaw, however, was underestimating just how calculated and vindictive Ghost can be when he's pushed into a corner.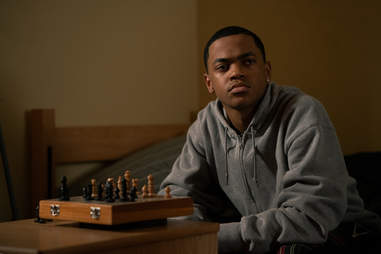 STARZ
8. Tariq St. Patrick 
Whatever Tariq's destiny is, his role in the original Power series wasn't it. He forced himself into a criminal lifestyle that he hasn't necessarily gotten the hang of. That said, Tariq (Michael Rainey Jr.) is a sponge and a brilliant kid who has practiced the strategies of the show's greatest characters and witnessed their victories and learned from their pitfalls. Assuming he transitions to Power Book II: Ghost or another Power spin-off, expect Tariq to fully come into his own because his story seems like it's only just beginning.
STARZ
7. AUSA Angela Valdez 
The death of AUSA Angela Valdez (Lela Loren) rivals Raina's for the most shocking death of the series, especially since it seemed like she was finally on the right side (i.e., the Ghost, Tommy, and Tasha side). After reconnecting romantically with Ghost in Season 1, Angela's career slowly snowballed and became more and more complicated. She often toed the line between justice and corruption, so Tommy said it best in Paz's frantic standalone episode this season: "She wasn't that good." 
Still, she was good enough. Only thanks to her were the core characters able to slip out of sticky situations and successfully -- and discreetly -- remove threats like Mike Sandoval, Ray Ray, Tony Teresi, and Kanan from the playing field.
STARZ
6. Felipe Lobos 
Lobos (Enrique Murciano) was the classic villain -- Power's Green Goblin or Joker. At his best, Lobos was resourceful, charismatic, and utterly maniacal, so his three-season run as the main protagonist was warranted. Even after being nearly stabbed to death in prison, he never missed a beat. His classic "...and the dog" line in the Season 2 finale was a quip, yet a meaningful threat that shook Tommy, and his foretelling that Ghost would meet a similar gunned-down fate moments before his own death was spot on. Lobos wasn't just a psychopath like many of Power's antagonists -- he knew Tommy and Ghost like the back of his hand.
STARZ
5. Kanan Stark
Although he exited guns blazing in Season 5, Kanan (50 Cent) was probably the hardest Power character to kill and certainly one of its most heartless. He was essentially the godfather of the series. Without Kanan, this story doesn't even take place -- he took Tommy and Ghost under his wing when they were young, setting the events of Power into motion. His influence transcended generations, imparting street wisdom to Dre and Tariq as well. As with any great teacher, Kanan's students eventually surpassed him, and he became the number one target on many characters' hit lists.
However, before anyone was able to successfully take care of him, Kanan proved how calculated, brutal, and devious that he could be -- collapsing Ghost and Tommy's drug empire from behind bars, killing his only child Shawn, reappearing from the dead as "Slim" and turning Tariq against his father, and much more. The man had to go, and it ultimately took a village to get the job done, thanks to a convoluted plan involving Angela, Tasha, Tariq, and four unsuspecting NYPD officers.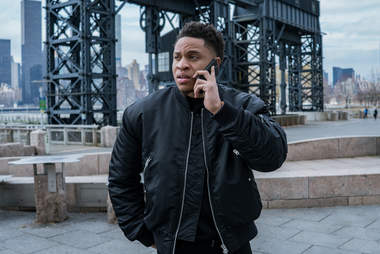 STARZ
4. Andre Coleman
That slippery motherfucker Dre (Rotimi) was an enigma. Much like Tariq, he was a student of both Kanan and Ghost, but way more manipulative. Between his iconic lines about his daughter and his unbelievable accomplishment of weaseling into the final five episodes of the series as one of its most hated characters, Dre embodied the grimy no-holds-barred quality of the best Power characters. Perhaps his most dangerous quality was that characters couldn't afford to keep him at too much of a distance, but they couldn't afford to trust him either. 
STARZ
3. Tommy Egan
It may not have been confirmed, but there's no way that Tommy (Joseph Sikora) doesn't have the highest kill count on Power. A hopeless romantic and Ghost's on-and-off ace, Tommy has had a hell of a ride over the six seasons. Through all his trying relationships, he has slowly become his own man -- independent from Ghost, Tasha, his mother Kate, and anyone else. Tommy is ruthless and a man of violent principle, leading to some of the people he loved most meeting their fate by his own hands. Once Tommy pays you a visit, few people live to tell the tale. Love has fogged his perspective from time to time, but he is typically pragmatic, in a loose sense. With most people, Tommy is not trusting, and he never hesitates to knock them off the chessboard. As a result, he regularly appears to be on the brink of unhinged serial killer territory, but that's what makes Tommy so damn good at what he does.
STARZ
2. Tasha St. Patrick
This may seem like a wild call, but Tasha St. Patrick (Naturi Naughton) is the true Queenpin of Power. She may be the only character to have ever walked away from heated back-and-forths with Ghost, Tommy, and Kanan, one of which involved a gun to her head. Tasha's got clout, and that's power. Without her, there would be significantly fewer alibis, more brash decisions, and a certain little brat -- that's you, Tariq -- in jail.
Tasha's also just as manipulative and resourceful as Ghost and has one-upped him on countless occasions. In comparison to her ex/widowed husband, she's the perfect foil -- someone who is equally street-savvy, has much less blood on her hands, and truly sees things for how they are. When James was optimistic about certain situations (i.e. Tariq), Tasha assessed circumstances in a realistic way. Should a mother teach her only son how to be the biggest drug dealer in New York City? Probably not. But for the record, Tasha is absolutely capable of doing so.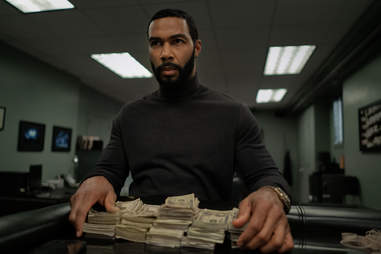 STARZ
1. James "Ghost" St. Patrick
Alas, there's Ghost (Omari Hardwick), who most can surely agree was the show's top gun. There were plenty of characters who were greasier, more inhumane, or more deranged, but Ghost was an ever-improving entity, in all aspects of his identity. His ambition, greed, and arrogance brought him endless opposition, but losing is a skill that Ghost never quite grasped all the way to the end. 
Ghost engineered situations to his liking, whether it benefitted everyone around him or not, and his deceptive wit was integral to bringing down leaders from the Lobos Cartel, the Jimenez Cartel, the Italian Mafia, and the Serbian Mafia. Like Tommy, he was an experienced and effective killer, but he was less likely to personally pull the trigger for street-level situations. Still, everyone knew what was good whenever he pulled out his all-black jogging fit.
The most impressive aspect about Ghost was his ability to be James St. Patrick. While his ultimate failure was not being able to become the 100% clean businessman that he aspired to be, he came pretty fucking close. Ghost outsmarted legal and illegal millionaires alike, beat a federal murder charge, and was probably on his way to public office. From his beginnings as a corner boy in Queens, James was the embodiment of power and the all-time best character on Power.
Need help finding something to watch? Sign up here for our weekly Streamail newsletter to get streaming recommendations delivered straight to your inbox.
Joshua Robinson is a contributor to Thrillist who is ready for any and all smoke regarding this
Power
ranking.