Should You Watch AMC's Bloody New Series 'Preacher'?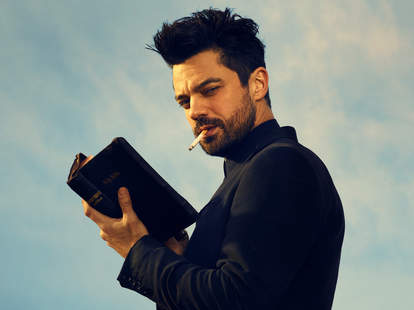 There are so many comic-book adaptations on TV now that it's fair to be a little confused by Preacher, AMC's violent Southern-fried drama debuting on Sunday night. Unlike The Walking Dead or Fear the Walking Dead, it's not about zombies, and it doesn't have any superheroes like Daredevil, Jessica Jones, The Flash, Arrow, or Agents of S.H.I.E.L.D. It's a strange beast -- and, judging from the amount of blood that gets spilled in the pilot, it's not exactly a friendly one.
Preacher pits troubled Texas priest Jesse Custer (Dominic Cooper) against dark, mysterious forces that threaten to upend and possibly destroy the bizarre small town he calls home. He's joined by an Irish vampire (Joe Gilgun) and his tough-as-hell, helicopter-wrecking ex-girlfriend (Ruth Negga), who both occasionally help him out of the violent scraps and theological conundrums he gets in. It's got the snappy, trigger-happy veneer of From Dusk Till Dawn and the searching, inquisitive spirit of The Leftovers. For Sunday night prestige television, it's pretty weird.
But that shouldn't be surprising. We're now living in a world where Deadpool, a snarky meta-superhero, is the king of the box office and Game of Thrones, a dense fantasy novel adaptation, is the most discussed show on TV. Books and comics that years ago would've been dismissed as too niche or obscure are now rolled out with big Hollywood talent and blockbuster promotion attached. But what does that mean for you? To determine whether Preacher is something you should bow your head in observance of every Sunday, ask yourself the following questions.
Vertigo
Are you familiar with the source material?
Preacher is based on a comic by Irish-born comics writer Garth Ennis, known for his work on Judge Dredd, The Punisher, and Hellblazer. He's had a long career in comics, but Preacher is considered his definitive work, a combination of dark humor, shocking violence, John Wayne iconography, and eye-grabbing, often stomach-churning visuals courtesy of artist Steve Dillon. It was a product of the mid-'90s: published by DC's freshly launched Vertigo imprint, a home for more adult-oriented work, the comic arrived as films like Wild at Heart, Natural Born Killers, and Pulp Fiction captured the public's bloodthirsty imagination. It didn't play by the rules.  
If you're a fan of the comic, you're probably watching the promotional clips for the show and salivating in anticipation -- or you've been nitpicking the changes showrunner Sam Catlin (Breaking Bad) has made to the original text. But fear not, Preacher faithful: Ennis is involved with the production, and as io9 reports, he even encouraged the creators to veer from the comic. So if you love the comic, there will obviously be familiar elements, but the show will likely blaze its own path. And if you've never read it, you probably won't have to worry too much about book-readers spoiling all the action for you every week. 
AMC
Have you started an intense argument about religion at a family meal?
For all its blood, guts, and throwaway gags about Tom Cruise spontaneously combusting, Preacher is a show about faith. All the major characters are defined by a great inner conflict, either running away from some element of their past or denying a part of their true nature. There's also a mystical power that's introduced in the pilot's first shocking scene, possessing a priest in an African village before he… well, just watch it for yourself.
Later, Custer discovers a terrifying power that inspires some pretty heavy questions about free will. It's the type of wonky, hypothetical religious brain-teaser that you'd break down with your friends after a particularly revelatory Sunday-school session. "Promises matter," says Custer at one point. "They're the currency of faith." Judging from the pilot, it feels like the show is promising to take a closer look at exactly why promises matter and what faith really means. Not exactly light stuff.
AMC
Do you have a thing for vampires?
This is not a bloodsucker-fest like The Strain or True Blood, but Preacher does have a chatty, "cool" vampire character named Cassidy who, along with Ruth Negga's Tulip, looks to be the breakout star of the show. His introductory scene -- a kinetic, crossbow-filled standoff on a luxury airplane mid-flight -- is the type of funny, thrilling, and surprising action sequence that sets this show apart from even the often excellent but repetitive Daredevil beatdowns. With its jaunty music -- "You're So Vain" scores an even more claustrophobic brawl later in the episode -- and quippy one-liners, the scene owes a debt to Quentin Tarantino, but Cassidy has a caustic, punk energy that's all his own.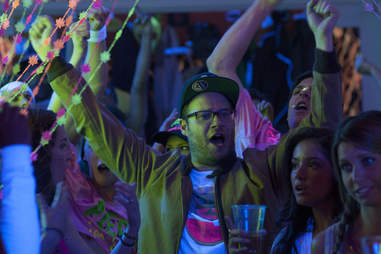 Neighbors

| Universal Pictures
Are you tired of Seth Rogen?
We may have reached peak Seth Rogen. This weekend, the sequel to his 2014 comedy Neighbors arrives in theaters, and Preacher, a show he's been talking about making for years, debuts on AMC. While Rogen doesn't appear on the show, he directed the pilot with his frequent collaborator Evan Goldberg, and the pair will remain on as executive producers. The combination of raw violent material with gross-out gags will be familiar to anyone who enjoyed This Is the End or The Interview, but the show's tricky tone is new for the pair. And, no, there isn't a scene where Custer tries to make a bong out of a household object… yet.
AMC
Are you comfortable telling people you watch a show with a character named Arseface?
Again, this show can be a little bit out there. In the comic, the character of Arseface, a teenage boy who shot himself in the face, looks like a human donut collapsing in on itself. The TV version is a bit more palatable, but the makeup effects used to bring the character to life are jarring. At the same time, the show doesn't treat Arseface's condition as a joke, and actor Ian Colletti brings dramatic weight to the role. But, yeah, Mad Men never had a character named Arseface, so, like, I get it if you skip this. 
AMC
Do you like your elaborate theological mysteries slow-burned?
Preacher is not a plot-heavy show. In fact, the most refreshing thing about the pilot is how patient and confident the storytelling is, letting character beats simmer, allowing dialogue to sit for a bit, and refusing to over-explain the fantasy aspects. The pace is actually so leisurely that at times I found myself unsure of how the show will look and feel like by the end of the season and later down the road.
There's a globe-trotting element to the pilot -- besides the scene in Africa, we also make pit stops in Russia and Kansas -- but it feels like we're going to sit in this small Texas town for a while as these characters learn about their powers. It could be like Friday Night Lights or the similarly hyper-violent Banshee -- or it could turn into something else entirely. That narrative instability makes the show exciting, but it also means some fans will be tempted away by the countless other shows debuting this summer. AMC is clearly hoping you keep the faith.
Sign up here for our daily Thrillist email, and get your fix of the best in food/drink/fun.