We Ranked All the Songs on President Obama's New Summer Playlist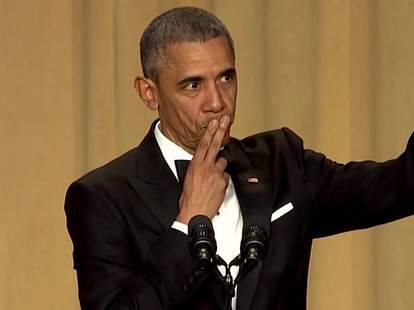 If it wasn't already abundantly clear, President Obama has the best taste in music of any sitting President in the history of the United States. Not that the competition was ever really that stiff -- I don't think Grover Cleveland was crate-digging for records to play on his phonograph on the weekends -- but Obama has always had appropriately eclectic, slightly dad-like music selection habits. Further evidence: President Obama's new summer playlist, complete with daytime and nighttime divisions.
Not a surprise: it's pretty fun! Just like last year's playlist was. Sure, it's got that annoying whistle-while-you-work song by Edward Sharpe and some sleepy adult contemporary tracks on there, but it's not this guy's job to be checking his Discover playlist every week. Dude is trying to run a country -- he's not going to Boiler Room every night.
With that said, some of these picks are trash, and it's fun to make lists, so we made a playlist of the tracks, minus a few Spotify hold-outs (sorry, Blueprint 3 fans!), and ranked all the tracks below. Make your day feel more presidential by streaming these tracks below and maybe bust out some Oval Office dance moves. (And, try not to think about what a Trump playlist would include!)
Like I said above, this playlist is mostly pretty fun, with a few exceptions. Mainly, the President should not make us listen to Wale. Here's a very official ranking of what the President probably listens to in a golf cart:
19. "LoveHate Thing" - Wale
18. "Home" - Edward Sharpe and the Magnetic Zeros
17. "Many the Miles" -- Sara Bareilles
16. "So Ambitious" -- Jay Z feat. Pharrell
15. "As We Enter" -- Nas & Damian "Jr. Gong" Marley
14. "The Man" -- Aloe Blacc
13. "Man Like That" -- Gin Wigmore
12. "II B.S. (edit)" -- Charles Mingus
11. "Smooth Sailing"  -- Leon Bridges
10. "Forever Begins" -- Common
9. "Elevator Operator" -- Courtney Barnett
8. "Tightrope" -- Janelle Monáe
7. "Don't Owe You A Thang" -- Gary Clark Jr.
6. "Me Gustas Tu" -- Manu Chao
5. "Rock Steady" -- Aretha Franklin
4. "Good Vibrations" -- Beach Boys
3. "U Got the Look" -- Prince
2. "Sinnerman" -- Nina Simone
1. "Classic Man" -- Jidenna
I'd argue the nighttime playlist is actually way better than the daytime one. All the songs on here are sultry, "night-time" fun. Here you get a sense of the President's personality, particularly that he has a thing for Velvet Rope-era Janet Jackson. Here's our ranking: 
20. "Green Aphrodisiac" -- Corinne Bailey Rae
19. "If I Have My Way" -- Chrisette Michele
18. "Do You Feel Me" -- Anthony Hamilton
17. "Lean In" -- Lizz Wright
16. "Midnight Sun" -- Carmen McCrae
15. "So Very Hard to Go" -- Tower of Power
14. "Trapped By A Thing Called Love" -- Denise LaSalle
13. "Alright" -- Ledisi
12. "Cucurrucucú ​Paloma" -- Caetano Velos
11. "Espera" -- Esperanza Spalding
10. "Say Yes" -- Floetry
9. "Tell It Like It Is" -- Aaron Neville
8. "All Day Music" -- War
7. "Acid Rain" -- Chance the Rapper
6. Lover Man" -- Billie Holiday
5. "Criminal" -- Fiona Apple
4. "Lady" -- D'Angelo
3. "My Funny Valentine" -- Miles Davis
2. "I'll Be There for You / You're All I Need" -- Mary J. Blige / Method Man
1. "I Get Lonely" -- Janet Jackson
Sign up here for our daily Thrillist email, and get your fix of the best in food/drink/fun.
Dan Jackson is a staff writer at Thrillist Entertainment, and he'll be listening to Floetry for the rest of the day. He's on Twitter: @danielvjackson.