2016 Presidential Debates: How to Rewatch and What to Know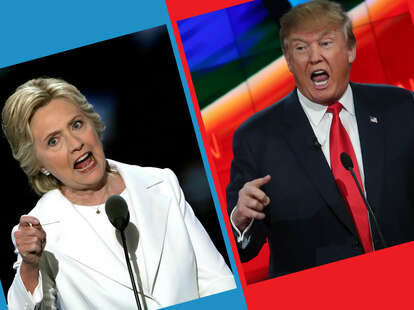 Alex Wong, Getty Images/Oren Aks, Thrillist
Election 2016 has been toxic and entertaining -- a lot like an episode of Jersey Shore, punctuated by character attacks, blatant lying, and mysterious sniffing. But the circus is over. Hillary Clinton and Donald Trump debated for the final time last night. Below, with Election Day fast-approaching, we put together a brief guide detailing what happened during the candidates' face-offs, and how you can rewatch them.
Other things to know
Clinton prepared meticulously, buckling down on strategy by spending five days off the campaign trail. The New York Times reported in August that her team talked to Trump's ghostwriter, watched prior debate tapes, and sought advice from psychology experts to get an edge. Her longtime aide Philippe Reines played Trump during mock face-offs.
In the other corner: "I believe you can prep too much for those things," Trump told the Times this summer, noting he already knew how to handle his opponent. "I don't want to present a false front. I mean, it's possible we'll do a mock debate, but I don't see a real need." New Jersey Gov. Chris Christie helped a little anyway.
Opposing family handshakes went bye-bye.
According to an August poll from Quinnipiac University, 62 percent of those surveyed wanted a third-party candidate in the debates.
Neither the Libertarian Party's Gary Johnson nor the Green Party's Jill Stein -- the most popular alternatives -- made the cut.
The 90-minute events had no commercial breaks, which wasn't as cool or as exciting as it sounded. (If you missed commercials, here you go.)
Hosting universities sold a limited number of tickets to the masochists who wanted to experience all this live.
What to do now
Buy a bag of Cheetos Puffs.
Grab your best blanket and comfiest pillow.
Fall asleep to Cool Runnings.
Wake up in 2020.
Sign up here for our daily Thrillist email, and get your fix of the best in food/drink/fun.
Sean Fitz-Gerald is a staff writer at Thrillist Entertainment, and he can't wait for this election to be over. Find him on Twitter: @srkfitzgerald.