Buying beer at a football stadium's generally an expensive proposition, which is why people either tailgate beforehand or attempt to smuggle their own booze inside. If you don't wanna go through all the hassle, though, how much is a brew gonna set you back in stadiums across the country?
To answer that question, VinePair used data from the Team Marketing Report and put together a new infographic detailing the cheapest small beer available at all 32 stadiums in the NFL. They also included a breakdown of the effective price per ounce being charged, since the smallest beers range in size from 14oz to 20oz.
The Cincinnati Bengals offer the cheapest small beer around, with a 14oz cup of suds costing only $5 at Paul Brown Stadium. Second prize goes to the Houston Texans at NRG Stadium, where you'll pay the same $5 for only 12oz, and the Cleveland Browns round out third place at FirstEnergy Stadium (12oz beer for, again, $5). Oakland Raiders fans actually get the worst deal in the country, and not just because of Trent Richardson: a 20oz beer costs a whopping $10.75 at O.co Coliseum.
When you look at price per ounce, though, Philadelphia Eagles fans are actually the biggest losers on the field: brews at Lincoln Financial Field work out to $0.71/oz, compared to the NFL-wide average of $0.46/oz.
VinePair's also quick to point out that "in some cases the cheapest beers are only available at a limited number of concession outlets," which means that the actual game-day price you pay for your suds could very well be more. All the more reason to grab some duct tape and a 30 rack.
Check out the full infographic below:
Recommended Video
These are the 3 Biggest Power Plays that Won Bran the 'Game of Thrones'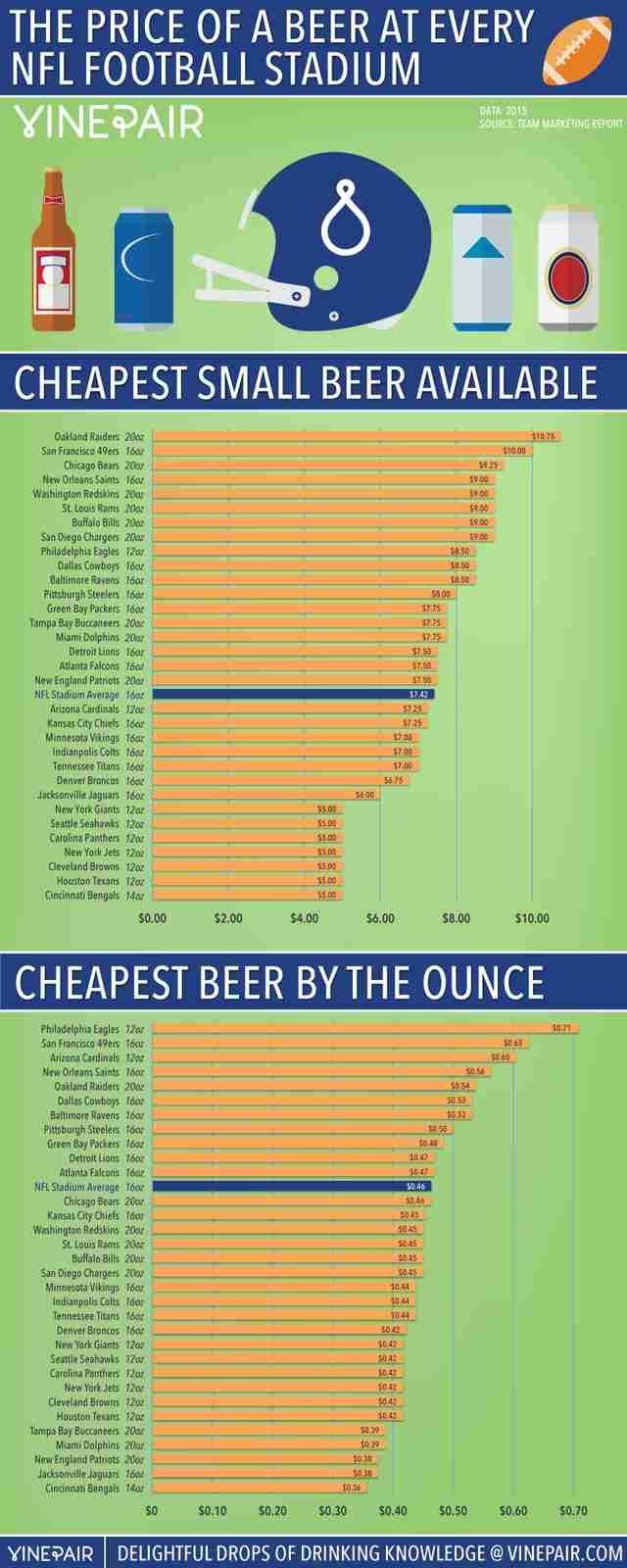 Sign up here for our daily Thrillist email, and get your fix of the best in food/drink/fun.
Gianni Jaccoma is a staff writer for Thrillist, and he's still never attended a live sporting event. Follow his shameful tweets @gjaccoma, and send your news tips to news@thrillist.com