How Genndy Tartakovsky's Entire Career Led to the Innovative Series 'Primal'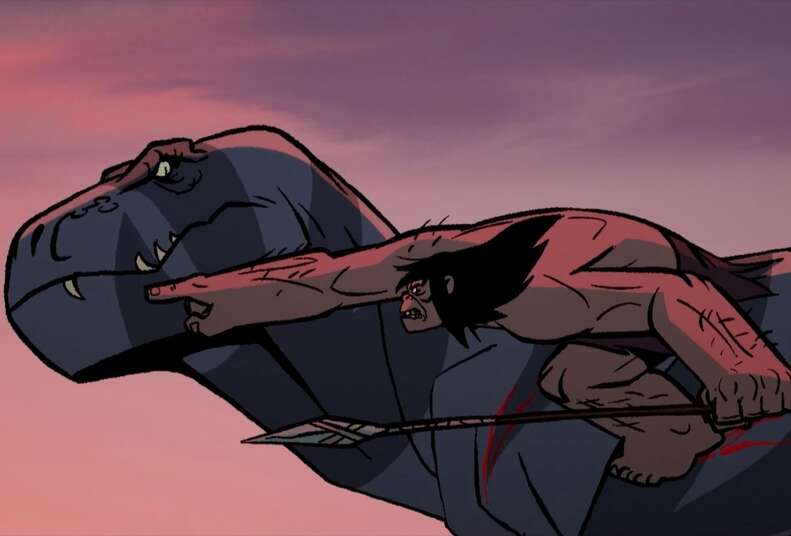 No one but animation veteran Genndy Tartakovsky could have made Primal, a new series that debuted October 7 on Adult Swim.
The series, which follows a caveman and T-Rex who bond over a shared trauma, is a unique program in Adult Swim's slate. Visually focused, bereft of dialogue, and with a healthy dose of natural violence, it's an ambitious series that likely wouldn't have found a home on most other networks. But Tartakovsky's decades-long career and reputation preceded him, and his longtime association with Cartoon Network gave him the creative freedom necessary to produce such an unconventional show.
"Nobody else in this industry would make this cartoon besides Adult Swim," Tartakovsky told Polygon during a conversation at San Diego Comic-Con. "And the only reason they're making it is because I have a huge relationship with them dating back from the beginning of Cartoon Network." Here's how Genndry Tartakovsky developed his bona fides and parlayed them into Primal.
Before Cartoon Network was Cartoon Network, Tartakovsky worked on 2 Stupid Dogs, a series from famed animation studio Hanna-Barbera that ran from 1993 to 1995. After producing a short for Hanna-Barbera's What a Cartoon! series, Tartakovsky was asked to pitch it as a seven-minute series. Eventually, it became Dexter's Laboratory, one of the first Cartoon Network original series.
From that point on, Tartakovsky was involved in a number of additional Cartoon Network projects. Most recent was his original series Samurai Jack, which officially concluded in 2017 with a 10-episode run on Adult Swim that allowed Tartakovsky the freedom to put a meaningful pin in Jack's story. He was also a foundational crew member on The Powerpuff Girls and later famously helmed Cartoon Network's 2003 Star Wars: Clone Wars animated series. Outside of the Cartoon Network sphere, he directed all three of Sony's Hotel Transylvania movies and received a storyboard credit on Iron Man 2.
On the heels of Samurai Jack's final season, Tartakovsky pitched Primal to his boss Mike Lazzo, who had been the one to green-light Dexter's Laboratory more than 20 years earlier. "We've had that whole relationship of trust and building together, right?" he told Polygon. "I storyboarded the first episode and I pitched it… and then he watched it and he was like, 'Yeah, that sounds great.'"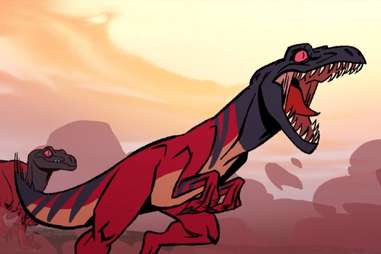 Primal is more mature and somber than his previous works. It's a visual marvel: Animated in a heavily lined 2D style, the series' stark, arresting style matches its gripping narrative. Its lack of dialogue -- or at the very least, dialogue in English -- means that the brunt of the storytelling falls to carefully animated facial expressions and body language.
It's nuanced, impactful, and unlike many animated series on television today, it takes its time. There's a rare kind of stillness to Primal that's deeply immersive; the lack of dialogue forces viewers to devote their full attention to what's happening on screen to avoid missing a beat. Punctuated by deeply violent sequences that highlight the Primal's life-or-death ethos, it's a show that makes it difficult to tear yourself away.
Despite that, Primal is all about the story. "I'm not a violent person at all," Tartakovsky told Entertainment Weekly, "and I don't want to show violence for violence's sake. When we went into a sequence we always wanted to make sure we were doing it for a reason. That way we become honest with it."
Ultimately, Primal is fresh, visceral, and incredibly Tartakovsky. Built on the foundation of a career's worth of experience and a dedication to animation, it's a must-see series.
Primal premiered on Monday, October 7, at midnight ET on Adult Swim. The first five episodes will air at the same time each night through Friday, October. 11.